August 25, 2011 -
Matt Bowen
Why week three of the preseason carries some weight
The first two weeks of the preseason are simple—to a fault. Line up, read your keys and treat the game like an extension of practice. Scouting reports? Game plans? I never saw those in my career. In fact, there were times when I was handed a roster on the plane (right before takeoff) of the opposing team we were about to play the next night. Zero prep time.
But that will change starting tonight and throughout the third preseason weekend. Teams around the league will use these games as their final regular season prep. And here are a some of the reasons why this weekend has a different feel to it.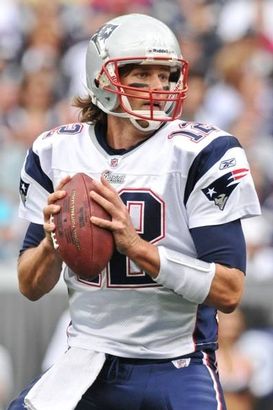 ICONBrady and the Patriots will carry a more detailed game plan into this weekend.
Actual game plans are handed out: Players will get to check out offensive and defensive tendencies, run through their call sheets and prep for a different roster. I don't expect to see some of the creative blitz schemes from the Packers Dom Capers, but this game plan will have some detail to it.
Film study: Players will spend some time studying their opponents—instead of watching practice into the late evening hours in meeting rooms. Breakdown the cut-ups, study formations and start to get a better understanding of the personnel they are going to see over the weekend.
Practices are scripted: Most clubs will have used a scout team this week (run the opposing teams playbook in practice). The first and second team on both sides of the ball will get a chance to see what they are working against from an Xs and Os standpoint on the field.
Starters play into the second half: Why is this important? Because the coaching staff wants to simulate halftime adjustments. Get your first-team up on the chalkboard in the locker room and flip the game plan. Brady, Rodgers, Roethlisberger, Cutler, etc. They should come out after halftime after play some football.
Competition will increase: With starters seeing more game time, look for the hitting and overall intensity to rise. Nothing like we will see in September when the regular season kicks off, but for a humid night in August, this is as close as it gets.
Cut day is coming: The first round of cuts is close, and for many players (especially rookies) this is the last opportunity they have to go out and make a play. Keep an eye on the action in the fourth quarter and always look to the kicking game. Because special teams is going to save someone's job this weekend—at least for another week.
Again, don't get too high or too low with your team this weekend when you turn on the games (it is still the preseason). However, understand coaching staffs around the league are taking the proper steps to prep their football teams to play some "real" football.
Follow me on Twitter: MattBowen41