January 02, 2013 -
Matt Bowen
Why wouldn't there be NFL interest in Oregon's Kelly?
No one should be surprised to see the reports coming in today on Oregon head coach Chip Kelly. I get it. We all should. With interest already from the Eagles, Browns and Bills, the Ducks head coach could possibly make the jump to the NFL after the Fiesta Bowl this week out in the desert.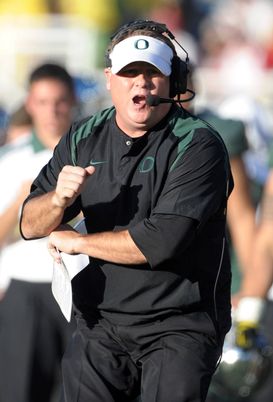 US PRESSWIREThere is plenty of NFL interest in Oregon head coach Chip Kelly.
Will Kelly succeed at the pro level? Maybe. Maybe not. We don't know that yet. And I am always curious to see how NFL players respond to a coach coming from the college game after playing for Steve Spurrier myself during his time as the Redskins head coach.
Some vets buy into it, while others don't want any part of it. That's just how it works with professionals.
But the sudden rise (or demand) for Kelly is reflective of the game we are watching today in the NFL. It is about speed, athleticism, tempo and points on the offensive side of the ball.
This isn't the same league that I played in or even the same league we saw three years ago. There are no standard schemes; no required skill set for the quarterback position and everyone wants to push the ball up the field.
Get creative, win with the game plan and dictate the flow for four quarters.
Hey, Lovie Smith was just fired here in Chicago with a defense that finished in the top five this year. The problem? Not enough execution, production and results on the offensive side of the ball.
That's why Denver's offensive coordinator Mike McCoy is a hot name in this town and the same reason we are hearing the names of Kyle Shanahan, Darrell Bevell, etc. These guys can coach and scheme on offense. They can create and force defenses to panic when they go through a week of game prep.
The NFL has always been fast. Always. Turn on the tape and you can see it for yourself.
But with the spread offenses making their way into the NFL, and the type of athletes that are arriving each year, the game is finding ways to become even faster than I ever imagined.
Heck, I couldn't even play in today's game and I have no problem saying it. An "in the box" safety? Forget about it. Those don't exist anymore. Dinosaurs.
Like I said above, we can't predict that Kelly will win in the NFL if he does decide to take a pro job, but I understand the interest level. His offense at Oregon is hell to prepare for. Why not try it out in the NFL?
Its worth a shot—and everyone wants it.