August 12, 2011 -
Matt Bowen
Why you should watch V.Y. this preseason
Vince Young is going to get plenty of playing time this preseason for the Eagles. That's the role of the No.2 QB in camp. Get your starter enough quality reps to prep for the regular season, but the majority of the snaps fall to the back-up QB.
And that is going to impact both V.Y. and head coach Andy Reid.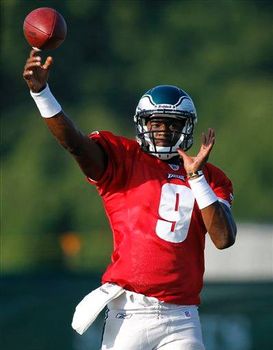 Getting reps in the preseason will impact Young's development in Philly.
The former Titans first-round draft got his first taste of live action in the Philly playbook last night vs. the Ravens. The numbers: 3-5 for 45-yards. But every time Young takes the field, look deeper than the amount of yards he throws for or QB ratings.
What you want to see is a QB that consistently improves with each game.
Going back to the offseason, I talked with NFL defensive coaches that had to game plan for Young. Not one of them questioned his ability to make plays happen (which we saw an example of vs. the Ravens) or his strength in the pocket.
However, what they did question was his work ethic and development at the position. Young's footwork needs to be polished, decision making has to improve and the ability to read coverages must take a step forward.
That has to happen with the Eagles this month. No offseason or coaching sessions for V.Y. He is starting fresh with a brand new playbook and a new way of playing the position under Reid. I don't expect him to be perfect throughout the preseason (and mistakes can be corrected in the film room). But Philly needs to see a QB that can step in, run the game plan and win if Michael Vick misses time in 2011.
That's the exact reason he is in Philly. It isn't to start or compete with Vick. He is a No.2—and I want to watch how this plays out for the former top 5 pick. Show Reid (and the rest of the NFL) that his overall skill set at the position has been upgraded.
These are big games for V.Y. coming up over the next three weeks. Let's see what type of QB he can be. Because he could play a major role for this team at some point this season.
Follow me on Twitter: MattBowen41