February 24, 2012 -
Matt Bowen
Will Georgia Tech's Stephen Hill rise up draft boards?
INDIANAPOLIS—Size and speed at the WR position is a hot topic here at the NFL Combine. Think about it: the ability to run the 3-step route tree, plus the size to win vs. press-coverage and convert on inside breaking routes.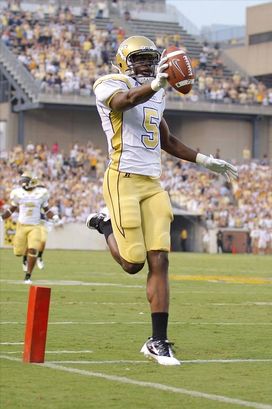 ICONHill is a size/speed player that could see his stock rise at the NFL Combine.
And speed is going to sell when we talk about a WRs ability to stretch the top of the defense when they transition to the NFL.
Outside of the top three prospects "projected" to come off the board in the NFL Draft (Justin Blackmon, Kendall Wright, Michael Floyd), expect these Combine workouts to play a big role in the grading process with these WRs.
One of the WRs to keep an eye on is Stephen Hill. The Georgia Tech product has size (6-4, 215 at today's weigh-ins) and said he hopes to run in the low 4.4s in the 40-yard dash.
Talking with the NFP's Wes Bunting, Hill does have the ability to get vertically down the field, but he will need time to develop as a route runner coming from the triple option offense at Georgia Tech.
And although Hill might not be more than a "situational" talent as a rookie that can run the 9 (fade) or 8 (post) in the route tree, if he can post a time in the low 4.4s, his stock will start to climb. Because every offense in the NFL is looking for that size/speed matchup player outside of the numbers that can win in one-on-one situations and produce inside of the 20-yard line.
Follow me on Twitter: @MattBowen41