February 01, 2012 -
Matt Bowen
Will Gronkowski's injury alter Patriots' game plan?
How will an injured Rob Gronkowski impact the Patriots game plan? I think this is a real question to ask as we get closer to kickoff on Sunday in Indianapolis for Super Bowl XLVI. Think about it: the production of the Patriots' TE (17 TDs), the inside vertical concepts and the threat in the red zone impacted by a high ankle sprain.
A major part of what Tom Brady and New England does offensively from a scheme perspective. And here are three ways the Pats' game plan could be altered if Gronkowski can't cut on that ankle come Sunday…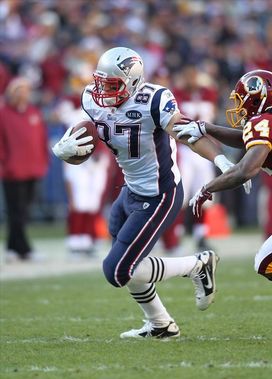 ICONGronkowski's injury could impact the Patriots' game plan in Super Bowl XLVI.
1. Branch in the vertical game: The Patriots want to throw their vertical concepts inside of the numbers or with the TEs on the 7 cut (corner route). If Gronkowski can't build up to top speed on the ankle, we could see Deion Branch outside of the numbers in the vertical route tree. I understand the Pats' offensive system is built on throwing underneath concepts and working the ball methodically down the field on short option routes and inside cuts, but there will be opportunities to target Branch (or Hernandez when removed from the core of the formation) when the Giants play some man-coverage (or blitz-man) in the secondary.
2. Production on the ground: I'm guilty of discounting the Patriots' run game with BenJarvus Green-Ellis and Danny Woodhead because of Brady, Welker, Hernandez, etc. However, because of the multiple formations New England will use in their game plan (and their ability to run the power game out of the gun), I wouldn't be surprised to see more focus put on the run game in spread alignmnents. And if the Giants want to play with a seven-man front (think Cover 2 in the secondary), the Pats could have some success on the ground.
3. Welker on inside breaking concepts: Welker will continue to work the middle of the field in the Patriots' system regardless of the health of Gronkowski, but one route that sticks out for me is the intermediate dig route (square-in). Gronkowski goes to work on safeties when running inside concepts because of his size and length. Yes, Hernandez could be the TE on Sunday to run this concept, but Welker could see more targets from Brady working the short to intermediate game vs. the Giants.
I expect Gronkowski to try and play on Sunday (there are ways to mask pain for three hours in an ankle). However, if the production isn't there, or if we see Giants' safeties Antrel Rolle and Kenny Phillips sitting on routes due to Gronkowski's lack of ability to create separation, the Pats may have to adjust their call script to put points on the board.
Follow me on Twitter: @MattBowen41