July 28, 2011 -
Matt Bowen
Will Haynesworth fit with the Patriots?
The Patriots made a move today to bring Albert Haynesworth to town for a fifth round pick they dealt to the Redskins. Let's see how he fits...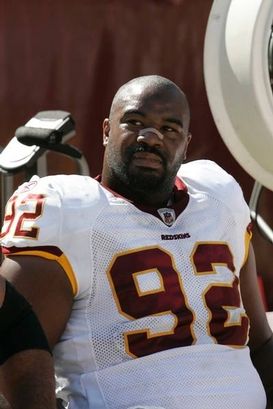 ICONHaynesworth has the talent, but will he fit in to the Patriots program?
- I like what the Patriots are doing here because of the little value they gave up. Forget Haynesworth's last season in Washington, conditioning tests, Shanahan, etc. Because he has legitimate talent on the D-Line. I don't see any real risk leveraging a future late round draft pick to bring in a veteran that has the ability of a three-down player in any D-Line rotation. If he doesn't work out, then cut him loose. It is that easy.
- The catch? Haynesworth has to play and produce like a pro. Sounds simple, but when you are playing for a Bill Belichick team, that is expected. Don't take plays off, practice like a veteran and be accountable in every phase of the program. That shouldn't sound like a chore in terms of the NFL, but with Haynesworth, this was a major issue with the Redskins.
- The DT will be coached hard in New England. How does Haynesworth respond? Questioning the scheme—or his role in the scheme—isn't going to be tolerated by Belichick's staff. If he is asked to play at the Nose in certain packages, that will be his role. Align in multiple positions in the Patriots sub packages? Then put your hand down and play football. Bottom line: act like a mature pro athlete and he will see results in that defense.
I want to see how this plays out, and training camp should give us a real indication on where this is going…because if Haynesworth can't play for Belichick, this should be his last stop in the NFL.
Follow me on Twitter: MattBowen41