February 28, 2011 -
Matt Bowen
Will Iowa produce two first-round picks?
When we talk about first round talent coming out of Iowa City this year, the discussion tends to lean towards DE Adrian Clayborn. There is no question there. The former Hawkeye ran in the low 4.8s in the 40-yard dash (unoffical) this morning. He has quick hands and his lateral ability—plus explosive power—are evident in workouts and on game tape.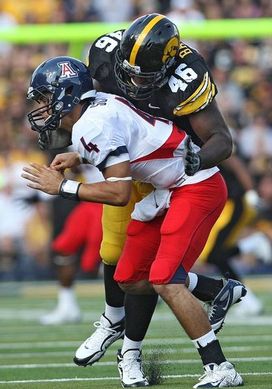 ICONIowa's Christian Ballard could come off of the board in the late first-round.
Clayborn is a legit first-round talent and I do see him as a fit for Gregg Williams'' defensive scheme down in New Orleans. And he might get taken off the board earlier than that.
But don't forget about the Hawkeyes' Christian Ballard. A D-Lineman that can play in the 3-4 front as a 5-technique, or play inside as a 3-technique in the 4-3 scheme. Think of the Jets or Packers in the 3-4 defense, or the Bears with Ballard sliding inside and playing that 1-gap style in Lovie Smith's 4-3 front.
I talked to an NFL GM over the weekend in Indy that said Ballard could find himself in the late first round with an impressive workout—exactly what we watched this morning at the combine (unoffical low 4.7s in the 40). Solid for a defensive prospect that can play around 290-300 pounds.
Watching Ballard practice down in Mobile at the Senior Bowl, he stood out. Even though the Iowa product can get too high out of his initial stance, his overall athletic ability is hard to ignore when he attacks the edge of an offensive guard or tackle—because he can get up the field. Speed is on display. Everyone can see that.
There was some good buzz over the weekend in Indy on both Clayborn and Ballard, and Iowa just might put two defensive lineman in the first round of the NFL draft this April once the process begins to play out. Let's see what happens.
Follow me on Twitter: MattBowen41