March 23, 2011 -
Matt Bowen
Will kickoff rule impact the value of coverage men?
There are multiple angles we can take when it comes to discussing the NFL's new kickoff rule that was voted on by league owners yesterday.
With the ball now being kicked off from the 35-yard line, there will be an impact on some of the league's top return men (Josh Cribbs, Devin Hester). No question about that from my perspective, along with the overall affect it could have on teams that rely on special teams for field position—and points.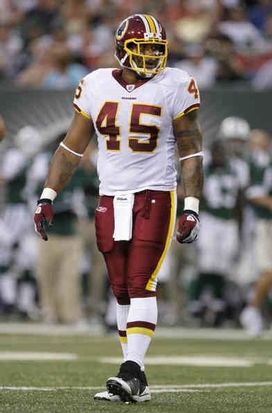 ICONSellers is a key player on the Redskins' kickoff coverage unit.
However, what about the guys who cover kicks for a living? Where is their overall value now with the new rule?
Forget about the three other core special teams for a moment (punt protection, punt return, kickoff return), because if you want to see a game check every week as a special teams player you have to produce on kickoff coverage. That is how rookies make a roster and how veterans stay employed in the NFL.
When they turn on the game tape Monday morning, coaches start with the kickoff team. It is the No.1 core unit on special teams in the NFL—and something I did for seven seasons as a pro.
But with an increased number of (expected) touchbacks, we could see some veterans pushed out the door—replaced by younger, cheaper versions. My former colleague, Michael Lombardi, talked about this in a column over at NFL.com last week, and I couldn't agree with him more.
Think of some of the top names in the business when it comes to running down on kickoff. Chicago's Corey Graham, Jacksonville's Kassim Osgood, Washington's Mike Sellers, Buffalo's George Wilson, Dallas' Sam Hurd, etc. These are players you want on your game day roster—because they bring value to the kicking game. And now I am curious how long that value will last.
I can tell you that covering kicks isn't headline work in the NFL, but it keeps you on the active roster and buys you time—and years—as a player in this league when you can consistently make plays on Sundays in the kicking game. As I have said before, if you aren't a starter on offense or defense, then you better start on special teams--if you want to make the 53-man roster.
As I said above, you can go out and block well on return units and make a play or two as a gunner on punt team, but the real value is found running down on kickoffs. That sells to coaches and GMs. And great ones are hard to find.
Now? We wait and see. Because if the ball is consistently kicked in the end zone this season, those names I listed will see their value drop. And that isn't good for veterans across the NFL who see a weekly game check for showing up on film covering kicks.
Follow me on Twitter: MattBowen41