May 17, 2012 -
Matt Bowen
Will Locker take the next step in his development?
One QB competition we should keep an eye on this summer is down in Nashville. Veteran Matt Hasselbeck vs. second-year pro Jake Locker.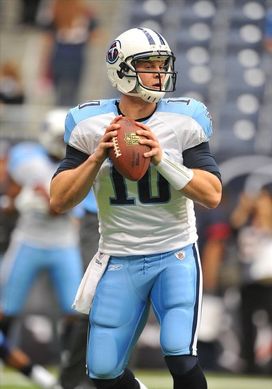 ICONWill Jake Locker grab the starting job this season in Tennessee?
Here's what Titans GM Ruston Webster had to say about the competition (via the Tennessean): "It will probably be a gut feel more than anything else. I think they'll both do well. But I think it will be a gut feel, so you kind of just go with what you feel is best – (the player) who, in a tight race, we feel like has the best chance to help us win, even though we're comfortable with either one of them."
I like Hasselbeck's game. Always have. And I don't think he has received enough credit for his production throughout his career. A QB I would want to have on my squad because you can count on his professional approach to Sundays. Plus, the leadership skills from a veteran at the position are tough to replace.
But I also want to see where Locker is at in terms of his overall development. The former Top 10 pick scooped up some valuable game experience during the 2011 season and will use this offseason (OTAs, mini-camps, etc) to detail his skill set to meet the standards of the NFL game.
With any second-year player you expect to see a jump in their development. They are more comfortable competing vs. veteran talent, understand the techniques required to win on Sundays and have a better overall feel for the playbook.
I'm looking forward to watching Locker play when the pads go on and the preseason schedule picks up. He has the athletic ability that would allow the Titans to move the pocket and get creative on offense. And I do expect to see a player that is "pro ready" in his second season.
Like I said above, this is a good competition to check in on. And we should know early in camp if Locker is ready to take that next step as the starting QB in Tennessee.
Follow me on Twitter: @MattBowen41