May 22, 2012 -
Matt Bowen
Will Newton avoid a 'sophomore slump' in 2012?
Cam Newton was special as a rookie in 2011. The Panthers QB threw for 21 TDs and rushed for over 700-yards while racking up 14 scores on the ground on his way to the OROY award.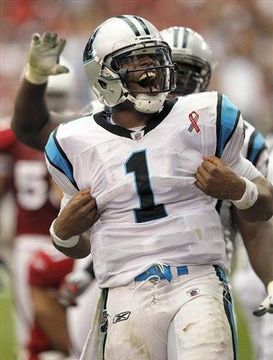 This offseason is crucial to Newton's development as a pro.
Give Carolina some credit here also for their offensive game plan. A scheme designed to utilize the skils that Newton brings to the stadium on Sundays. And I can tell you from a defensive perspective, this is one QB that will force coaches to spend extra prep time working to slow down his production.
The next step for Newton? Continue to develop and avoid a "sophomore slump" in 2012. Key for any rookie when they make the jump to their second season as a pro.
I know what head coach Ron Rivera said about his QB. He gave multiple examples as to why he wouldn't take a step back in his second season as a pro. But when I look at the Panthers QB, there is still plenty of room to improve.
Sure, the Read Option, sprint action, etc. will still be a part of the Carolina playbook and it should be given his talent at the position. That's smart football as it creates options within the call sheet. Too much size and speed to limit him within the playbook.
However, Newton must develop his game inside of the pocket, work on his technique and cut down the turnovers (17 INTs in 2011). Route reads, decision making, etc. For as many highlight plays as he put together last season, there were multiple situations that reflected his inexperience at the pro level.
That comes with more game experience and attention to detail in the offseason on the field and in the film room. Self-scouting will be key for the QB throughout the offseason and into the summer. Study the mistakes, focus on the technique and make the corrections. That's crucial for Newton, because the Bucs, Saints and Falcons are all watching the same tape. They will attack his weaknesses based off of what they saw last season.
I'm excited to watch Newton play this year because I want to see if he can raise the level of his overall game. The talent is already there. Now its about taking the next step as a pro QB.
And I think he will.
Follow me on Twitter: @MattBowen41