June 03, 2011 -
Matt Bowen
Will Orton be in the mix for Cards post-lockout?
We can all agree that the Cardinals need to make a play for a QB (either through free agency or trade) once the NFL lockout is lifted. The young names that the Arizona has at the position may make sense from a developmental standpoint, but this club needs a veteran to win in 2011.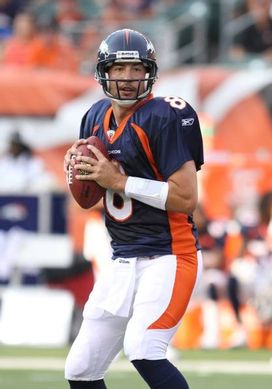 ICONCould the Cardinals make a play for Kyle Orton once the lockout is lifted?
And that veteran is expected to be Kevin Kolb. The upside, coaching from Andy Reid, etc. Not the ideal player in terms of overall experience in this league, but considering the demand for the position (as we saw through the draft), the Eagles' QB has seen his value rise during the NFL's work stoppage.
However, Kent Somers of the Arizona Republic has another name in Kyle Orton. He is hearing that the Cards "think highly" of the Broncos QB. And although he sees the club having a higher grade on Kolb, he brings up a point when it comes to the price to acquire a starting QB—don't overpay.
"Why give up substantially more for Kolb than you would for Orton?" Somers writes.
What Arizona wants to do here—as also stated by Gregg Rosenthal of Pro Football Talk—is create leverage, get the Eagles to drop their price for Kolb and make a decision on which QB fits their offense.
My take? There is no set price when you are desperate. And that is exactly where I see the Cards heading into 2011 at the QB position. They made the right call at No.5 in the draft selecting LSU CB Patrick Peterson. An immediate impact player in the secondary and in the return game.
However, by doing that, they didn't address a major need. That should tell all of us that QB has to be the play made once we see veteran player movement again in the NFL.
And if Ken Whisenhunt and the Cards see Kolb as the better player in this situation, then that's the move I try to make. Leverage or not, you get the QB that is going to win games. This isn't time to settle for the better price or the second option.
Add the right QB and start winning again in the NFC West.
Follow me on Twitter: MattBowen41