September 15, 2011 -
Matt Bowen
Will Saints lead with the run game vs. Bears?
After seeing the Bears shut down the Falcons in Week 1, the Tampa 2 defense is back in play. Rush four, drop seven into coverage. And when this Chicago defensive front can consistently get to the QB, there isn't a better coverage scheme than the 2 deep shell from Love Smith's unit.
The goal for the Saints? Force Chicago to play some single-high safety defenses. And you do that by running the football. A topic Wes Bunting and I discussed in the "Run N' Shoot podcast" on Wednesday night.
Let's break this down…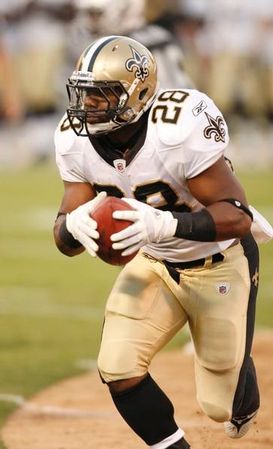 ICONGetting production from Ingram and the run game will lead to deep ball opportunities for Brees and the Saints offense.
- One of the reasons this Bears defense is considered a top 10 unit is because of their ability to play the run with a seven-man front. That is a luxury for any defense. In Chicago it allows safeties Chris Harris and Major Wright (or Brandon Meriweather) to sit in the deep half with both CBs getting a re-route on the WRs. Tough to throw the ball down the field in the vertical game.
- How do you counter that? Use the Power O (Guard pull, FB kickout), Lead Strong/Open, Counter OF, outside zone, etc. Attack the Chicago seven-man front with RBs Mark Ingram, Pierre Thomas and Darren Sproles. Because once the Saints can start moving the sticks on the ground, the Bears will have to adjust.
A couple of things that leads too…
1. Play action: If the Bears want to sit in Cover 2, lead with the run and then go to the play action game. This will open up the inside vertical seam, the dig route (which isn't the safety's play) and the post. And all it linebackers (especially the Mike Backer) to step towards the line of scrimmage. That's enough for Saints QB Drew Brees.
2. Matchups with the CBs: You continue to produce in the run game and Lovie will have to drop a safety into the box to create an eight-man front. In Chicago, that means Cover 1 (man-free) Under 10 (man-free with weak side FS rotation) and Cover 3 (3-deep, 4 under shell). Now Brees can go to work outside of the numbers vs. Charles Tillman and Tim Jennings and use the entire NFL route tree. That's a matchup that favors the Saints.
Let's see how the Saints open up the game on Sunday down in New Orleans...and I would lean heavy on the run game to set up my offense for the entire afternoon.
Follow me on Twitter: MattBowen41