March 27, 2012 -
Matt Bowen
Will the Browns create competition for McCoy?
Looking at the Browns as they begin to prep for the draft next month, there is a need for multiple upgrades on the offensive side of the ball. And with two first round picks (No.4 and No.22), Cleveland has the opportunity to land some talent that will provide an immediate impact in the game plan this year.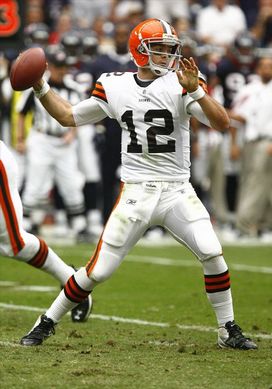 ICONWill the Browns target a QB in the draft to generate competition with Colt McCoy?
Drafting a RB or a WR at No.4 is a real possibility (think Justin Blackmon or Trent Richardson), but what about the QB position?
After failing to pull off the trade with the Rams to move up to the No. 2 spot, the Browns could target Texas A&M's Ryan Tannehill early (before the Dolphins are on the clock), or look to the second round. Prospects such as Oklahoma State's Brandon Weeden and Michigan State's Kirk Cousins.
The point here is bringing in some young talent at the position to compete with veteran Colt McCoy. The Browns' starter didn't advance in terms of his overall development last season and that is an issue if this team wants to consistently matchup with Baltimore, Pittsburgh and Cincinnati in the AFC North.
At the owner's meetings, GM Tom Heckert didn't rule out the possiblity of drafting a QB (via the Cleveland Plain Dealer), but added, "we're fine with Colt as our quarterback."
My take here? The Browns could add Blackmon or Richardson and even target some playmakers at No.22 (Stephen Hill, Kendall Wright, etc.) That sells when you break down the current depth chart in Cleveland. Upgrades—positive upgrades—for a unit that needs the ability to generate big plays.
But it still starts at QB and Cleveland has to get better at the position--regardless of what the GM says in late March.
The way I see it: draft a QB, open up the competition this summer in camp and see who comes out on top as the No.1. Because if the Browns want to improve as a offensive unit, generating competition at key positions is the right call. And that includes putting some pressure on McCoy.
Want to learn how to study the NFL Draft? Click here to sign up for the NFP's online scouting class.
Follow me on Twitter: @MattBowen41