March 25, 2011 -
Matt Bowen
Will the players agree to HGH testing?
I remember sitting in Union meetings during my NFL career and listening to Gene Upshaw—at the front of our team meeting room—tell us that the NFLPA would never agree to HGH testing. Forget blood samples, because this was a non-discussion on that day.
Move onto other business. The players weren't even going to entertain the idea during that meeting.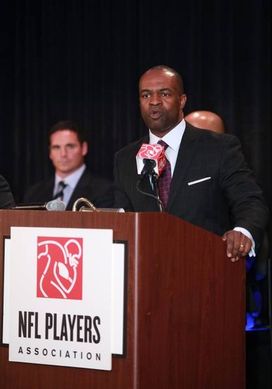 ICONDe Smith and the players will be a tough sell to the idea of HGH testing.
However, according to a report from Alex Marvez of FoxSports.com, that is exactly what the NFL wants in a new labor agreement. Adlopho Birch, the NFL's vice president and general counsel, told Marvez, ""We want it. We think it's necessary. We're going to ensure that it's done."
Is it necessary? Maybe from the league's point of view, but I can't see the opinions changing with the players now that De Smith is running the show. Blood testing (hopefully) will still be met with strong resistance and shot down—no different than when I played.
And the NFL could be asking for something (again) during this labor battle that they have no chance of obtaining from the perspective of the players.
Sure, there are performance-enhancing drugs in pro sports, and the NFL isn't immune to that. I can honestly say I never physically saw HGH during my career (and it wasn't a topic of discussion in the locker room), but I would be flat out lying if I didn't admit that it existed.
Of course it did and I am sure it is the same way now. Players coming back from injuries and also players looking for an edge. Or, players just looking to cheat the system. Whether you agree with it or not, that's the reality of pro sports.
I do support the NFL's drug testing policy. I was routinely tested during the season and at my offseason home in Chicago (good times having a stranger from the league watch you piss in a cup in the comfort of your own bathroom in late February). Steroids, performance enhancers and street drugs. That is all taken care of from a urine test.
Something you understand as a player. Your name shows up on the randomly selected list? Go give a sample for the league to examine. Routine in the NFL.
But giving blood is a different ballgame from a player's perspective. Needles, privacy issues, etc. Until then, develop a simple test—one that isn't invasive—and the players might be willing to listen. Because this idea should be met with the same resistance as it was when Upshaw was in charge.
Follow me on Twitter: MattBowen41