July 25, 2011 -
Matt Bowen
Will the Rams find a receiver for Bradford?
With speculation running high on the start of the new league year (and the opening of free agency), let's talk about some actual football on the field...
One of the great things about this league is that players have to prove themselves every season—and that especially applies to rookies. Show solid production in your first year in the NFL and we expect it to continue into the sophomore campaign.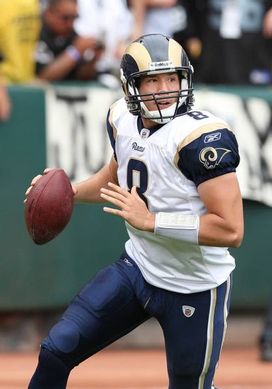 ICONBradford and the Rams could use some help at WR when free agency opens.
That is part of being a pro and the reason I am excited to watch Rams QB Sam Bradford this upcoming season. He was good—real good—as a rook. Showed patience in the pocket, was accurate with the football and made good decisions for a first year player.
Now, let's see if the club gets him some new receivers to play with.
As Bernie Miklasz of the St. Louis Post Dispatch mentioned yesterday, the Rams are the one team set at QB in the NFC West. The time is now to make the investment to ensure that we all see that development increase this season by adding a player outside of the numbers.
The one name that has been mentioned for some time is Plaxico Burress. But is that a true option for the Rams and a guarantee in production. Probably not as there are still plenty of questions that surround Plax.
But once we get to true free agency in the new league year, the Rams could be looking at Sidney Rice, Malcolm Floyd, Braylon Edwards, Santana Moss, etc. These are WRs that can come in, play and produce in Josh McDaniels' new offense in St. Louis.
A system that I think will fit Bradford's skills once the QB puts the extra time in during training camp to make up for the missed offseason due to the NFL lockout. This playbook is a good fit for the Rams QB.
However, just as I will talk about later today in a post on the Jets, receivers that will go and get the football aid QB play. And the Rams need to find that player for Bradford during free agency.
Follow me on Twitter: MattBowen41