August 10, 2011 -
Matt Bowen
Will we see 'sloppy' football this preseason?
Throughout the lockout and the first couple of weeks of the NFL preseason, there has been plenty of talk about the possibility of "sloppy" football this August. No offseason, limited contact in camp, etc. The exact reason I would push my starters for more playing time in the preseason when we look at this from a coaching perspective.
But how do you judge the level of play starting Thursday night and heading into the weekend? To make it simple, here are two things to keep an eye on: because they both center on technique and conditioning.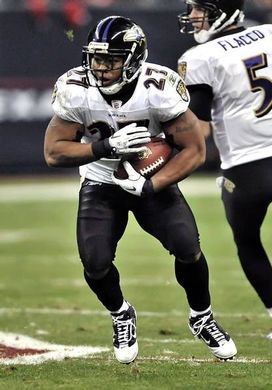 ICONRay Rice will run through plenty of tackles this preseason if defenders aren't playing with technique.
Tackling: Missed tackles occur in the preseason because of technique—especially in the open field. If you see players that can't come to balance, eliminate space between the ball carrier and use proper form, then they will get run over. It's that simple. The more missed tackles (and bad angles to the football) we see this weekend, that is a pure sign that players aren't hitting enough in camp—and playing with tired legs. It isn't easy to tackle Adrian Peterson, Ray Rice, Maurice Jones-Drew, etc. But if you play with the correct technique, at least you have a shot to get the ball carrier on the ground.
Penalties: When do we see them? With players that are out of position and out of shape. When technique suffers (footwork, hand placement, run-pass keys, etc.), players get lazy. O-Lineman will start to grab instead of sliding their feet, DBs will hold onto a jersey when they could open their hips and players will jump off-side when they are dead tired at the end of a 10-play drive in August. If we start to see penalties come at a frantic pace, once again look at the level of play.
No question there are other areas of the game to keep an eye on: dropped balls, blown coverages, pre-snap penalties, missed assignments and more. But to really judge where players are at in terms of their technique and conditioning levels after the lockout, go ahead and chart down the number of missed tackles and penalties.
Because that will show us just how sloppy the football is in the NFL right now.
Follow me on Twitter: MattBowen41