March 14, 2012 -
Matt Bowen
With Calvin Johnson, the price tag reflects the talent
I honestly don't believe you can't put a price tag on elite talent in this league when a player consistently impacts how opposing teams game plan on Sundays. And when we discuss Calvin Johnson, break down the Xs and Os of the Detroit offense and study how he attacks NFL secondaries, you should be willing to spend.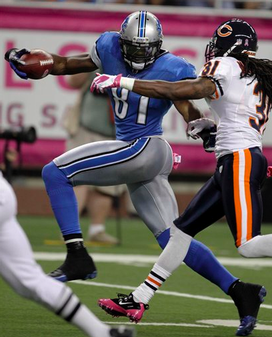 Johnson's extension is worth $132-million with $60 million in guarantees.
According to reports, Johnson will see that money today when he signs an extension valued at $132-million with $60 million in guarantees. A massive price tag. But as I see it, money that reflects the value of the top offensive weapon in the NFL.
Look at this from the perspective of a defense with Johnson. Cover 2? Cover 1? Or how about Cover 4 (quarters) and Cover 6 (quarter, quarter, half)? Those are the base coverage schemes you will see in NFL playbooks (and we could also add some Cover 3 as well).
They might look good throughout the week of practice vs. the scout team and on the chalkboard in the meeting rooms during your game prep.
However, on Sundays, Johnson can exploit any coverage. Because when he gets vertical up the field, every scheme turns into a one-on-one matchup at the top of the route stem. A safety playing the deep half vs. the 9 (fade), 8 (post) and the double-move? We all saw how that worked out in the 2011 season. A CB in a trail position (or on the hip)? That ball is still going down the field because of Johnson's ability to high point the catch and finish the play.
On top of that, think of the Lions offense. A spread system where they move Johnson, align him in multiple pre-snap positions and scheme to get him the football. Go back to the playoffs vs. the Saints. Move him inside at the No. 2 alignment and run the 7 (corner) route. That's a matchup he will win.
And that's on top of what he can do inside of the red zone on the goal line fade—a route that has become a true weapon for the Lions offense.
Yes, the money (especially the guaranteed cash) is eye opening. However, when you have a talent like Johnson that has to be accounted for on every single play, you pay up.
Follow me on Twitter: @MattBowen41