November 22, 2010 -
Matt Bowen
With Childress out, will the Vikings sit Favre?
Now that Brad Childress is out in Minnesota, new interim coach Leslie Frazier has some decisions to make—and it all starts with the quarterback position. Does he sit Brett Favre for Tarvaris Jackson or do we see the new Vikings coach ride out of the rest of the year with No.4 under center?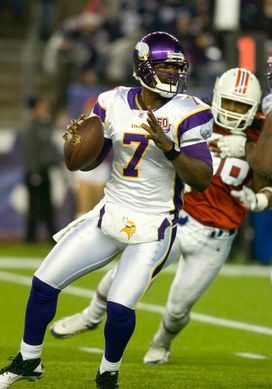 ICONStarting Jackson is an option for new Vikings' coach Leslie Frazier.
Let's think about this situation, because just like Jason Garrett down in Dallas, Frazier is interviewing for the Vikings head job in 2011 as well as auditioning for the projected multiple vacancies that will exist around the league come the offseason. I am sure we will hear about different practice routines, schedules, play calling etc. when it comes to Frazier. His first job is to try and change the daily culture of the Vikings' facility. No different that Garrett in that regard.
However, all of that expected change is just window dressing at the end of the day unless the Vikings start winning games. And that brings us back to Favre vs. Jackson. Who gives Frazier the best chance to win games over the next six weeks? Who can run this offense with production, protect the football and put points on the board?
We have to understand that the Vikings aren't playing for the 2011 season. Because of that, you don't throw Jackson onto the field to "see what he can do" as part of your offseason prep with free agency and the draft. That is bad logic no matter what the situation is—especially for a new coach that needs wins for his resume. He has to be the right choice for Frazier and owner Zygi Wilf—the man who is paying Favre that $16-million dollar contract.
I agree that it will be hard for Frazier to look past Favre's league leading 17 interceptions and the lack of impact he is now having in Minnesota. The overall production has slipped with No.4. Does that mean Jackson can come in and win games? Speculation might say that is a possibility, but we are also talking about a QB that this franchise has kept on the bench for a reason.
Bottom line for Frazier: the Vikings are a mess right now. The issues go deeper than the production at the QB position. They also exist in the locker room and on the defensive side of the football. Because of that, you stick with the QB who can allow your sqaud to compete on Sunday. I am sure there will be plenty of opinion that will favor Jackson, but I still don't see how he can give the Vikings a better chance to win for the remainder of this season over Favre--even with the drop in production.
What's your opinion? Let me know...
Follow me on Twitter: MattBowen41