August 24, 2011 -
Matt Bowen
With Collins, the Colts have a true 'insurance plan'
Kerry Collins isn't going to produce the same numbers we would see from Peyton Manning in a Colts uniform. We all know that, but what other options were there for Indy as Manning continues to rehab from neck surgery?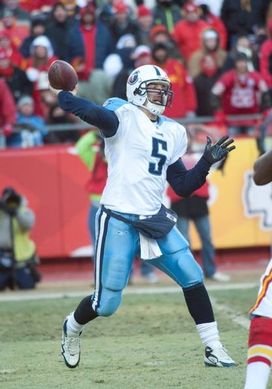 ICONCollins gives the Colts a veteran QB that can handle the game plan if Manning can't start the regular season.
This is a move the club had to make. And even though the Colts had to bring Collins back out of retirement, they now get an established veteran quarterback that can handle (and execute) a pro game plan.
That had to be the goal, because current backup QBs Dan Orlovsky and Curtis Painter aren't going to win games in the NFL.
Collins is a solid backup (or insurance) plan in Indy. If Manning misses opening day—or more—the Colts can turn to the former Titans QB and have no issue handing over the playbook.
He has been around for a long time. I played against him during my own career. A big time arm and a QB that isn't afraid to test the top of the defense. He can get the ball down the field to Reggie Wayne, throw the deep inside breaking routes to TE Dallas Clark and hit the 7 (corner) route vs. Cover 2.
But the real story here? It gives Manning the proper time to recover and take the field as healthy QB. I'm sure Colts fans want to see Manning out at practice today, but with Collins now in town, you do have a QB that allows you to be competitive in the regular season.
There is no doubt about the level of concern with Manning still out and watching from the sidelines, but this makes this move even more crucial to the Colts. Because it protects them early in the season. And that's something that didn't have before.
Follow me on Twitter: MattBowen41