November 15, 2011 -
Matt Bowen
With Gronkowski, Patriots have a matchup weapon
Click here for the entire Inside the Playbook series.
Let's talk matchups today and focus on Patriots' TE Rob Gronkowski in the red zone vs. the Jets. A player that can cause issues from a defensive perspective when we talk coverage, leverage, etc.
Before we get to the route scheme, think personnel and alignments always with the Patriots. Ace (or 221) personnel (2 WR, 2 TE, 1 RB) on the field in a 2x2 "orange" alignment with both WRs (Branch and Welker) aligned inside the numbers as slot receivers. Run the "Pin" concept (a top route scheme in the New England playbook) to the short side of the field.
Here is the route drawn up from the Pats' pre-snap look: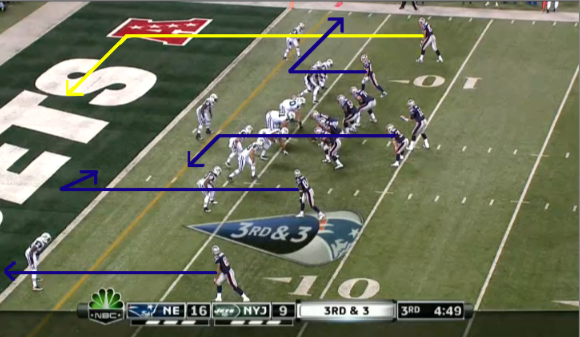 A couple of quick coaching points here…
-The Jets show pressure here from their initial alignment, but they are playing Cover 1 (man-free). And that is going to set up the Patriots to run the "Pin" route.
- To break down the "Pin" concept is simple terms, think of an underneath scheme (out, flat, option) with a intermediate to deep route over the top (dig, post). A two-man combination designed to beat Cover 1 and Cover 4 (quarters).
- The matchup: Gronkowski vs. a CB (playing outside leverage) on an inside breaking route (dig route highlighted in yellow). A matchup that favors the Patriots even before the ball is snapped based on the coverage and alignment of the TE.
- How do you defend it? That's a great question, because a DB playing Cover 1 vs. a receiver aligned outside of the numbers is taught to funnel the receiver back to his safety help in the middle of the field. But when you factor in the size of Gronkowski, a CB isn't going to make a play here on a ball thrown to the up field shoulder.
Gronkowski (along with the Packers' Jermichael Finley) can create matchup problems in the red zone because of his size and ability to run the route tree. And when you add in the Xs and Os of the game, he becomes a weapon when you work the ball into the end zone.
Follow me on Twitter: @MattBowen41