August 22, 2010 -
Matt Bowen
With Haynesworth, it is the same old story
Redskins' DT Albert Haynesworth is quickly becoming the perfect example of what overspending can do to a player and a club, and also how nasty things can get when you pay top dollar for a player who shuts it down—completely.
I have talked to current players and former players—along with some of Haynesworth's former teammates in Tennessee—and they all the same opinion: this guy doesn't care after getting paid. And, in reality, it is likely the same opinion that you and I have. He got his money and now he doesn't have to answer to anyone. Coaches, front office, the locker room. It doesn't matter.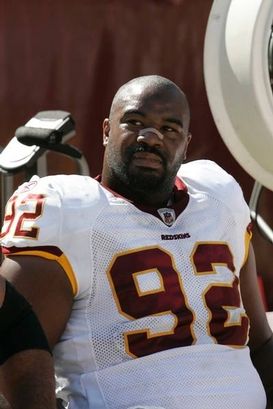 ICONHaynesworth has been an issue for the Redskins since early March.
I can give Haynesworth, and the rest of that Redskins team, a pass on the '09 season under Jim Zorn. When you play for a coach that you know is headed out the door, season's fall apart at a rapid pace. I saw it myself in Steve Spurrier's last season as the head coach in Washington in 2003. We finished 5-11, and it was a miserable experience as a pro athlete.
But, that was last season, and when a coaching change happens in the NFL, you have no choice but to adapt and transition under the new schemes, new rules and new ways of playing football. It is your job—and that is why you get paid good money.
London Fletcher, Clinton Portis, Phillip Daniels, Andre Carter and the rest of the Redskins have bought into it. Why not Albert?
I know this is an old story when we take a step back and look at it, because it started way back in March with the offseason program, cooled off and then blew up again when the entire sports world jumped on the bandwagon when Haynesworth failed repeatedly at passing the 300-yard shuttle conditioning test.
However, there is a very noticeable pattern that has developed here, because once Haynesworth was thought to be back on board with Mike Shanahan and the Redskins, we saw another case last night when, well, he really wasn't. He had to play in the second half of a preseason game. Something he didn't agree with. But, when you don't practice there are consequences in this league.
Sooner or later he has to just start playing ball right?
Of course, we like to think that, and we can probably say the same about owner Daniel Snyder—the man who paid all of that money. He wants to see Haynesworth go out and play football too. Leave the drama at the door.
Honestly, I don't know if that is ever going to happen in Washington. In my opinion, this defense under Jim Haslett is talented and what they do scheme wise is good enough to win without Haynesworth. Haslett already has the players in that locker room who want to practice.
Sure, there is always the possibility that this thing gets swept under the rug and we get back to talking about actual football in Washington. Can it happen? Doesn't look that way right now, which is unfortunate. A great talent who doesn't have the desire.
Follow me on Twitter: MattBowen41
Click here to purchase the Total Access Pass/ Fantasy Draft Guide from the NFP.