March 18, 2012 -
Matt Bowen
With Lloyd, it won't be easy to game plan for Patriots
When breaking down the addition of Brandon Lloyd to the Patriots (first reported by ESPN), I look at this from the perspective of a defensive game plan. Think coverage here, the secondary and matchups vs. the Patriots offense skill players.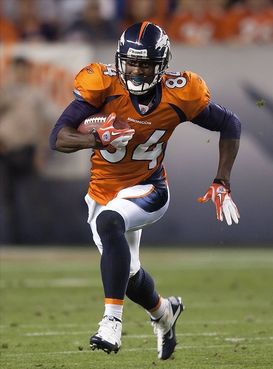 ICONLloyd adds to the Patriots' offense with his ability to stretch the field.
Lloyd can get down the field. We know that. Plus, he has the ability to track the ball, make an adjustment at the top of the route stem and finish the play.
What does that lead to in a defensive game plan? I would always lean on more Cover 2 (Tampa 2) when there is speed outside of the numbers. Get a jam on Lloyd, limit his release up the field and put a top on the secondary with two deep safeties. Take away the vertical concepts and force the ball underneath.
However, playing Cover 2 (or 2-Man) vs. Brady and the Patriots creates issues for the middle of your defense. Look at the TE position in New England. Rob Gronkowski on the inside vertical seam or Aaron Hernandez running the option routes and H-Lo concepts.
On top of that, Wes Welker can run the entire intermediate route tree from the slot position. Inside breaking concepts that can rip apart a Cover 2 scheme.
The point here is pretty simple: adding a vertical player such as Lloyd forces opposing defensive coordinators to re-evaluate how they prep for New England.
I said Cover 2 above, but we could also throw Cover 4 (quarters), Cover 1 (man-free), Cover 7 (combination man), etc. into the discussion as well. Every coverage is suspect when you have a player that can flip the field on top of the talent the Pats already have on the roster.
And thinking about it today, if Lloyd does have the impact everyone expects in the Patriots offense, finding a coverage or scheme to match New England's multiple alignments, personnel groupings and play makers just got a lot tougher.
I give the Patriots a lot of credit here. They targeted (and added) a player to upgrade their offense at a bargain price (3-years, $12-million). And considering the amount of cash we saw thrown at the WR position this past week in free agency, the Patriots made the smart move.
Follow me on Twitter: @MattBowen41