June 21, 2011 -
Matt Bowen
With new coach, expect a 'real' QB battle in Denver
One thing is for sure when a new coach comes into town in the NFL: every job is up for grabs.
And in Denver, that includes the QB position where Kyle Orton, Tim Tebow and Brady Quinn will all compete for the No.1 job once we get back to real football on the field.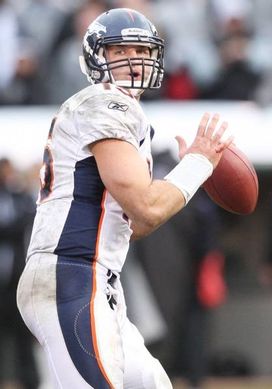 ICONWith a new coach in town, Tebow will compete with Orton and Quinn for the No.1 job in Denver this summer.
It is easy to throw Orton and Tebow's name into the hat (assuming the Broncos don't deal Orton once the lockout ends), but Quinn also? Sure, because right now all that John Fox can do is go back and turn on the tape and study the technique of his new players.
But the reality of this situation—thanks to the NFL labor battle—is that Fox doesn't even know his QBs yet. He needs to see how they carry themselves in practice, in game situations of the pre-season, meetings, competitive drills, etc. That is all a part of the competition for jobs in the NFL.
I've been there with a new coach when Joe Gibbs came into Washington to relieve Steve Spurrier (I still miss the Ball Coach), and we knew as players that everyday was an interview. Practice hard and understand that the minute you walk into the facility you are being graded in one aspect or another.
No different in Denver. John Fox didn't draft these QBs, didn't pick them to play for his squad. Instead, he inherited them because the franchise didn't win enough games last season.
If all three QBs are in a Broncos uniform when camps opens, I would put my money on Orton because of his experience. But that doesn't mean Tebow or even Quinn can't make a run at this thing. Give the job to the player that shows he can handle the huddle and put points on the board.
The offseason has already been a bust, but let's hope here for a full training camp and a full slate of preseason games so all three QBs get an opportunity to win a job. That is how the NFL works and I want to see which player comes out on top. Part of the competition as a veteran holdover when the new staff comes to town looking to clean out the locker room.
Follow me on Twitter: MattBowen41