September 24, 2012 -
Matt Bowen
With NFL replacement refs, it's a 'free for all' in the passing game
If you are an NFL DB or WR right now, why wouldn't you test the limits of these replacement refs and see if they have the guts to throw the flag?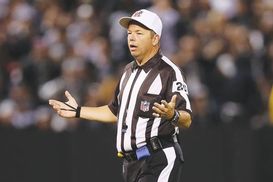 Replacement officiating crews are inconsistent when it comes to making calls in the secondary.
That's my take after watching the overall play in the secondary (especially in the vertical passing game) after the first three weeks of the NFL season.
Think about it: there is no reason for offenses to shy away from throwing a straight 9 (fade) route. WRs can push off to create some separation and run free down the field with no call. Now flip it over to the defensive secondary. A double-move? Why not sit on the route and still put yourself in a position to make a play with a bump, hold, grab, tug, etc.?
Maybe it is called, maybe it isn't. But that's the point here because I don't see any consistency from these replacement officiating crews when it comes to the passing game.
And when that happens the NFL resembles fourth-grade recess at times in the secondary.
Go back to the Patriots-Ravens game from last night. I am a big fan of allowing DBs to use their hands, bump, get physical at the line of scrimmage and play through some contact when they break on the ball.
But I don't think that crew had an idea on what was considered illegal contact, defensive holding, or pass interference.
How about tonight in Seattle? This Seahawks' secondary is a Top 5 unit in the NFL and they have real size in the backend. Matching up against the Packers' talent at the skill positions, why wouldn't the Seahawks' DBs play overly aggressive from the first snap? Beat these WRs up down the field and see if you the refs let it slide.
I understand that both coaches and players have to work throught this. However, the games are taking way too long and guys are starting to play through the whistle—because they can get away with it. And in the secondary, that leads to a lack of structure on the field.
Follow me on Twitter: @MattBowen41