March 24, 2011 -
Matt Bowen
Without playbooks, rookies will suffer in lockout
There will be plenty of fallout from a lengthy lockout when it applies to the rookie class coming into the NFL. No contracts, no bonus checks, no official contact with their new coaching staff after the draft and, as commissioner Roger Goodell pointed out this week, no playbooks.
A rookie without a playbook? That's bad news no matter how we try to spin it. Let's look at four reasons why rookies can be expected to fall even farther behind if the lockout extends past the draft and into the summer.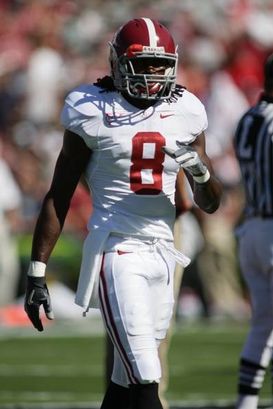 ICONJones, and other rookies, will be impacted without playbooks during the lockout.
1. Lining up to play: Sounds too simple, right? It may be for veteran players, but for rookies you have to start somewhere. Think of the splits of WRs, the depth of the safeties in Cover 2 (who will be working with different landmarks in the NFL), where QBs can expect the post route to break vs. Cover 3, etc. Where do you learn this as a rookie? In the playbook. The first thing you are handed when you enter the team facility for that first mini-camp after the draft. And even if you played in a similar offensive or defensive system in college, it is going to be coached differently in the NFL. Hard to play football vs. NFL competition when you can't line up the way it is drawn up on the chalkboard.
2. Terminology: Something I really struggled with as a rookie in St. Louis. I remember opening up that playbook in my hotel room the night before my first mini-camp practice and being absolutely floored at the amount of "new" terminology I had to learn. Coverages had unique names, basic techniques were tagged differently and the overall concept of our defense (which was complex under coordinator Peter Giunta) was above my head. Think of Cam Newton and Blaine Gabbert. They won't be running the spread system in the NFL. Instead, a new pro-style offense that will require study time. And that is tough to do without a playbook.
3. Audibles, checks: Important phases of any offense or defense. What do you do vs. a slot formation—with RB motion to the closed side—in Cover 4, or Cover 3? Do you check out of a blitz look vs. an empty alignment? Does the SS run with motion—or pass it off—vs. a No. 2 WR removed from the core of the formation? And we can apply this to the offensive side of the football just as easily. Offensive lineman leraning the protection schemes vs. six and seven-man pressure. WRs adjusting their routes vs. a rolled up corner or an off-man look. Running backs in blitz pickup. Quarterbacks knowing what he is going to get from his No.1 WR when he reads Cover 2 at the line of scrimmage. These checks and audibles are crucial. I had to re-teach myself these in Gregg Williams defense every offseason in Washington—and I knew the playbook.
4. The depth of the playbook: An NFL playbook is thick. A lot of pages to flip through before you burn yourself out trying to remember formations and coverage aspects. Even the top two prospects I see in the draft, Von Miller and Patrick Peterson, will fall behind without getting their hands on an NFL playbook. The technique, the footwork and other aspects of the game come with pro coaching once you get on the field. But you need that information (the X's and O's) as a rookie before you put your cleats on for the fist time. I have heard suggestions that rooks could maybe get a playbook from a veteran. Not happening, because you are required to turn those in at the end of the season or pay a nice fine ($20k during my career).
Another reason (and there are many) to hope for some sort of agreement between owners and players soon. Time to start talking real football--instead of issues that will impact the game.
Follow me on Twitter: MattBowen41