August 11, 2011 -
Matt Bowen
Would you make a play for Lee Evans?
Lee Evans numbers were down last season (37-578-4TDs). I understand that. But with reports stating that the Bills WR is on the trade market, I am going to have no problem putting together an offer to get him on my roster if the value is right.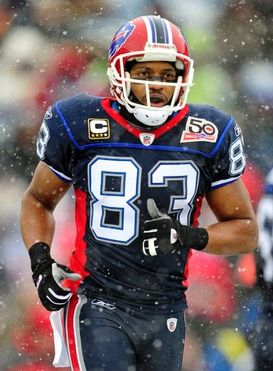 ICONAccording to reports, the Bills are looking to trade WR Lee Evans.
I played with Evans in Buffalo during my career and saw his ability up close. If you put him on an offense that has consistent play at the QB position, plus solid talent along the O-Line, he can have an impact in 2011 down the field and in the intermediate passing game.
Here is what I see with Evans:
- Speed. Can still get down the field. Type of WR that can press the cushion of a CB playing off-man and get on top of a safety playing Cover 2. That sells in the NFL when you can test the top of the defense.
- Evans plays like a WR that "glides" in an out of his cuts—especially at he top of the route stem. Think of the 8 (post), or the 7 (corner). This is where I see him at his best. Set up the CB in Cover 1 or move the safety off of the numbers in Cover 2. And that leads to explosive plays in the vertical game.
- He is a No.2 at this stage of his career, but with the amount of spread looks we see in the NFL today, there is value here. Align him outside of the numbers or use pre-snap motion to get him open in the middle of the field. Add him to the game plan.
The question now: does a trade go down? We look at Arizona or Baltimore (teams that could use a WR), and a move here (early in camp) makes some sense. Let's see how this plays out, because having him on the Bills roster to open the season could also be a good thing for Chan Gailey's club.
Follow me on Twitter: MattBowen41