April 20, 2012 -
Matt Bowen
Would you make a run at Asante Samuel?
Looking at offensive playbooks in the NFL, why wouldn't there be interest in Eagles CB Asante Samuel? Think about it: if you play in the nickel (or dime) sub package, you might as well call yourself a "starter" in this league.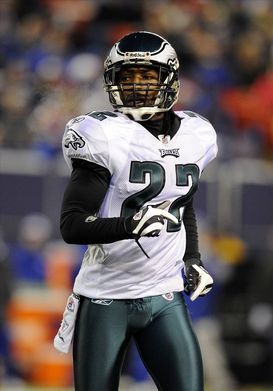 ICONThe Eagles are looking to trade veteran CB Asante Samuel.
Three and four wide receiver personnel, two tight end sets with a "move TE" flexed from the formation as a WR. Empty looks. Spread the field and chuck the ball around.
You need three CBs that can cover, drive on the ball and matchup to the entire route tree inside and outside of the numbers.
Samuel gives you that. Maybe he isn't your No.1 guy that draws the matchup of the top WR across the line of scrimmage or even your No.2 in the secondary.
However, you need multiple corners on your roster that play a role in the defensive game plan.
The Eagles CB can play from an off-man position (toughest technique in the secondary) and he gets his hands on the football. The negatives? Samuel will take some risks, jump a route and he isn't a physical ball player. Not the ideal CB to set the edge or play in a Cover 2 based scheme.
And there is the contract. Philly owes the CB $21-million over the next two seasons and his value on the field doesn't reflect that price tag. However, if you can re-negotiate a new deal, a new dollar amount, this has to be an option for multiple teams.
A fifth or sixth round pick for a CB with experience that can come in and upgrade your secondary? If I had a defensive playbook that leaned heavily on Cover 1 (man-free), I would take a hard look at Samuel.
Follow me on Twitter: @MattBowen41