February 22, 2012 -
Matt Bowen
Would you make a run at Mike Wallace?
When breaking down Mike Wallace I see a WR that has elite deep ball speed, can make plays after the catch and when put in a one-on-one situation will eat up the cushion of a DB on a consistent basis.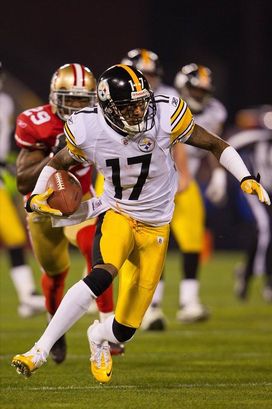 ICONMike Wallace is worth the value of a mid to late first round pick.
Think of the deep post vs. Cover 2 or the straight 9 (fade) route vs. a CB in a press-man alignment with Wallace. Plus you can throw the curl, slant and one-step hitch and get production in the open field. An experienced player that will put up numbers in multiple offensive systems because of his ability to align outside of the numbers and in the slot.
And he could be available—if you are willing to part with a first round pick.
Wallace is scheduled to be a Restricted Free Agent in three weeks and the new CBA rules reduce the highest compensation level to a first round pick to clubs that lose a RFA.
Add in the Steelers cap issues and the WR could leave Pittsburgh this offseason if a another team signs him to an offer sheet. That's a reasonable price to pay for true talent at the WR position if you can give up a mid to late first round pick and present Wallace with a new deal.
Take a look at these teams (along with their first round position) that I believe should entertain the idea of making a play for Wallace if it fits within their salary cap.
Cincinnati (No. 17, No.21)
Chicago (No.19)
Cleveland (No.22)
New England (No.27, No.31)
Baltimore (No.29)
San Francisco (No.30)
And looking at the draft, what rookie WRs are left on the board when those six teams are on the clock? Oklahoma State's Justin Blackmon will be gone and I don't see how Baylor's Kendall Wright is still hanging around waiting for a team to call.
That leaves you with possibly a prospect such as Michael Floyd out of Notre Dame. Is he an upgrade in talent over Wallace? I don't see it.
Plus, with rookie WRs, you never know what you are going to get. Can they beat press-man, separate down the field, win vs. NFL DBs and transition (quickly) to the pro game? Too many questions for me if I have the opportunity to bring in a proven NFL talent like Wallace. That's real value.
We still have to see how this plays out with the Steelers first. But if Wallace isn't signed to a long-term deal in Pittsburgh, then he might be the best option for teams looking to add a WR that can come into camp and produce on day one.
Follow me on Twitter: @MattBowen41