May 05, 2012 -
Matt Bowen
Would you push for Tannehill to start in Miami?
I don't know how Ryan Tannehill will react vs. NFL game speed. No one does. And any speculation in early May isn't worth it.
I'm not concerned with how the Texas A&M product looks in rookie mini-camp, OTAs, etc. He will make some mistakes and throw some questionable balls—especially when he lines up vs. the vets in Miami.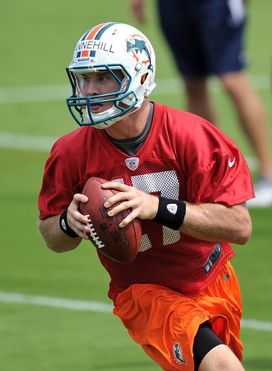 Rookie QB Ryan Tannehill will get a shot at the No.1 job for the Dolphins.
That's what the offseason is for. 7-on-7, team drills, one-on-ones and so on. Go to work in short sand helmets with technique as the focus. No one is going to win a job here and that includes veteran QBs Matt Moore and David Garrard.
However, the goal for Tannehill this offseason is simple: get comfortable in the offense (one he has some experience with after working with Mike Sherman in College Station) and prep to compete in training camp. That's when the QB job will be won in Miami. And according to the Palm Beach Post, Tannehill will get an opportunity to grab the starting role for Joe Philbin's team.
I like it. In fact, I would give the first round pick every chance possible to come out of camp as the clear No.1.
I understand the opposite opinion when it comes to rookie QBs in this league. Sit them down and allow them time to learn behind a veteran. And that seems to be the idea with NFL analysts when it comes to Tannehill.
That's fine. But tell me how he gets better if he isn't given that fair shot at the job? Run the scout team in the regular season? Come on. That's not good enough. I know what the scout team is all about. Run "cards" (opposing team plays drawn up on cards) and make the first team offense and defense look really good throughout the week.
Translation for a rookie QB: throw picks in practice—lots of them.
Game reps are the ticket from my perspective when it comes to developing QBs or any other position on the field. Rookies need to play on Sundays to improve. No question there will be some ugly moments, but watching on the sideline and missing out on valuable tape to study doesn't help either.
Like I said above, I have no idea how Tannehill will respond to a competitive situation in camp or throughout the preseason schedule. Put pads on and the speed jumps in this league tremendously. By the end of August, the rookie might not even be a part of the QB discussion in Miami.
But I like the idea that the Dolphins will give him that opportunity to come out on top. Let him compete. That's what I would do.
Follow me on Twitter: @MattBowen41