August 16, 2011 -
Matt Bowen
Would you take a 'flier' on Aaron Maybin?
Aaron Maybin was a bust in Buffalo. Happens when you can't find a way on the field for two different coaching staffs as a former first-round pick. The 11th overall selection in the 2009 draft posted 22 career tackles in a Bills uniform and had no impact off the edge as a pass rusher.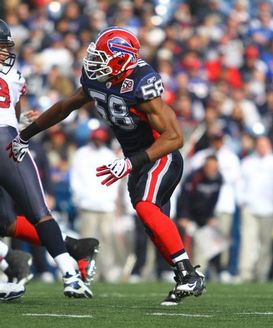 ICONFormer first-round pick Aaron Maybin is out of work and looking for a new job.
Bad football. No other way to spin it—and that's why he is now looking for work in the NFL.
However, first-round players that can't produce early in their careers often get that "second chance" opportunity. Because a new coaching staff is always ready to take a flier on that projected talent.
We are watching it right now down at Bears camp in Bourbonnais with former Jets top pick Vernon Gholston. Why? Because Lovie Smith is going to see if he can find a talent that can rush the passer as a DE. He wasn't a fit as an OLB, so put his hand in the dirt and let him attack the edge.
No risk involved with Gholston. If he can't make the roster, cut him loose.
Exactly where Maybin is at right now. He needs a new club to give him a shot in camp—if he wants to play football again in this league.
The problem, however, is what you can expect in terms of his overall game. Maybin reported to camp at 228-pounds. Going to be hard for a 4-3 team to find a role for him outside of anything but a situational rusher (which doesn't guarantee production). Plus, as we saw with the Bills, he didn't fit as an OLB in a 3-4 front.
That's what happens to a player like Maybin that comes into the league and lacks development as a pass rusher. Nothing to his game outside of speed—and that exists all over the field in this league. You need rushers that have a variety of moves at the point of attack that allow them to make plays behind the line of scrimmage.
Like I said above, I wouldn't be surprised if a team scoops up Maybin. No risk to bringining him in for a workout, handing out a practice jersey and throwing him into one-on-one pass rush drills. Give him that opportunity to make your roster and show up on tape in a preseason game.
However, what are you really getting with Maybin? I need to see him make a play first before I give out an opinion.
Follow me on Twitter: MattBowen41