April 23, 2013 -
Erik Oehler
10 late round sleepers who could surprise: Part II
With the 2013 NFL Draft just days away, the bulk of the media's focus is on the players that will be drafted in the first round and what teams will select them. However, often the difference between teams that win and those that don't is determined by their success with late round selections. Over the last two days we have looked at ten prospects that I believe will be late round picks and could develop into quality starting players, below are the second five.
1. Alec Lemon, WR, Syracuse, Senior (6012, 202 and 4.58): A quicker than fast receiver, Lemon's struggles getting separation deep and out running defenders to make big plays running after the catch will likely lead to him being a late round pick. When he reaches out and catches ball away from his body he shows excellent hands and has consistently made tough catches on off-target passes. A smart receiver, Lemon finds open spaces in coverage and uses hands well to create some separation. However, it is a big concern that he throttles down and takes so many steps getting in and out of his cuts as this will keep him from getting separation versus man coverage in the NFL. In the end, Lemon is not going to be a high draft pick, but if he can improve his ability to get in and out of his cuts quicker he could develop into a quality starting receiver.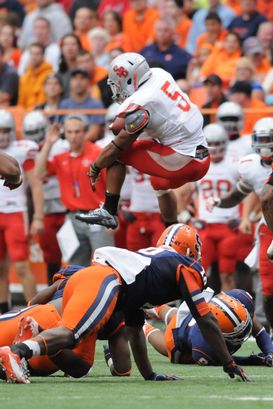 US PRESSWIREStony Brook's Miguel Maysonet hurdles Syracuse defenders.
2. Miguel Maysonet, RB, Stony Brook, Senior (5090, 209 and 4.55 E): After splitting time during his college career, Maysonet exploded in 2012 and put himself squarely on the NFL's radar. While he lacks great size and has only been a full-time starter for one season, his dynamic quickness, agility and balance enables him to change directions in a flash to make sharp cuts and make tacklers miss. When he gets beyond the line of scrimmage with the ball, he is a dangerous runner who is a legit touchdown threat on every play. However, Maysonet is not natural catching passes and does not wrap-up and protect the ball consistently. He will need to improve in both of these areas to stick in the NFL long term, but if he does he could turn out to be a versatile backup tailback and big play third down back.
3. Luke Marquardt, OT, Azuza Pacific, Senior (6080, 315 and 5.30 E): Blessed with great height and shocking athleticism for such a big man, Marquardt is the ultimate long term project. For a tall offensive tackle, it is surprising how quickly Luke can get through to the second level to block linebackers and can slide out to protect the corner vs speed rushers. The issue is that for a player who flashes good technique at times, he almost always plays straight legged and does not use his hands aggressively, which allows pass rushers to jolt and push him around way too often for a player with excellent natural strength. Additionally, Luke only played one season at Azuza Pacific and missed his senior season due to a foot injury, which has limited his development. Marquardt is an excellent developmental prospect who is worth drafting late by a team committed to his spending a season or two developing before being forced into the lineup because he has the potential to become a very good starter.
4. Patrick Omameh, OG, Michigan, Senior (6040 E, 295 E and 5.10 E): Possibly one of the most frustrating offensive linemen in the draft, Omameh is a far better athlete than football player at this point in his career. He has the foot quickness to get set to block fast and has the strength to keep man tied up and eliminated from the play when he can get his hands on man first. For a player with his flexibility, Omameh bends at the waist too often on in-line run blocks and stops feet after making initial contact in pass pro, which both often lead to him leaning and over-extending to maintain block and ends up on the ground more often than a player with his athletic gifts should. Not likely to be drafted, Omameh would be an excellent seventh rounder because I believe he has the talent to try and develop.
5. J.D. Woods, WR, West Virginia, Senior (6010 E, 190 E and 4.58): With all the attention focused on quarterback Geno Smith and receivers Tavon Austin and Stedman Bailey, Woods has largely slid under the radar. However, after running and working out so well at the West Virginia Pro Day, Woods put himself back into late draft consideration. There is no doubt about Woods toughness catching passes as he heads into traffic without flinching or dropping the ball when he gets plastered right after the catch. In addition, Woods has outstanding hands to make tough catches, is quick starting up the field after the catch and is a strong and productive runner with the ball in his hands. Overall, I do not expect Woods to be drafted before the sixth or seventh round, but with his size, smooth athleticism and hands, he has the potential to develop into much more than a backend of the roster receiver.
Email Russ at Russelllande@yahoo.com and Follow Russ on Twitter @RUSSLANDE