August 05, 2010 -
National Football Post
2010 NFP Scouting Series: Arizona
For the rest of the summer, the National Football Post will be breaking down every team in the Football Bowl Subdivision (formerly known as Division I-A) to identify players who could warrant the most interest from NFL teams in the 2011 draft.
Offense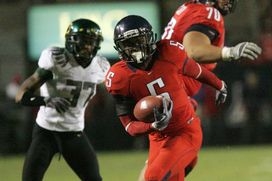 ICONGrigsby lacks size, but can be shifty in the open field.
RB Nic Grigsby: No. 5 (5-11, 193)
A thin, narrowly built running back who lacks ideal girth through his lower half and doesn't have the type of strength to run through/break tackles inside. Runs hard and is able to press the line of scrimmage quickly. But doesn't exhibit great vision and instincts inside. Has a tendency to stop moving his feet waiting for blocks to set up and will go down easily on contact.
However, he does have some shiftiness to his game once he gets out to the second level. Exhibits natural fluidity through his hips and has the wiggle to make a man miss and accelerate into daylight. Possesses above-average footwork and can get to the edge quickly on perimeter runs, put his foot in the ground and explode up the field. Showcases a good first step, but is but more quick than fast, displaying good, not elite speed. Missed a lot of time last year with a shoulder injury and doesn't have the type of frame to take a lot of pounding. Runs with a decent pad level but will allow himself to get upright when trying to break down and simply doesn't have much in the form of girth to protect himself.
Impression: An above-average athlete, but lacks size, power and instincts inside, and you'd like to see your scat back be a little more dynamic than he is.
C Colin Baxter: No. 64 (6-3, 293)
Possesses only average size for the position, fails to keep his pad level down in pass protection and simply isn't a real coordinated blocker. Struggles to naturally sit into his stance and allows himself to double over at the waist initially off the ball, which causes him to struggle to keep his feet under him. Allows himself to easily get walked into the backfield and doesn't generate much of a pop on contact. Really doesn't look comfortable using his hands to dictate to blocks and rarely is able to properly extend his arms and gain leverage into contact on opposing linemen.
Isn't a real gifted athlete, has a tendency to get overextended into blocks, stops moving his feet and lacks ideal range when asked to redirect inside. Possesses above-average instincts and does a nice job keeping his head on a swivel. Also, exhibits a good feel at the second level when asked to pull and get out in space, just lacks ideal range. Really seems to lumber trying to reach a target off his frame and doesn't generate much pop on contact as an in-line guy. Isn't real explosive off the snap, struggles to keep his pad level down and is easily stalemated at the point.
Impression: Lacks ideal athleticism or power inside and doesn't play with the type of technique to make up for his limited skill set. Is aided by how quickly the ball is released in the Arizona offense, but looks like nothing more than a camp body.
OT Adam Grant: No. 78 (6-6, 326)
A big, thickly built offensive lineman who seems a bit soft through the mid-section. Lacks ideal flexibility off the snap when asked to work from a two-point stance. Has a tendency to stand upright off the ball before starting to slide his feet and is limited from a technique standpoint in his kick-slide at this time. Struggles to really sit into his stance, takes too long of steps when trying to reach the edge and struggles to maintain balance into/through contact. Possesses average range when trying to reach the corner and struggles to maintain his footing. Plays too high and simply doesn't have the type of body control to quickly extend his arms into opposing linemen and slide his feet through the play. Is easily slipped on contact and isn't a guy who can cleanly redirect back inside off any type of counter move. Did a better job toward the end of the year keeping his hands set and in front of his frame ready to punch, but doesn't play real long and fails to consistently extend into contact. However, does display heavy hands when he's able to block down and can uncoil a nasty punch into contact when he can attack his target. Also displays decent anchor strength because of his good size and can be tough to drive into the backfield once he gets his hands on you.
Showcases average natural upper body strength in the run game. Can initially get his feet around blocks, lock on and stick to his man through contact. But isn't a guy who plays with the bend or generates the type of leverage needed to drive defenders off the football.
Impression: Looked a little more balanced in pass protection as the season went on, but isn't a real natural bender. Lacks the athletic ability to play on the left side in the NFL, and he isn't powerful or flexible enough to drive defenders off the football as a right tackle.
Defense
DE Brooks Reed: No. 42 (6-3, 255)
An undersized pass rusher who plays 100 miles per hour on every down. Exhibits a good first step off the snap, gets off the ball quickly, keeps his pad level down and is consistently one of the first defensive linemen moving off the line. Has the ability to threaten the edge and get into offensive tackles quickly. Looks comfortable keeping his pad level down into contact, extending his arms and can create a bit of a surge on his bull rush. Plays with good leverage and can be a bit more physical than his frame would suggest.
However, lacks balance and body control at this stage and really struggles when asked to change directions, keep his feet under him and break off any type of counter move. Also seems to routinely overextend into blocks and doesn't have the type of coordination to drop his shoulder and really accelerate around the corner. Is a real linear pass rusher at this stage who hasn't figured out how to maintain his balance off his initial rush.
Isn't a guy who can stack and shed vs. the run game at the next level, but does play with good leverage when run at and will chase the football in pursuit. Works very hard, fights and scraps for every inch and can work his way into the backfield toward the football, but fails to disengage consistently.
Impression: Plays hard and at least has the explosion to be a threat as a pass rusher at the next level. However, his ability to develop a counter move and become more than a one-trick pony off the edge is key. Did struggle through a high ankle injury last season, which could have taken away from his ability to change directions. Nevertheless, as of now looks more like a developmental nickel rusher or potential starting 3-4 OLB prospect who I would take a shot on because of his initial burst and overall work rate on the field.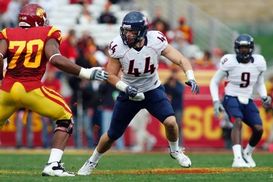 ICONElmore isn't dynamic in any area of the game, but can be solid vs. both the run and pass.
DE Ricky Elmore: No. 44 (6-5, 260)
A tall, well-put-together defensive end who exhibits pretty good flexibility out of his stance a nd can keep his base down when coiling up off the line. Lacks a great first step and isn't a guy who can consistently threaten the edge or turn the corner. However, does a great job maintaining his balance into blocks, getting his hands up and extending his long arms into contact. Does a nice job keeping himself clean and showcases some violence in his hands. Loves to work the swat and rip in order to free himself and works endlessly in pursuit. Isn't a real explosive athlete, fails to be real sudden on any type of counter and just lacks a dynamic first step. However, he has some natural power and bend when trying to work his way toward the quarterback and can flatten out around an angle. Does a nice job maintaining leverage through the play and never stays blocked for long.
Possesses the ability to drop his pad level, extend his arms, gain leverage and anchor vs. the in-line run game. Isn't overly explosive when asked to stack and shed, but is very balanced and methodical in working himself free and closing lanes off his body. Now, can be sealed from the football and lacks the kind of power to simply overwhelm on contact and collapse from the outside. But works very hard and seems to really wear down opposing tackles as the game goes on, consistently gaining good leverage and hand position inside.
Impression: A technically sound, methodical pass rusher who isn't overly explosive, but knows how to free himself off the edge and work his way toward the quarterback. Isn't ever going to be a playmaker, but has the ability to help out as a rotation guy in a 4-3 vs. both the run and pass game.
NFL draft/college football questions? Get them answered at Wes.Bunting@nationalfootballpost.com
Follow me on Twitter: @WesBunting
Ready for fantasy football? Click here to purchase the 2010 Total Access Pass/Draft Guide from the NFP.