August 16, 2010 -
National Football Post
2010 NFP Scouting Series: Arkansas
For the rest of the summer, the National Football Post will be breaking down every team in the Football Bowl Subdivision (formerly known as Division I-A) to identify players who could warrant the most interest from NFL teams in the 2011 draft.
Therefore, today we take a look at the Arkansas Razorbacks.
Offense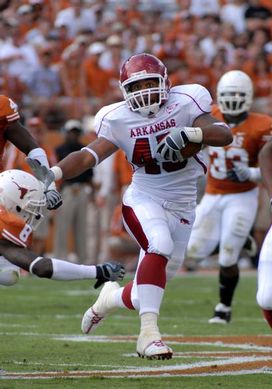 ICONWilliams is a good straight-line athlete who can create after the catch.
TE D.J. Williams: No. 45 (6-2, 241)
A thick, well-put-together athlete, but lacks the type of size you want to see at the tight end position; is more of an "off the line Y/H-back tweener. Lines up all over the Arkansas offense and possesses above-average straight-line speed for his size. Has the ability to get into his routes quickly and does a nice job using his big frame to go up and pluck the football. Exhibits strong hands and works hard after the catch. Isn't real shifty, but can be tough to bring down.
However, is a tightly wound guy who lacks ideal fluidity as a route runner and struggles to generate much burst out of his breaks. Doesn't exhibit much suddenness when asked to slip defenders off the line or down the field and is just really tight in and out of his breaks. Is limited to more linear routes — nine, crosser — where he can simply try to run away from linebackers toward daylight. Isn't a guy who will generate much separation for himself on sharply breaking routes at the next level.
Now, can block with natural leverage off the snap, does a nice job quickly getting his feet around and can seal bigger defenders from the play. However, isn't natural when asked to pull in the open field, struggles to break down on contact and too often will whiff on defenders he's asked to block in space. But, looks comfortable in blitz pick up, plays calmer, understands angles and can sit into his stance and move his feet through contact.
Impression: A good enough athlete to get some interest as a "jack-of-all-trades" type pass catcher. But he's too stiff to consistently win in the pass game vs. man coverage and he isn't a real impressive blocker in space.
OL DeMarcus Love: No. 65 (6-5, 315)
Has experience at both guard and tackle in the Arkansas offense and is at his best in the run game when asked to quickly get out of his stance, reach defenders off his frame and eliminate them from the play. Displays natural flexibility in his lower half and has the ability to really fire off the ball quickly. Possesses good range and body control on the move and consistently breaks down well in space. Looks natural dropping his pad level at the point and can really generate a thrust through his hips. Uncoils his arms well into contact and has the ability to routinely eliminate defenders on the move. Now, can get overwhelmed by bigger linemen when asked to hold his own more as an in-line guy. But, exhibits good short-area body control, looks natural quickly redirecting in space and has a bit of a mean streak when asked to finish blocks through the play.
Sits into his stance well in pass protection, displays a good first step off the football and consistently is able to anchor on contact when lined up inside. Does a nice job dropping his pad level down, extending his long arms and displays good hand placement inside. Exhibits good lateral agility when engaged, works his feet well on contact and knows how to mirror through the play.
Played offensive tackle last season — both on the right and left side — and although he needs to tighten up his initial kick-step and overall footwork, the guy displays really impressive range and athleticism off the edge. Possesses an explosive first step and can consistently reach speed off the corner, but doesn't consistently stay real balanced or compact with his footwork, causing him to get upright at times. Nevertheless, plays long-armed, consistently is able to get in and dictate to blocks on contact in the pass game and has a lot of versatility and upside at either guard or tackle.
Impression: He's long, athletic and can generate leverage for himself in the run game. Has experience playing on both sides of the offensive line at either tackle and guard — a strong side player — and if he's able to work solely at one spot in the NFL, there really is a lot of upside and potential to his game. Definitely looks like a future NFL starter and has the athleticism to play the left tackle position. Might need some time, but can certainly help out as an interior lineman as he learns the ropes before kicking outside to tackle. But, could also end up as a blue-chip type guard, as well.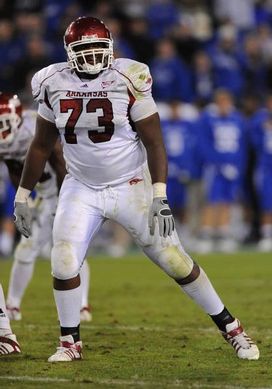 ICONDominguez possesses the size and skill set better tailored to play inside at guard.
OL Ray Dominguez: No. 73 (6-4, 334)
A thickly put together offensive lineman who does possess some sloppy weight through his mid-section. Plays offensive tackle in the Arkansas offense, but has a physical skill set better tailored to play guard. Isn't the most natural of benders when asked to sit into his stance in pass protection, tends to double over at the waist and isn't real balanced or compact with his footwork off the snap in pass protection. Takes way too big of a first step — overextending himself — and will allow defenders to really jar him at the point on the bull rush and knock him off balance. However, does display above-average short- area quickness and lateral ability for his size. Looks comfortable sliding his feet, staying patient and can really extend his arms and let go of a strong punch on contact. But, simply lacks the range to consistently stay on his man in space; would be much better served playing in tighter areas as a guard.
Looks a lot more comfortable as a run blocker, sits into his stance much better, is able to fire off the football and does a nice job staying low into his blocks and extending his arms into contact. Has the ability to generate a bit of a pop on contact, can gain leverage and seal defenders from the football. However, lacks ideal body control at times, will get caught lunging into blocks — both off the snap and at the second level — and too often will whiff into his man. However, looks surprisingly athletic when asked to pull and get out to the second level. Drops his pad level well, can chop down defenders in space and has the short-area quickness to chip at the line and quickly seal a defender downfield.
Impression: Is playing out of position at Arkansas, but displays enough power and athleticism to make a roster as a guard prospect. Gets exposed at times on an island as a tackle when asked to play in space, but I think he can clean up a lot of things from a technique standpoint just by being able to play in tighter areas inside.
Defense
CB Ramon Broadway: No. 26 (5-8, 192)
A short, compact corner who possesses good girth through his lower half and isn't afraid to stick his head in and throw his body down vs. the run game. Isn't the most impressive of tacklers when asked to break down and wrap up, but will work hard to try to bring down the ball carrier both in space and at the line of scrimmage.
Looks natural when asked t o sit into his stance in coverage, possesses good flexibility and can keep his base down ideally in his drop. However, doesn't seem to trust his back-pedal at this stage. Needs to do a better job getting more depth off the line, consistently opens up his hips prematurely in an effort to turn and run down the field with receivers. Now, does exhibit good fluidity in the hips, stays low out of his transition and is able to get back up to speed quickly. But too often is forced to bail out of his back-pedal and turn his back to his man in order to regain his balance because of a false step.
Looks a lot more comfortable in off coverage and seems to trust his back-pedal a lot more with space in front of him. Does a nice job remaining compact and balanced and displays a good burst when asked to click and close on the football without wasting much motion. Lacks ideal instincts at this stage in zone and will take the occasional false step trying to find the football. But overall, displays good range and seems to quickly recover and put himself around the football. Just needs to do a better job getting his head around and locating the throw.
Impression: Displays the ability to click and close, turn and run and has the fluidity to get out of his breaks. Possesses very good straight-line speed, as well, and has the kind of compact frame to be a solid nickel guy at the next level if he can learn to trust his back-pedal more when playing up near the line.
NFL draft/college football questions? Get them answered at Wes.Bunting@nationalfootballpost.com
Follow me on Twitter: @WesBunting
Click here to purchase the Total Access Pass/ Fantasy Draft Guide from the NFP and receive a free Deuce Brand watch while supplies last.