August 24, 2010 -
National Football Post
2010 NFP Scouting Series: Auburn
For the rest of the summer, the National Football Post will be breaking down every team in the Football Bowl Subdivision (formerly known as Division I-A) to identify players who could warrant the most interest from NFL teams in the 2011 draft.
Therefore, today we take a look at the Auburn Tigers.
Offense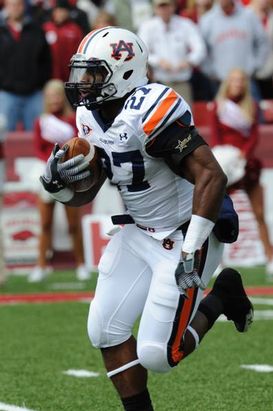 ICONFannin has the potential to be one of the biggest risers in this year's draft.
RB Mario Fannin: No. 27 (5-11, 228)
A well-strapped-together back with a muscular upper body and thick lower half. Exhibits a really good first step when asked to press the hole. Gets up to speed quickly and can quickly accelerate out of his breaks. Displays good footwork and balance both in tight areas and in the open field. Possesses the short-area quickness to make a man miss in traffic, as well as the fluidity/footwork to plant his foot in the ground at full speed and cleanly side-step defenders. Now, gets a bit upright when running through the line of scrimmage at times and will get a bit overextended with his lower half when trying to change directions. But for the most part is explosive, sudden and powerful with the ball in his hands. Runs hard and dishes out a fair share of punishment, but at times exposes his frame to some unnecessary hits because of that pad level. Also, isn't the most natural of backs between the tackles at this stage. Now, doesn't have a ton of experience and is clearly instinctive in space, but too often simply tries to bounce the ball and outpace defenders toward the corner if he doesn't see anything initially inside, something he won't be able to get away with at the next level.
Does a great job catching the football out of the backfield and is a consistent threat on third downs. Looks natural selling the screen game, getting his head around and making the initial man miss. Can also get down the field and has some suddenness as a route runner as well.
Impression: Possesses a really gifted skill set. Is powerful, runs hard and displays good footwork and shiftiness to his game for a back his size. Now, he will be asked to run more so between the tackles this season and if he can quickly adjust, I think he certainly has the makings of becoming one of if not the top senior running back to come off the board come April.
OT Lee Ziemba: No. 73 (6-6, 322)
A tall, long-bodied offensive tackle who displays some flexibility when asked to sit into his stance in the run game, but doesn't generate much of a burst from his lower half into contact. Really rolls his hips into defenders and there isn't much of an explosive element to his game when asked to run block. Gets a bit overextended into blocks as well and can be stonewalled at times at the point of attack. However, does a nice job extending his long arms into contact and his hand placement did improve significantly in 2009. And although he lacks ideal pop on contact, he has the ability to initially stick to blocks in the run game and seal through the play. Displays slightly above-average athleticism on the whole for his size and can reach targets off his frame. However, struggles to quickly drop his pad level and cut down defenders on contact.
Isn't a real explosive athlete off the edge in pass protection, struggles to really sit into his stance and initially can get a bit overextended on his kick-slide. However, he's a pretty coordinated pass blocker who has good body control in his lower half when trying to reach the corner. Needs to do a better job keeping his hands up and protecting his frame, but is a long-armed guy who can stick on blocks through the play when engaged. Now, isn't real explosive when asked to redirect back inside, takes him a second to regain his balance and slide his feet, but for such a long lineman he has some decent change of directions skills in space.</p>
Impression: Is a big, long athlete with some natural balance and footwork for a guy his size. But, isn't a great athlete, plays a bit high and doesn't exhibit much explosion off the snap in the run game. Doesn't seem athletic enough to play LT in the NFL or physical enough to win on the right side. More of a versatile backup type who can fill voids at both spots, but I wouldn't want him starting for me every week.
OC Ryan Pugh: No. 50 (6-1, 295)
A shorter, undersized offensive lineman who exhibits smooth footwork and good body control off the snap. Is a seasoned guy who has experience both at tackle and inside at center. Showcases good initial quickness off the ball, keeps his base down through contact, gets his hands up quickly and is surprisingly coordinated and rangy in space. Isn't real long armed and allows defenders to get into his frame and rip themselves free through contact. Lacks ideal anchor strength as well and can be bullied at times. However, works hard and possesses the fluidity and natural mirror ability to consistently slide his feet through the play.
Displays good body control on the move in the run game. Quickly is able to get out of his stance and reach block with the range/coordination to routinely chop down defenders off his frame. Does a nice job generating leverage for himself when asked to get into blocks off his frame and seal inside. Isn't real heavy handed or powerful, but has a good first step, extends his arms well into contact and initially can seal from the football. However, lacks ideal anchor strength and can really be jolted on contact when someone is lined up over his face. Is quick to turn his defender from the play and pull the rug out from under him when getting bullied inside, but lacks the strength to consistently hold the point. Is a much better move player who looks comfortable sticking to defenders on slide down blocks and using his athleticism to create angles in the run game.
Impression: A gifted move player who has the ability to slide his feet, maintain balance and cut down defenders in space. Needs to get stronger, but has a skill set that could definitely stick in more of a zone-blocking scheme.
Defense
ILB Josh Bynes: No. 17 (6-2, 238)
A strong, well-put-together linebacker who displays a good first step and has the ability to attack downhill and take on blocks in the run game. Extends his long arms well, can sit into his base a bit and does a nice job holding the point of attack. However, isn't the most instinctive of defenders at this stage. Has a tendency to take a false step trying to read his run keys, take himself out of some plays and isn't real violent with his hands when asked to shed. Works hard in pursuit and displays average range, but isn't a real consistent stack and shed guy at the line. But, exhibits good short-area quickness when asked to slip a block and is a really physical tackler. Drops his pad level well, wraps up on contact and bring his legs through the play. However, he needs to do a better job protecting his lower body in space.
Possesses a good initial burst when asked to attack downhill, but isn't real fluid or rangy in space. Seems to lumber a bit sideline-to-sideline and lacks ideal closing speed from the backside. Looks comfortable in his drop in coverage and has the ability to maintain balance. However, is stiffer out of his breaks and doesn't generate much explosion toward the throw. Seems to have limited range when asked to turn and run down the field as well and consistently is forced to turn and run prematurely, losing sight of the football. But, does do a nice job keeping his eyes in the backfield and keying off the quarterback, allowing him to get some good jumps on the play.
Impression: A thick linebacker prospect who has a burst attacking downhill and can be physical at the point. However, is a bit limited because of his stiff hips and lacks ideal instincts vs. the run. But, at worst, looks like a guy who could make a roster as a reserve and help out on special teams.
SS Zac Etheridge: No. 4 (5-11, 209)
Possesses a compact frame and doesn't waste much motion when asked to click and close on the football. Does a nice job keeping his feet under him, sitting into his stance and although he lacks a great burst, he cleanly is able to attack downhill. However, struggles to consistently break down on contact. Isn't a real secure wrap-up guy, seems to slip off ball carriers too easily and will miss his fair share of tackles both at the line and in the open field.
Isn't real instinctive in the deep half reading his run/pass keys and routinely is late getting jumps on the football. Keeps his eyes in the backfield, but even then fails to start moving before the football is thrown and isn't real proactive when asked to jump routes. Displays only average range and fluidity when asked to play sideline-to-sideline. Possesses decent footwork when asked to get out of his breaks, but he is a bit stiff in the hips and there is a hitch when asked to redirect and change directions that takes away from his ability to quickly reach top-end speed.
Impression: It's tough to give a safety a good grade who struggles as a tackler, isn't real instinctive and lacks the type of fluidity and range to make up for it.
NFL draft/college football questions? Get them answered at Wes.Bunting@nationalfootballpost.com
Follow me on Twitter: @WesBunting
Click here to purchase the Total Access Pass/ Fantasy Draft Guide from the NFP and receive a free Deuce Brand watch while supplies last.