August 23, 2010 -
National Football Post
2010 NFP Scouting Series: Florida
For the rest of the summer, the National Football Post will be breaking down every team in the Football Bowl Subdivision (formerly known as Division I-A) to identify players who could warrant the most interest from NFL teams in the 2011 draft.
Therefore, today we take a look at the Florida Gators.
Offense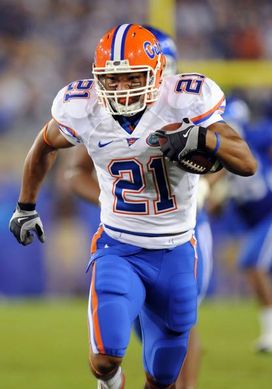 ICONMoody just isn't real decisive running inside at this stage.
RB Emmanuel Moody: No. 21 (6-0, 207)
Possesses some natural running ability. Presses the hole quickly and keeps his pad level down through contact. Displays some thump to his game inside, runs behind his pads and can maintain balance through contact. Exhibits some natural fluidity when asked to change directions, can stop on a dime, make a man miss and accelerate up the field. However, lacks a second gear and isn't the most instinctive of runners. Doesn't really trust what he sees or takes what the defense gives him. Too often tries to turn something into nothing and takes too many negative plays or will simply bounce the football outside prematurely. Also, plays slow when trying to decipher information at the line. Has a tendency to stop moving his feet and will go down very easily on contact. Doesn't seem real confident on the edge either. Doesn't press daylight quickly enough and seems too concerned tying to set up/read blocks. Lacks the type of straight-line speed to consistently just outpace defenders and runs himself out of a lot of yards going east to west.
Had a lot of the same problems running out of single-back sets and the I at Southern Cal, although I think his running maturity and overall growth was stunted after coming to the spread at Florida.
Impression: He does have some natural running ability and is shifty enough to pick his way through tight quarters and make a man miss. However, his lack of feel and awareness running inside combined with his lack of elite size/speed numbers really limits his chances of making an NFL roster. Best bet would be to go to the UFL to try to develop running in more of a traditional offense.
WR Carl Moore: No. 16 (6-3, 220)
A tall, well-built receiver who isn't real explosive of shifty off the line and has had trouble getting off press coverage going back to his junior college tape. Builds speed as he goes down the field, but isn't a burner by any stretch and isn't going to outpace anyone at the next level. Is a natural plucker of the football who extends his arms well away from his frame and can secure the catch. Displays an impressive initial burst once he catches the ball and can initially separate from corners with the ball in his hands. Works hard after the catch and can be a load to bring down. However, isn't a real polished receiver at this stage. Lacks ideal balance, gets leggy out of his breaks and is more of a linear athlete/route runner. Has some start and stop ability when asked to drive defenders up the field and quickly sit down underneath. But, really struggles to generate separation on any sharply breaking route. Is at his best running down the field on vertical routes, putting his foot in the ground and using his big frame to box out a corner and go block the football. However, he isn't overly impressive in jump ball situations. Lacks ideal balance and seems to struggle to set his feet and go up and pluck the throw at its highest point.
He also has some injury concerns, which has stunted his growth a bit up until this point. Missed the 2009 season with a bulging disc in his back
Impression: A big, talented kid who can pluck the football. But, hasn't taken that next step yet and even if he does in 2010, I still don't see him as anything more than depth on a team's wide receiving corps.
OT Marcus Gilbert: No. 76 (6-6, 316)
A large, strong offensive tackle prospect who possesses good base strength and is at his best when engaged. Displays a strong set of hands and decent footwork once he is able to lock on in the pass game. Shuffles his feet well through contact and displays the ability to stick to blocks off the edge. However, possesses only average natural flexibility off the snap and gets a bit upright into contact. Needs to do a better job getting off the snap count on time. Looks stiff in his lower half in space and possesses only average range toward the corner. Can't afford to be late off the football as he gives up too much penetration this way. Doesn't keep his hands in front of him consistently on his kick-slide, pumps his arms in order to try to create additional momentum toward the edge, which allows opposing defenders to get under his frame and really jolt him on contact. However, displayed above-average lateral quickness when asked to play inside at guard in 2008. Looks a lot more comfortable sitting into his stance, sliding his feet and extending his arms.
Isn't a real explosive run blocker, doesn't generate much explosion from his hips off the snap as an in-line guy and really seems to lumber into the open field. Lacks ideal instincts as well, struggles to quickly recognize his target and doesn't consistently take proper angles toward his man. However, does have the kind of power and natural athleticism to get his feet around on the edge, lock onto his opponent and at least seal when engaged.
Impression: Is a big, strong body who can be effective when he gets his hands on you. However, lacks ideal range and awareness in the pass game and isn't a real physical run blocker. Looks more like a utility offensive lineman who could help out at either right tackle or guard, but you don't want him starting every week.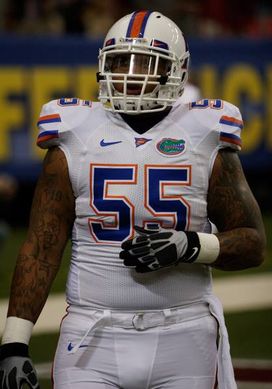 ICONPouncey has the makings of a starting caliber interior lineman at the next level.
OL Mike Pouncey: No. 55 (6-5, 311)
A natural bender who can really sit into his stance off the snap, fire off the football low and consistently get under the pad level of opposing linemen in the run game. His combination of initial burst and power really makes him effective as an in-line blocker, as he gets his arms up quickly, hands under the chest plate and pumps his legs through contact. Also, is routinely one of the first linemen firing off the football. Is really coordinated through contact as well, does a nice job sitting into his stance, maintaining his balance and cleanly shuffling his feet through the play. Now, isn't the most aware at times off the snap, will struggle to recognize his man and get caught taking improper angles, allowing himself to be jolted on contact. But, he's a good enough athlete to rework his hands and at least create a stalemate inside and stick to the block.
Is comfortable on the move, takes good angles in space, is fluid/rangy for a big guy and breaks down well on contact. Does a nice job as a short-area athlete chipping at the line, quickly redirecting and reaching a linebacker off his frame.
Looks comfortable in pass protection, takes a quick first step off the line and does a great job keeping his base down and feet under him laterally. Is really fluid when asked to slide and shuffle and displays impressive mirror ability even in space. Now, isn't real heavy handed, possesses a quick recoil and always keep his hands up and re ady to punch, but too often allows defenders to fight off his block and he relies more so on his ability to mirror in space. However, redirects really well and can anchor on contact, as he works his hands well to consistently gain inside leverage.
Impression: A gifted athlete who plays with bend, explosion and natural athleticism in both the run and pass game. No reason to think this guy can't be starting early in his NFL career and become a very good lineman at the next level.
OG Maurice Hurt: No. 74 (6-3, 319)
A thicker, well-built guard who exhibits natural bend in his lower half and has the ability to sit into his stance off the snap. Exhibits a good first step and displays some explosion from the hips into contact. However, allows his pad level to rise as an in-line guy and can be uncoiled easily at the point. Is scrappy and tough inside, works hard to stay on blocks and has the athleticism to get his feet around and seal. But ends up on the ground too much and isn't a guy who can consistently create a surge against power. Now, does exhibit some range on the move and can be effective initially on slide down blocks, staying on his man and pushing them past the ball carrier. But, lacks the athleticism to ride his man out through the entire play.
Doesn't play real long armed in any area of the game, but it routinely shows up more so vs. the pass. Possesses a good first step off the snap, but too often only starts to work his hands once he is engaged and rarely is able to gain leverage on contact. Consistently allows defenders to get under his frame and snap his head back with a powerful punch, which causes him to lose balance and get upright. Isn't overly fluid or rangy when asked to slide through contact and consistently looks content to simply hang onto his block. Can be rag dolled at times.
Impression: Possesses good size and a thick trunk, but isn't a standout in any area of the game. Looks more like a camp body.
OL Carl Johnson: No. 57 (6-6, 360)
A massive offensive line prospect who isn't a great bender, but exhibits a pretty good first step off the ball for a guy his size. Tries to drop his pad level down into blocks in the run game, but is a tall lineman who plays a bit high and struggles to get his hands inside the chest plate of defenders. Consistently ends up with his hands outside the shoulders of his target, but is very strong and powerful once he locks on and has the ability to seal and stay on his man through contact. Doesn't create much of a push as an in-line guy. However, displays above-average body control in tight areas and on the move. Isn't a real impressive athlete, but breaks down well, takes good angles at the second level and can stick to slide down blocks initially. But, really looks heavy and awkward anytime he's asked to drop his pad level and cut a defender down on contact.
Isn't real technically sound in pass protection, consistently is asked to block down where he does have the power, girth and length to lock on and anchor on contact. However, fails to maintain any type of balance in his lower half when trying to kick-step toward the edge, and isn't a guy who can cleanly get to the corner and redirect with any type of fluidity in the pass game.
Also, has some character concerns, as he was arrested in February for violating a domestic violence restraining order.
Impression: A massive lineman who looks limited to more of a guard role at the next level. A size free agent at this stage.
Defense
DT Lawrence Marsh: No. 90 (6-5, 289)
A tall, long-armed nose tackle who displays natural flexibility in his lower half. However, is inconsistent with his pad level off the football and doesn't consistently sit into his stance as he begins to tire. But, displays a good first step off the snap and has the ability to quickly get into opposing blockers, extend his long arms and keep himself clean. Is at his best when asked to fend off blocks on plays off his frame and use his athleticism to chase the run in pursuit. Exhibits good range for a big guy and is simply too athletic for most offensive linemen to move with on slide down blocks. However, lacks ideal awareness vs. the inside run game. Puts himself in position to make a lot of plays, but often fails to find the football. Also, lacks ideal girth and an overall pad level to sit into his stance and anchor inside when run at. Possesses good natural strength and length, but is much more effective as a one-gap guy creating havoc inside before plays develop.
Displays good short-area quickness off the line vs. the pass game and has the ability to quickly get out of his stance and stunt/loop inside. Also, possesses the ability to threaten gaps as a one-gap guy and make his way up the field. However, struggles to keep his pad level down through contact. Gets too upright once he gains a step and can be easily pushed past the play. Does display some natural lower body strength on his bull rush though and uses his length well to get under blockers and fight himself free. Displays some suddenness to his game when asked to shed and exhibits good closing speed, accelerating quickly up the field once he gains a step. Also possesses a smooth spin move he loves to work back inside in order to free himself from blockers.
Missed a lot of time last season with an ankle injury and lost his starting job because of it. It will be interesting see where he is at physically come 2010.
Impression: A long, gifted athlete who is explosive, uses his length to fend off blocks and can make plays off his frame. Needs to learn to play with a more consistent pad level in both areas of the game. However, he's a size/speed lineman who is definitely worth at least a look in an NFL camp. He's got me intrigued as a developmental 5-techique guy in the NFL.
S Ahmad Black: No. 35 (5-10, 185)
Possesses decent height, but is thin for the safety position. Exhibits natural bend when asked to sit into his back-pedal, keeps his feet under him in his drop and gets good depth off the line of scrimmage. However, isn't real patient with his footwork and too often seems to be moving too fast for his own good, which causes him to struggle to maintain balance through the play. Isn't real quiet with his hands and too often is forced to gear down in order to regain his balance and get out of his breaks. Looks much more comfortable when asked to click and close on the football, but even then you notice a little bit of a hitch going forward. Possesses good ball skills and does have some natural fluidity when asked to turn and run. However, isn't the most instinctive of defenders reading his keys from the deep half. Gets caught too often taking a false step, getting overextended with his footwork and struggling to get back out of his breaks. Exhibits some man-to-man cover skills when asked to come down over the slot. Does a nice job being physical in coverage, recognizing routes and cleanly opening up his hips and staying with his man. Possesses good, but not great, speed when asked to close. Exhibits a good initial burst, but lacks the type of second gear to consistently make up for a false step in the deep half.
Is a patient tackler who does a nice job breaking down in space and really generating a burst for himself through contact. Can explode into tackles when asked to strike, picks up speed quickly, lowers his pad level and brings his legs. Again, lacks ideal instincts when asked to read his run keys and find the football, but can certainly tackle once he locates the football.
Impression: An undersized safety prospect who plays bigger than his frame would suggest. Needs to calm down his footwork and hands in his drop, but has some natural cover skills. Looks like a guy who can make an NFL roster, but because of his size and lack of ideal footwork, looks more like a nickel guy to me.
NFL draft/college football questions? Get them answered at Wes.Bunting@nationalfootballpost.com
Follow me on Twitter: @WesBunting
Click here to purchase the Total Access Pass/ Fantasy Draft Guide from the NFP and receive a free Deuce Brand watch while supplies last.