August 21, 2010 -
National Football Post
2010 NFP Scouting Series: Georgia
For the rest of the summer, the National Football Post will be breaking down every team in the Football Bowl Subdivision (formerly known as Division I-A) to identify players who could warrant the most interest from NFL teams in the 2011 draft.
Therefore, today we take a look at the Georgia Bulldogs.
Offense
FB Shaun Chapas: No. 49 (6-3, 236)
A taller fullback prospect who exhibits impressive flexibility and overall bend when asked to sit into his stance. Possesses an average first step when pressing the hole, but exhibits good body control and instincts as a lead blocker. Does a nice job quickly locating his target and deciphering information inside. Lacks ideal power/pop on contact and isn't a guy who will consistently overwhelm defenders off the football. But is strong enough to initially create enough of a surge to seal his man from the play. Does a nice job breaking down in tight quarters, extending his arms and sealing on perimeter runs. Also, drops his pad level well into contact and looks natural cutting down defenders off his frame in space.
Isn't as impressive as a motion man. Struggles to generate a real pop for himself at the point and it takes him awhile to uncoil his long frame in tighter areas. Has a tendency to get overextended in this area as well and will whiff on contact at the line. Demonstrates solid hands and can be a guy you can slip the football to out of the backfield, but is a limited athlete who isn't going to create much after the catch.
Impression: Lacks ideal power on contact, but has enough to initially seal, takes good angles and is a smart lead guy. Isn't worth a draft pick, but will have a chance to earn a roster spot as a team's fullback.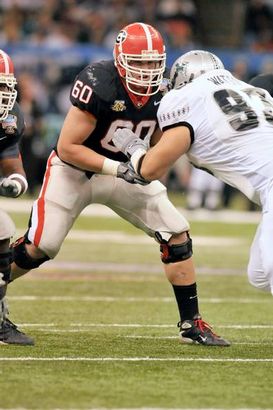 ICONBoling looks more like a guard at the next level.
OG Clint Boling: No. 60 (6-5, 306)
A tall, longer guard prospect who lacks ideal girth, but possesses good length and some natural bend for his size when asked to sit into his stance in the run game. Is a real scrapper inside who plays until the whistle, loves to finish blocks and exhibits a mean streak. Really seems to get under the skin of opposing linemen as the game wears on. Exhibits good initial quickness out of his stance, takes a quick zone step, understands angles and can consistently get his feet around and seal defenders away from the football. Works his legs well through contact and does a nice job initially getting his hands under defenders and gaining inside leverage. However, doesn't keep his base down through contact, fails to generate a real snap through his hips and struggles to get much movement as an in-line guy. Showcases above-average range on the move and can get out and around on slide down/reach blocks. Looks comfortable at the second level as well and can drop his pad level and chop down defenders in space. Now, isn't overly balanced when asked to break down, but works hard to get a piece of his man.
Exhibits a good first step out of his stance in pass protection and does a nice job extending his long arms and dictating to blocks on contact. Has the ability to stick to defenders through the play and can be surprisingly heavy handed at times. Showcases good lateral ability and balance when asked to mirror. Is a natural athlete who can redirect cleanly and looks balanced sliding his feet in space. However, isn't the most natural of knee benders and will struggle to really sit into his stance. Gets high and routinely overextends/bends at the waist in order to hold up vs. any kind of bull rush, but for the most part is able to get away with it because of his footwork and ability to quickly change directions, which is something he won't be able to do in the NFL.
Impression: Has experience at both guard and tackle, but looks more like a guard to me. Works really hard inside in the run game and has the type of athleticism to mirror in pass protection. Needs to learn to sit into his stance and play a little lower in pass pro, but could serve as a utility guy along the offensive line and fight for playing time as a guard in more of a zone-scheme at some point.
OT Josh Davis: No. 78 (6-7, 300)
A tall, long-armed offensive lineman who lacks ideal flexibility when asked to sit into his stance and fire off the football in the run game. Struggles to keep his base down initially off the football and is a real waist bender into blocks. Doesn't exhibit much of a snap from his hips into contact, bringing his arms behind his frame before his punch and routinely gets his hands outside the shoulders of defenders. Now, does display good power in his hands and has the ability to drop his base through contact and works hard to seal the edge. Plays with some nasty and has a mean streak on the outside as he likes to finish his blocks. But, isn't' real explosive on contact, consistently rolls his hips into blocks and doesn't generate much pop at the point.
Struggles to sit into his two-point stance as well in pass protection and plays with a really wide base, which causes him to struggle to quickly get off the snap and can routinely be exposed on any type of inside pass rush. Displays only decent range off the edge, looks stiff on his kick-slide and really lets himself get upright when trying to reach speed toward the corner. Plus, he doesn't do a good job keeping his arms/hands set to punch and rarely protects his chest. Is consistently exposed on the bull rush, letting blockers easily get in/under his frame and overwhelm him into the backfield. Holds up much better when asked to get into defenders quickly in the play action game. Displays the ability to lock on and stick to blocks initially through the play. However, doubles over the waist too easily and lacks ideal coordination/fluidity when trying to mirror.
Impression: Isn't a gifted bender, looks stiff in pass protection and lacks a real explosive element to his game when asked to run block. Is a nice-sized guy, but looks more like a camp body.
Defense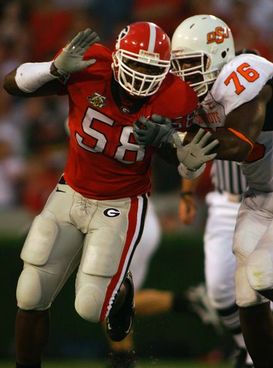 ICONDobbs has the power to consistently anchor vs. the run game.
DE Demarcus Dobbs: No. 58 (6-3, 285)
Possesses a thick frame and a strong lower half. Does a nice job maintaining his balance on slide down blocks, anchoring through contact and setting the edge when run at. Has a motor that runs nonstop and works extremely hard from the backside in pursuit. Displays good natural anchor strength when run at and has the ability to get under the pad level of opposing blockers, keep his base down and hold the point. However, needs to do a better job keeping his head up and seeing the target he wants to strike. Too often his head goes down, his hands get outside the shoulders of his target, he loses balance easily and ends up on the ground.
Isn't a real explosive pass rusher off the edge. Doesn't exhibit much of a burst out of his stance and isn't a guy who will be able to reach the corner at the next level. Needs to do a better job protecting his frame and getting his hands up into blocks. Consistently allows opposing linemen to get into his chest plate and control him on contact. Does exhibit average short-area quickness in space, but isn't real sudden through contact and struggles to slip bloc ks once engaged.
Impression: Has the size and natural power to anchor vs. the run game in the NFL and can consistently set the edge. Now, needs to clean up some of his technique, but looks like a guy who could mature into a capable two-down reserve type lineman in the NFL.
ILB Akeem Dent: No. 51 (6-1, 235)
A lean, high cut linebacker with a broad upper and thin lower half. Isn't real physical initially off the snap when asked to play over the tight end in the run game. Gets a bit too upright at the point of attack, loses the leverage battle and can initially be driven off the football vs. the in-line run game. However, exhibits good balance on the move, is sudden on contact and displays a violent set of hands when asked to shed blocks. Does a nice job fighting to string out plays on the perimeter and eventually will work himself free vs. the in-line game. But, most of his tackles still come five-plus yards down the field when run at.
Is stiff in coverage and lacks the ability to quickly redirect/open up his hips and get back up to speed quickly. Isn't real coordinated when asked to press off the line, lacks the lateral agility to slide his feet and get a good punch on tight ends and consistently gives up too much initial separation out of their breaks. Isn't real sharp or explosive when asked to change directions. Is routinely forced to round off his breaks and it takes him awhile to get back up to speed. And even than, lacks the natural range/closing burst to consistently put himself in position to make plays on the football.
Impression: Lacks ideal power vs. the run and fluidity/range vs. the pass. Doesn't look like an NFL roster type guy to me.
NFL draft/college football questions? Get them answered at Wes.Bunting@nationalfootballpost.com
Follow me on Twitter: @WesBunting
Click here to purchase the Total Access Pass/ Fantasy Draft Guide from the NFP and receive a free Deuce Brand watch while supplies last.