August 14, 2010 -
National Football Post
2010 NFP Scouting Series: Kentucky
For the rest of the summer, the National Football Post will be breaking down every team in the Football Bowl Subdivision (formerly known as Division I-A) to identify players who could warrant the most interest from NFL teams in the 2011 draft.
Therefore, today we take a look at the Kentucky Wildcats.
Offense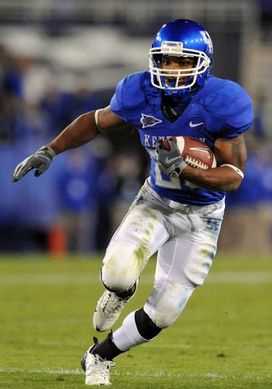 ICONLocke is really explosive in the open field and can consistently run away from defenders.
RB Derrick Locke: No. 20 (5-9, 179)
A thin, undersized running back prospect who runs with an inconsistent pad level. Gets a bit upright at times when trying to break down and/or accelerate into the open field, and can easily be knocked off balance inside. Now, will lower his pad level through the line of scrimmage to protect his frame, but lacks the type of strength to consistently stay on his feet through contact. However, is at his best in space and on perimeter runs when he has the ability to press the corner. Is an absolute burner who never looks to be running hard, but consistently is able to outpace defenders, maintain explosion into daylight and easily turn the corner. Exhibits a real second gear to his game, running past angles in the open field and never looks to be straining himself once he gets to top-end speed.
Now, is a bit of a linear runner who struggles to consistently break down and make a man miss in tight quarters. Displays the ablity to plant his foot in the ground and simply use his burst to outrun defenders as a one-cut guy, but isn't overly shifty. Lacks ideal instincts in tight quarters as well. Tries to be patient setting up blocks, but lacks the kind of vision to consistently pick out defenders attacking off his frame. Looks comfortable getting out into the pass game, isn't a natural plucker but does a nice job setting up routes and seperating underneath in the pass game. Is also a willing blocker who takes good angles in blitz pick up. Obviously isn't real physical, but works hard to initially get into his man.
Impression: His pure straight-line speed will allow him to find a niche as a third-down type option/special teams guy in the NFL, as he has the ability to hit a home run every time he gets his hands on the football. But he isn't overly fluid or instinctive and seems to rely on his ability to simply outpace defenders toward the edge, something he won't be able to get away with in the NFL. Needs to play in space in order to be effective.
Defense
DE DeQuin Evans: No. 55 (6-2, 248)
A shorter defensive end prospect who displays some good thickness through his lower half but lacks ideal size for the position. Doesn't possess ideal anchor strength when run at, but does work hard and can be violent with his hands trying to fend his way off blocks. However, allows his pad level to get too high into contact and struggles to really sit into his stance and anchor. Does a nice job working his hands, but isn't real long and consistently allows defenders to get into his frame and push/seal him from the play. Plays with an impressive motor and fights and scraps hard to disengage on the edge. However, isn't a real explosive athlete and even when he does slip the block, he struggles to make plays off his body.
Lacks a great first step off the edge as a pass rusher, coils up well into his stance, but just isn't much of a quick-twitch athlete. However, does a good job using his hands to keep his legs clean off the snap and does exhibit good short-area quickness when rushing the passer. Has the ability to be sudden in tight areas, quickly changes directions/speeds and can gain a step on opposing tackles both inside and out. He extends his hands well into contact and does a nice job using his swat to keep linemen from getting a hold of him. But, even when he does gain a step, his pad level has a tendency to rise and he struggles to fight his way through the block and quickly surge into the backfield.
Impression: Displays some lateral quickness as a pass rusher and can gain a step in tight quarters. However, doesn't play with a great pad level, isn't a real explosive athlete and lacks ideal size for the position. Looks more like a training camp body.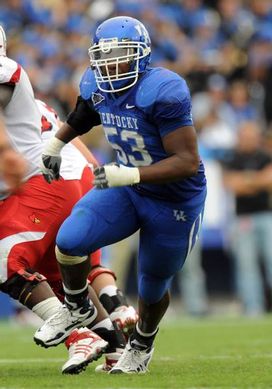 ICONLumpkin needs to continue to add more girth to his frame in order to hold up inside. at the next level.
DT Ricky Lumpkin: No. 53 (6-4, 290)
A long, lean defensive tackle prospect who looks a bit leggy out of his stance and isn't real explosive off the football. Needs to do a better job getting off the snap count on time, as he consistently is one of the last guys moving off the line. Has a tendency to stand too upright into contact, which really limits his leverage and overall power at the point. Does a nice job extending his long arms into blocks, but because of his high pad level, he struggles to generate much push on his bull rush and lacks the lateral suddenness to effectively slip blocks in the pass game.
Now, he does play with better leverage against the run game in obvious run situations, but lacks ideal power in his lower half and doesn't play real long or possess the upper body strength to consistently stack and shed. Plus, he isn't real instinctive, struggles to find the football inside and routinely takes false steps trying to find the football, virtually sealing himself from the play.
Impression: Displays some natural athleticism and range for the position, but lacks power at the point of attack and his high pad level really limits his effectiveness as a pass rusher, which at this size needs to be his calling card.
CB Paul Warford: No. 34 (5-10, 207)
A compact corner with good overall girth through his lower half. Exhibits impressive patience and body control off the line in press coverage. Does a nice job sliding his feet laterally to mirror the receiver off the snap and can consistently get into their frames with a strong punch. Sits into his drop well, is a comfortable bender and stays compact with his footwork. Is tough to disengage from down the field once he get his hands on you and consistently is able to re-route off the line. However, looks stiff in the hips when asked to turn and run and lacks ideal top-end speed down the field. Doesn't exhibit a second gear, struggles to get up to speed quickly and isn't a guy who can make up for a false step, as he's consistently slow to recover. Also, looks stiff in off-coverage, fails to quickly flip his hips, redirect and close on the football. Is a solid tackler vs. the run game, but isn't the most instinctive of guys when asked to quickly locate the football. Doesn't get many good jumps on the ball at the second level.
Does have some character concerns, as he was ruled academically ineligible for the 2010 season and is no longer with the team.
Impression: Displays some natural press coverage ability, but is tight in the hips and lacks great top-end speed. Is really limited in what he can offer an NFL team because of his lacking recovery ability.
NFL draft/college football questions? Get them answered at Wes.Bunting@nationalfootballpost.com
Follow me on Twitter: @WesBunting
Click here to purchase the Total Access Pass/ Fantasy Draft Guide from the NFP and receive a free Deuce Brand watch while supplies last.