August 13, 2010 -
National Football Post
2010 NFP Scouting Series: Louisville
For the rest of the summer, the National Football Post will be breaking down every team in the Football Bowl Subdivision (formerly known as Division I-A) to identify players who could warrant the most interest from NFL teams in the 2011 draft.
Therefore, today we take a look at the Louisville Cardinals.
Offense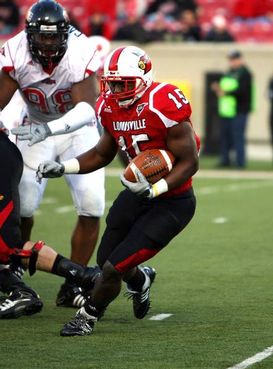 ICONPowell just simply isn't real dynamic in any area of the game.
RB Bilal Powell: No. 15 (6-0, 215)
A taller back with a broader upper body and decent girth through his lower half. Lacks a great first step when asked to press the hole and doesn't have much of a burst in any area of his game. Displays good patience and exhibits some balance with his footwork as a runner, but simply seems like he's always playing in first gear. Isn't real sudden or explosive laterally and allows defenders to quickly congregate around him. Runs with a lower pad level and does a nice job not exposing too much of his frame, but really lacks power in his lower half. Consistently goes down on first contact, isn't real physical inside and is easily wrapped up and brought down both inside and in space. Does exhibit decent thump as a blocker, but doesn't do a good job of using his hands to stick to defenders through the play. Is more of just an initial pop guy who then will quickly fall off the block.
Impression: Is limited in what he can offer an NFL team and doesn't seem dynamic enough in any area of the game to make a roster.
Defense
CB Johnny Patrick: No. 19 (6-0, 190)
A tall, well-put-together corner with a long set of arms and a good-looking frame. Exhibits above-average patience in his drop and does a decent job sitting into his back-pedal and getting good depth off the line, but overall isn't the most flexible of athletes. Maintains his balance and is coordinated enough to keep his feet under him in coverage. Locates the football quickly in the underneath run game, fights his way through traffic and has the power to wrap up on contact.
However, gets himself in some trouble off the line in press. Has a tendency to either be far too aggressive, lunging into receivers off the line, or gets caught with his feet in the mud, failing to slide laterally with wideouts off the snap. Also, is really stiff in the hips and struggles to redirect and/or turn and run with any type of fluidity. Consistently loses a step down the field, takes too long to get up to speed and doesn't have the ability to quickly close on the football. Lacks ideal awareness down the field, as well, loses track of his man easily, doesn't consistently take proper angles toward the ball and will struggle to regain balance in jump ball situations. Is inconsistent with his instincts and route recognition in man coverage, as well. Will drift in his breaks on routes in front of him and doesn't consistently get the quickest/cleanest of jumps on the ball.
Impression: A good-looking athlete who has some straight-line speed once he gets going. However, is really tight in the hips, lacks ideal instincts and isn't a guy who I can see making many plays on the football in man or zone coverage at the next level.
NFL draft/college football questions? Get them answered at Wes.Bunting@nationalfootballpost.com
Follow me on Twitter: @WesBunting
Click here to purchase the Total Access Pass/ Fantasy Draft Guide from the NFP and receive a free Deuce Brand watch while supplies last.