August 18, 2010 -
National Football Post
2010 NFP Scouting Series: LSU
For the rest of the summer, the National Football Post will be breaking down every team in the Football Bowl Subdivision (formerly known as Division I-A) to identify players who could warrant the most interest from NFL teams in the 2011 draft.
Therefore, today we take a look at the LSU Tigers.
Offense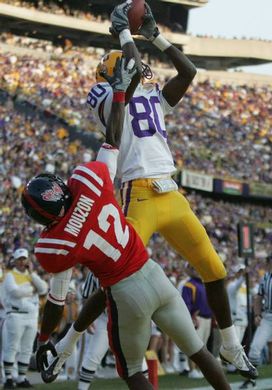 ICONToliver possesses the ability to go up and make a play on the football.
WR Terrence Toliver: No. 80 (6-4, 206)
A tall, lean wideout who possesses a big wingspan and gives quarterbacks a nice target to throw at. However, lacks a real explosive element in any area of the game. Is a strider who takes awhile to get into his routes and isn't the kind of deep threat who has the straight-line speed to get behind cornerbacks. Has only one gear to his game and can be slow to stem his route and eat up the cushion. Isn't a real sudden or sharp route runner at this stage, tends to drift in and out of his breaks, even on vertical routes, and doesn't really generate much of a burst for himself when asked to separate. Struggles when asked to beat press coverage and quickly get into his routes. Lacks the physicality or shiftiness to cleanly disengage and too often is rerouted easily off the line.
Now, does exhibit good body control and coordination when asked to adjust to the football and go up and make a play. Possesses good size and can high point the football. However, isn't a real consistent plucker. Has lapses in concentration, lets the ball get into his body and will easily lose his confidence as a pass catcher. Does display a little shiftiness after the catch in order to make the initial defender miss, but doesn't accelerate well enough to run away from NFL-type opposition.
Impression: Possesses good size and can make plays away from his frame. However, isn't a real natural plucker, lacks ideal balance as a route runner and struggles to beat press. Looks nothing more than a guy who can fill out a low-end spot on a wide receiving corps in the NFL.
OT Joseph Barksdale: No. 78 (6-5, 313)
Possesses good overall size for the position and looks natural when asked to sit into his stance off the line. Is an above-average athlete who exhibits a good first step off the football in the run game and has the ability to quickly get around defenders and seal. Looks pretty athletic at the second level, can reach linebackers off his frame and initially push them past the play. However, doesn't seem to really understand angles. Consistently seems to overstep in tight areas and give defensive linemen space to side step his block and get up the field. Isn't a real compact or explosive puncher either. Takes far too long for him to uncoil his arms and is easily swatted at the point. However, has some natural flexibility in his lower half, can fire off the football low as an in-line guy, generate leverage for himself can create some push off the line.
Exhibits a good initial step off the football in the pass game and displays above-average range toward the corner. However, needs to do a better job getting off the snap count on time. Too often is late out of his stance and gives up the edge too easily at times because of it. Stays compact with his footwork initially even vs. speed toward the corner and can keep his base down through his kick-slide. But when asked to redirect he gets too overextended with his footwork, doesn't generate any power on his punch and loses his balance easily on contact, allowing defenders to slip his block and/or overpower him at the point.
Impression: Is a good athlete with some natural bend and power to his game. However, lacks ideal awareness, isn't real clean when asked to redirect and needs to be a more effective puncher. Has some raw talent, but looks more like a developmental/reserve type tackle at this stage with some upside.
Defense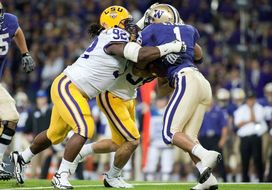 ICONNevis is an ideal one-gap type lineman at the next level.
DT Drake Nevis: No. 92 (6-1, 291)
An undersized, explosive interior lineman who exhibits a good first step off the snap. Is a natural bender who coils up into his stance, fires off the football low and is a threat to consistently shoot gaps inside. Does a nice job keeping his base down initially up the field and likes to work his arm over in order to free himself inside. However, allows himself to get a bit upright when trying to slip blocks and doesn't use his hands well enough in order to disengage through contact. Too often his hands end up outside the shoulders of opposing linemen where they can get into his frame and dictate to him on contact. Can be pushed around once someone is able to get their hands on him and although he does display a nasty chop from time to time used to disengage, for the most part he just tries to drive his way toward the action, but lacks the power or pad level to quickly get there.
Displays above-average anchor strength for his size and when he keeps his pad level down he can really let go of a powerful, compact punch and really jolt linemen on contact. However, he isn't real long-armed and for the most part offensive guards are able to get into his frame and seal him from the football inside. Gets too upright at times off the snap in obvious run situations and can be driven off the football and/or sealed from the action inside easily vs. any kind of additional attention.
Impression: A limited interior lineman who does have some natural explosion off the snap and pop on contact and should be able make an NFL roster. But is limited to more of a one-gap scheme and will be on only a number of draft boards because of it.
DL Lazarius Levingston: No. 95 (6-3, 280)
A thick defensive end prospect who coils up well into his stance and displays some natural bend off the football. Now, isn't a guy who will threaten the edge at the next level, but does a nice job keeping his pad level down when trying to shoot gaps inside and drive his way into the backfield. However, is inconsistent with his hands, lacks ideal body control when trying to slip blocks and just isn't real balanced or shifty as a pass rusher.
Exhibits the ability to anchor at the point of attack in the run game. Displays good base strength, can extend his arms and set the edge when run at. But, possesses very little in the form of instincts vs. the run. Consistently takes himself out of plays getting up the field or will simply fail to find the football. Lacks a real feel for the game and fails to break down and make a play on the ball carrier even when he puts himself in position to do so. Displays the body control to fend off slide down blocks and work his way toward the action. But, just doesn't seem to have that sixth sense needed to consistently make a play on the football.
Impression: An interesting defensive lineman who does have the physical ability to make an NFL roster. However, he just really lacks awareness when asked to find the football and doesn't make nearly the amount of plays a guy with his power and athletic ability should vs. the run game.
LB Kelvin Sheppard: No. 11 (6-2, 246)
A thickly put together linebacker who does exhibit an explosive element to his game. Possesses a good first step when asked to attack the line of scrimmage, gets up to speed quickly and knows how to make his way into the backfield once he locates the football. Displays a good thrust from his hips as well when asked to wrap up on contact. Can be a physical striker in a phone booth who loves to bring his legs and wrap up inside. However, isn't a real impressive key and diagnose guy. Fails to consistently read his run keys, fill the proper lanes and make his way toward the action. Takes himself out of a lot of plays and isn't overly physical when asked to take on blocks inside. Can be easily engulfed and sealed from the football. Doesn't break down real well in space either, plays out of control at times and too often will whiff in the open field.
Now, does display some natural fluidity and range in the pass game. Gets a deep drop in coverage, can be physical off the line and isn't afraid to play over the slot. Again, seems to play a bit out of control at times, taking a false step trying to jump a route. But, he has the ability to quickly accelerate out of his breaks once he locates the football and isn't afraid to throw his body around. One of the leaders of the LSU defense and has a real fire and passion for the game.
Impression: Displays some range and natural power, but his lack of instincts really scare me and are going to limit what he can do for an NFL defense. Has the physical ability to start, but I do question his mental makeup. Nevertheless, at worst looks like a heck of a special teams guy and utility backer for an NFL defense.
DB Jai Eugene: No. 4 (5-11, 203)
Possesses good size and an overall build for the position and likes to play up near the line and use his length to press receivers. Can be physical at the point but lacks ideal balance. Struggles to stay compact with his footwork through his press and has a tendency to lose his footing when asked to get out of his breaks or turn and run. Does a nice job sitting into his drop in off coverage and being patient in his back pedal. However, it really takes him a long time to regain his balance and drive on the football. His back foot consistently gets stuck in the mud when asked to drive on a play and lacks ideal click and close ability on plays in front of him. Doesn't generate a real burst for himself either when asked to get out of his breaks laterally and gives up a good bit of initial separation in man coverage. However, does display some natural fluidity and balance when asked to turn and run down the field. Lacks elite straight-line speed, but doesn't waste much motion and is able to get back up to speed quickly.
Impression: Will be making the move to free safety this year, a position that betters his chances at the next level. However, he didn't look real instinctive on tape and his inability to quickly get out of his breaks and drive on the football will likely show up consistently this season when he's asked to play in the deep half.
NFL draft/college football questions? Get them answered at Wes.Bunting@nationalfootballpost.com
Follow me on Twitter: @WesBunting
Click here to purchase the Total Access Pass/ Fantasy Draft Guide from the NFP and receive a free Deuce Brand watch while supplies last.