August 03, 2010 -
National Football Post
2010 NFP Scouting Series: Maryland
For the rest of the summer, the National Football Post will be breaking down every team in the Football Bowl Subdivision (formerly known as Division I-A) to identify players who could warrant the most interest from NFL teams in the 2011 draft.
Therefore, today we take a look at the Maryland Terrapins.
Offense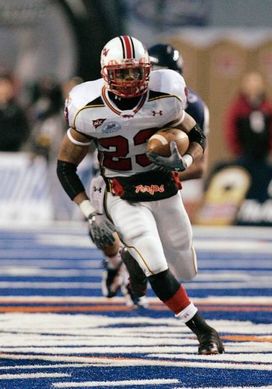 ICONScott runs with a good forward lean and is really explosive in the open field.
RB Da'Rel Scott: No. 23 (5-11, 196)
Looks a lot thicker on tape than his frame would suggest. Possesses good overall muscle tone through his upper half and is pretty well put together through his legs. Displays an explosive first step when asked to press the hole. Is able to instantly accelerate out of his stance and gets up to top-end speed quickly. Isn't overly laterally gifted and lacks ideal shiftiness as a runner. However, is a no-nonsense type guy who is patient when asked to set up his blocks, exhibits a good feel in tight areas and can put his foot in the ground and absolutely explode into daylight. Possesses a real second gear to his game and is consistently able to outpace angles at the second level and create in space. Does a nice job taking short, compact steps once he gets into the open field, allowing him to maintain his balance once he reaches full speed and cleanly sidestep defenders in both tight areas and in space.
Isn't an overly powerful between-the-tackles type runner and struggles to simply push the pile and drive for tough yards. But does a nice job running behind his pads and likes to finish runs. Displays a good forward lean when pressing the hole and into contact, and doesn't expose his body to a lot of unnecessary hits.
Isn't the most natural of pluckers in the pass game as he consistently lets the ball into his body. But does look comfortable flaring out of the backfield, adjusting to the throw and creating after the catch. Does have some durability concerns, but they have been more of the fluke injuries — broken bones — than muscle tears.
Impression: An explosive back who can really accelerate into daylight at the drop of a hat. More of a one-cut guy who isn't real shifty when asked to break down and make a guy miss. However, he presses the hole quickly, exhibits good balance as a runner and is a lot tougher to bring down than his frame would indicate. At worst, looks like a very solid No. 2 back in an NFL rotation.
Defense
OLB Adrian Moten: No. 54 (6-2, 225)
Is a bit undersized for the position, but possesses good overall length for his size. Is a rangy athlete who has the ability to run sideline-to-sideline, track the football and make plays in pursuit. Looks comfortable in his drop and displays some natural fluidity and body control redirecting and generating a burst out of his breaks. Also, exhibits impressive bend and explosion off the edge when asked to play with his hand on the ground. Can threaten the corner and does have some natural pass rushing qualities to his game. However, hasn't learned how to use his hands to consistently slip blocks and doesn't offer much in the form of a counter. More of a one-trick pony at this stage when rushing the passer.
Isn't a real physical linebacker, as he's more of a run and hit guy who really struggles to take on blocks when run at and can be easily sealed from the play. Doesn't understand how to extend his arms and use his hands yet to shed blocks. Consistently leads with his shoulder when taking on blocks downhill and struggles to quickly disengage and use his range to make plays off his frame. Exhibits decent power on contact for his size when asked to set the edge, but isn't a guy who will be able to do the same in the NFL. Lacks ideal instincts and doesn't quickly decipher run/pass keys. Takes too many false steps when trying to read the action and can be slow to anticipate plays.
Impression: Possesses intriguing natural athletic ability, but hasn't put it all together at this stage. Looks more like a run/hit linebacker with some pass rush ability. However, his size really limits his ability to potentially play as a 3-4 OLB/nickel rusher in the NFL. Will need to make his mark on special teams, as he looks like a fringe roster guy.
ILB Alex Wujciak: No. 33 (6-3, 247)
A physical, thickly built inside linebacker prospect who simply looks the part. Has a real passion for the game, plays with a mean streak and loves to compete. Possesses good overall power when asked to take on blocks inside. Has the ability to sit into his stance, generates a good jolt on contact and can anchor inside. Isn't the type of athlete who can quickly shed and make a play off his frame, but knows how to stuff run lanes and take on blocks inside. Exhibits above-average instincts when asked to read his run keys. Typically finds the football quickly, maintains his balance through traffic and displays some short-area burst when asked to close.
Now, isn't a real gifted athlete by any stretch, looks stiff in space and lacks ideal range sideline to sideline. But, in a phone booth, he can create a real snap through his hips into contact, wraps up well and is a powerful short-area tackler. Will bite on some misdirection and play fakes inside and will run himself out of some plays, and he lacks the athleticism to quickly put himself back in position.
However, he showcases a good feel in the pass game. Quickly deciphers information in zone, gets early jumps on the football and exhibits pretty good ball skills/coordination when asked to adjust to the throw. But, he's really tight and stiff in his drop/hips, struggles to redirect with any fluidity and isn't a guy who can generate a burst out of his breaks and be rangy vs. the pass game. Is limited in what he can do athletically for you in space.
Impression: He's big, physical and has a real passion for the game. Is limited in what he can offer you athletically and won't fit every scheme. But looks like an ideal fit as a potential jack linebacker in a 3-4 defense. Should get a shot to earn his worth there and it wouldn't surprise me if he ends up fighting for playing time down the line.
NFL draft/college football questions? Get them answered at Wes.Bunting@nationalfootballpost.com
Follow me on Twitter: @WesBunting
Ready for fantasy football? Click here to purchase the 2010 Total Access Pass/Draft Guide from the NFP.