August 04, 2010 -
National Football Post
2010 NFP Scouting Series: Michigan State
For the rest of the summer, the National Football Post will be breaking down every team in the Football Bowl Subdivision (formerly known as Division I-A) to identify players who could warrant the most interest from NFL teams in the 2011 draft.
Therefore, today we take a look at the Michigan State Spartans.
Offense
WR Mark Dell: No. 2 (6-1, 199)
A tall, decently built receiver who exhibits an above-average first step off the snap and possesses good overall shiftiness for a guy his size. Is at his best working the short passing game, changing gears, setting up defenders and accelerating underneath. Exhibits strong hands and has the ability to pluck the football away from his frame and quickly get up the field. Displays some wiggle and lateral quickness with the ball in his hands and has the ability to make a man miss and create additionally after the catch. Isn't a burner, but gets up to speed quickly and can at least threaten corners initially off the football.
Now, lacks ideal balance and fluidity in the hips as a route runner at this stage, struggles to cleanly get in and out of his breaks and is consistently forced to gear down and chop his feet when asked to change directions. But does adjust well to the football and possesses a pretty good feel of finding soft spots down the seam. Exhibits the toughness to take the hit and hold onto the football coming down with the catch.
Impression: Possesses slightly above-average size, shiftiness and initial burst, but isn't dynamic in any area of the game. Plus, he struggles to cleanly get out of his breaks as a route runner and will have a tougher time sticking to an NFL roster.
TE Charlie Gantt: No. 83 (6-5, 260)
Possesses a big, good-looking frame and natural flexibility in his lower half. Is able to sit into his stance, coils up well and takes a low, positive first step off the line. Isn't overly explosive, but cleanly is able to initially get into his routes. Lacks ideal suddenness or shiftiness when asked to side-step defenders down the field, but has the savvy to slip the bump off the line and cleanly get off the ball. Possesses a good feel of finding soft spots down the field in zone coverage. Knows how to work his way open, find a throwing lane and go up to make a play on the football. Exhibits good body control and length when asked to pluck a ball away from his frame, displaying good concentration through the play and can hang onto the throw through contact. Now, isn't a real explosive athlete, more of a strider down the field who picks up speed as he goes and needs a couple steps in order to get going. But possesses average straight-line speed for a guy his size. He can, however, be a tough cover because of his frame and ability to adjust to the football. However, struggles to generate an initial burst out of his breaks and lacks ideal short-area body control and quickness when trying to separate.
Is a natural blocker in both the run and pass game. Exhibits good balance in his footwork and punch off the edge in pass pro and has the base and fluidity to slide and anchor vs. linebackers in blitz pick-up. Also, is very coordinated as a run blocker, keeps his base down into contact, can generate a good initial surge and has the balance to finish runs. Looks natural redirecting in tight areas, as well, helping to chip on a lineman inside before bouncing back outside to seal a defender.
Impression: Isn't a real dynamic athlete or route runner and will have a tougher time separating vs. man at the next level. However, he has a big frame, is a coordinated pass catcher and can win for you as a blocker. Looks like a very solid No. 2-type NFL tight end who will play in the league for awhile.
Defense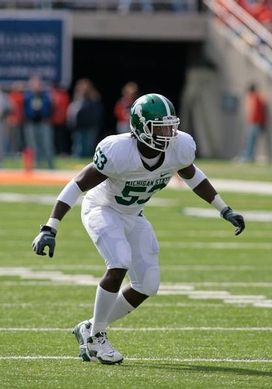 ICONJones possesses good range when asked to close in pursuit.
LB Greg Jones: No. 53 (6-1, 240)
An undersized, instinctive middle linebacker who does a great job deciphering information inside quickly, flowing toward the football and breaking down on contact. Exhibits impressive short-area quickness when asked to side step blockers, all while maintaining his balance and keeping himself in position to make a play. Does a nice job extending his arms and keeping himself clean when asked to pick his way through traffic and accelerates quickly toward the football. However, lacks ideal girth and power at the point of attack, isn't a guy who can consistently anchor inside and is routinely forced to spin off blocks and chase the play in pursuit once a lineman is able to get out to him. Nevertheless, demonstrates good range sideline-to-sideline, locates the ball quickly and can break down well as a tackler on all areas of the field.
Exhibits some pass rush ability on third down, displays a good first step off the edge, can threaten the corner and loves to work a sudden spin move back inside in order to lose his blocker. Showcases good balance and footwork in his drop in coverage as well. Looks fluid when asked to quickly open up his hips, redirect and generate a burst toward the football. Displays good range in coverage and feels routes well around. Will bite on play fakes at times and take a false step away from the throw, but works hard in pursuit and consistently is able to put himself around the action.
Impression: Lacks ideal size for the MLB spot in the NFL. However, the guy is a player and could be a good fit as a cover two-type option or as a 4-3 weakside backer. Nevertheless, he's a guy you can win with starting in your linebacking corps.
LB Eric Gordon: No. 43 (6-0, 232)
A bit of a LB/SS tweener, as he exhibits pretty good straight-line speed for the linebacker spot, but really struggles to play with any type of anchor inside. Consistently gets knocked around when run at and can be easily sealed from the football. Struggles to hold the point of attack and routinely ends up on the ground inside.
Possesses only average change of directions skills for the linebacker spot, but isn't fluid or rangy enough to be trusted in the secondary. Takes too long to get out of his transition and turn and run, and isn't instinctive enough in any area of the game to get the consistent early jumps needed to play in the secondary.
Impression: A decent athlete, but just doesn't seem to have a position at the next level. Isn't physical enough for the linebacker spot or rangy enough to play in the secondary.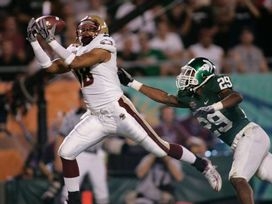 ICONRucker struggles to turn and run down the field with receivers.
CB Chris Rucker: No. 29 (6-2, 200)
A tall, long-armed corner who possesses good size for the position. Likes to try to be physical with receivers off the line and use his length to disrupt their timing into the pass game. Exhibits pretty good body control for a guy his size, anticipates routes well and can be really difficult to separate from underneath once he can get his hands on you. However, needs to continue to work on his footwork, especially initially into his drop. Displays some natural bend at his waist, but sits into his stance with one foot in front of the other and really struggles to keep his pad level down and maintain his balance into his bump/press and out of his breaks. Lacks id eal fluidity when asked to turn and run and struggles to get back up to speed vertically. Isn't a burner by any stretch, doesn't possess a real second gear and fails to quickly make up for a false step. Plays on the boundary side typically where he isn't responsible for covering as much ground, and could be exposed even more in space.
Exhibits an above-average feel in zone coverage. Gets his head around quickly, can locate the football and displays pretty good ball skills when asked to go up and make a play. Isn't as physical a tackler as his frame would indicate, but he can free himself from blocks on the outside and isn't afraid to stick his head in vs. the run.
Impression: Possesses good size and does have some natural coordination and body control when asked to go up and attack the football. However, he needs time to clean up his footwork and lacks ideal fluidity/straight-line speed when asked to turn and run down the field. He's a guy you can't trust on the outside vs. NFL-caliber receivers at this time and simply isn't quick enough to play in the slot. Will get a chance to compete in an NFL training camp, but his skill set might be better suited for the free safety spot.
NFL draft/college football questions? Get them answered at Wes.Bunting@nationalfootballpost.com
Follow me on Twitter: @WesBunting
Ready for fantasy football? Click here to purchase the 2010 Total Access Pass/Draft Guide from the NFP.