July 29, 2010 -
National Football Post
2010 NFP Scouting Series: Michigan
For the rest of the summer, the National Football Post will be breaking down every team in the Football Bowl Subdivision (formerly known as Division I-A) to identify players who could warrant the most interest from NFL teams in the 2011 draft.
Therefore, today we take a look at the Michigan Wolverines.
Offense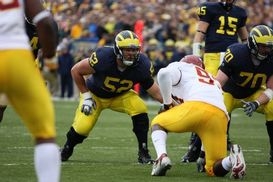 ICONSchilling needs to continue to develop at guard after making the move inside from tackle.
OG Stephen Schilling: No. 52 (6-5, 302)
A talented run blocker who coils up well into his stance and can really fire off the football. Generates a good pop at the point of attack, keeping his base down, getting his hands up and creating an initial surge off the football. Does a nice job maintaining his balance through the play and sticking to blocks as he pumps his legs through contact. Is also very coordinated when asked to scoop block inside, gets his feet around his target and can seal defenders away from the play. Is natural on the move, possess above-average range and can consistently reach/seal or simply cut down a moving target at the second level. Exhibits impressive body control into contact.
Now, is comfortable in pass protection when asked to slide his feet laterally. Covers good ground when asked to quickly redirect and pick up blitzing backers and stunting linemen inside, but needs to continue to improve his overall anchor. Consistently can be overwhelmed on contact. Doesn't do a good job of extending his arms and creating a pop at the point, and too often allows defensive linemen to get into his frame. Will get doubled over at the waist out of his stance, as well, causing him to struggle to generate much power on contact. However, works well in tandem with his center inside and the athletic ability is there for him to mirror one-on-one. He just needs to continue to improve his ability to sit into his stance and use his length to keep defenders from easily getting into his frame.
Nevertheless, he did make the move inside to guard last year from tackle for the first time and looked to still be adjusting to the position. But he should take a bit step forward in 2010.
Impression: An impressive run blocker who is still learning the finer points of pass blocking as a guard. However, the skill set is there for him to mature into one of the draft's better guard prospects with continued development, which I expect he will.
OT Perry Dorrestein: No. 79 (6-7, 305)
Isn't a real natural bender and struggles to keep his base down off the ball in the run game. Stands upright off the snap, failing to gain any type of leverage and is slow to get into linemen and create much of a surge on contact. Plays too high in the pass game, as well, lacks much range to the corner and struggles to maintain balance when asked to redirect. Can be overwhelmed on contact vs. the bull rush and just doesn't exhibit much power or explosion in any area of the game. Possesses above-average overall length, but isn't real heavy handed and will fail to stick to blocks through contact.
Impression: Possesses a nice-sized frame, but lacks the power, fluidity and overall athleticism to hold up at the next level.
Defense
ILB Obi Ezeh: No. 45 (6-2, 240)
A thick, well-put-together middle linebacker who possesses good overall girth through his lower half and can play with natural leverage inside. Attacks the line of scrimmage with a vengeance and has the ability to take on blocks inside. Generates an above-average jolt on contact, but isn't real long-armed and struggles to use his hands to control opposing linemen at the point. Can be engulfed easily at times by longer-armed blockers who can get into his frame initially and he will struggle to shed and quickly find the football. Is a limited athlete who lacks range in pursuit and isn't real graceful when asked to slip blocks and make plays away from his frame. Has only one gear and isn't going to find the football much sideline-to-sideline.
Is a limited athlete in coverage, as well, is tight in the hips, lacks range in his drop and doesn't exhibit the ability to close on the football in zone. Really struggles to come out of his breaks and lacks the kind of speed to be able to turn and run with NFL-caliber tight ends down the seam. Possesses only average instincts and has his fair share of hits/misses when asked to quickly locate the football in both the run and pass game.
Impression: Might have a chance as a jack linebacker in a 3-4 scheme but isn't overly physical on contact and his lack of athleticism/range are really going to limit his chances of making an NFL roster.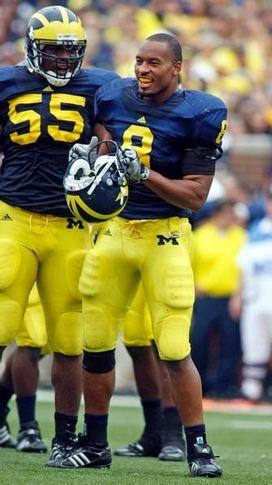 ICONMouton's overall desire to be great is one of the biggest concerns I have for him at the next level.
OLB Jonas Mouton: No. 8 (6-2, 226)
Is a bit undersized for the position, but exhibits above-average coordination and fluidity in his drop. Now, he has a tendency to get a bit fidgety and will bounce his feet around at times when asked to redirect and find the football, but for the most part has the ability to cleanly open up his hips and make his way toward the football. Possesses decent closing speed, but isn't as explosive as his frame would indicate and doesn't have that kind of second gear to instantly make a play on the football. However, exhibits slightly above-average range when asked to work in pursuit. Showcases a decent feel in zone coverage and can typically quickly find the football. But, lacks ideal body control when asked to re-route receivers off the line, has a tendency to stop moving his feet, lunge into his target and allows his man to easily get behind him.
Displays questionable desire and overall focus during parts of the game. Lacks an ideal motor, tends to drift in and out of games and doesn't seem to work his way through adversity. Takes questionable angles when asked to break down in space and doesn't have the type of pride to continue to work once he gets beat. Is a decent wrap-up guy in tight quarters, but is more of a catcher and doesn't generate a ton of explosion into contact.
Impression: Displays some natural athletic ability, but isn't a guy who I would take a chance on because of his overall lack of passion and fire for the game, which at times really jumps out on tape.
DB Troy Woolfolk: No. 29 (6-0, 198)
Possesses a very average-looking build for the position. Displays some natural bend in his drop, but looks rushed with his footwork and will lose balance at times when forced to get out of his breaks. Isn't real instinctive when asked to read and react from the deep half, doesn't get many good jumps on the football and lacks the type of range to consistently make plays from the centerfield type role. Looks stiff transitioning out of his breaks and struggles to get back up to speed when asked to turn and run. Isn't real fluid or smooth and will take a couple steps to get back up to full speed. Exhibits above-average body control when asked to break down in pursuit and tackle and does a nice job wrapping up on the play. Nevertheless, he isn't a real physical striker and is more of a drag-down guy in all areas of the game.< /p>
Impression: Isn't real fluid, rangy or balanced vs. the pass game and doesn't seem to have the type of ball-hawking skills to make many plays on the football at the next level. Also, lacks the size/strength to warrant consideration as a potential strong safety and the speed/athleticism to play corner.
Follow me on twitter: @WesBunting
Ready for fantasy football? Click here to purchase the 2010 Total Access Pass/Draft Guide from the NFP.