August 17, 2010 -
National Football Post
2010 NFP Scouting Series: Mississippi State
For the rest of the summer, the National Football Post will be breaking down every team in the Football Bowl Subdivision (formerly known as Division I-A) to identify players who could warrant the most interest from NFL teams in the 2011 draft.
Therefore, today we take a look at the Mississippi State Bulldogs.
Offense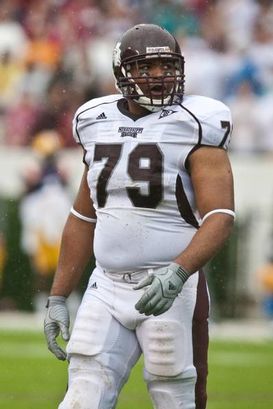 ICONSherrod possesses good size and has the skill set to intrigue at the left tackle spot.
OT Derek Sherrod: No. 79 (6-5, 305)
A tall, long-armed athlete who possesses good overall size and length for the position. Exhibits above-average balance, range and body control on his kick-slide from a two-point stance. Does a nice job reaching the corner, staying somewhat compact with his footwork and is fluid changing directions in space. However, isn't the most natural of benders, struggles to really sit into his stance and keep his pad level down through the play. Isn't the most patient of punchers either and will lunge into defenders off the edge, lose balance and doesn't exhibit great hand placement on contact. Too often gets his hands too low at the point or outside the frame of pass rushers, loses balance and ends up on his toes when asked to sit into his stance and anchor. Does a nice job working to stay engaged, but isn't real heavy handed and doesn't play with ideal leverage. Can be bullied into the backfield and gets himself into trouble against physical rushers.
Exhibits a good initial burst out of his stance in the run game, understands angles and has the ability to quickly zone step and seal defenders away from the play. Looks natural on the move, is quickly able to get out of the second level, drop his pad level and hit a moving target. But isn't overly dominant on contact. Allows defenders to work their way off his blocks and doesn't have the type of power or mental makeup to simply lock out and drive opposing linebackers into the dirt. Needs to do a better job with his hand placement on contact in the run game as well. Too often keeps his hands too low when asked to engage and can be easily swatted on at the point. However, does exhibit good body control and footwork on the move when trying to mirror on slide-down blocks or get around and reach.
Impression: A smooth, graceful blocker with good range, change of direction skills and quickness in both the run and pass game. Needs to learn to play with better hand placement and leverage. But, has the ability to mirror in space and possesses the makeup to get some looks as a potential left tackle in the NFL. Nevertheless, I think he looks more like a right tackle in a zone scheme.
OC J.C. Brignone: No. 70 (6-1, 299)
A shorter, squatty center prospect who displays pretty good overall girth through his lower half. Snaps and steps quickly and does a nice job generating a good thrust from his hips on contact. Quickly is able to get into blocks and really uncoils a strong punch at the point. Exhibits good hand placement in the run game, knows how to gain leverage and works his feet hard through the play. Isn't ever going to be a dominant in-line guy at the next level, but understands angles, gets quickly into opposing linemen and can seal inside. Looks comfortable on the move, lacks ideal body control though contact, but plays with a mean streak and fights and scraps to make sure he eliminates his man from the play.
Exhibits a good initial first step out of his stance from the gun as well. Is accurate from the gun and quickly is able to set, keep his base down and does a nice job extending his arms and generating a pop at the point. Works well in tandem inside with his guards and can naturally slide his feet through contact and has some mirror ability in space. Is an above-average short-area athlete with the ability to sit into his stance and generate leverage for himself when asked to anchor. Now, will get a bit overextend into blocks on his punch, which causes him to fall off blocks at times. But, keeps his head on a swivel and does a solid job picking up stunts/blitzes and keeping the inside of the pocket clean.
Impression: Possesses above-average athleticism and knows how to generate leverage for himself with good hand placement in both the run and pass game. Looks like a draftable center who eventually could fight for legitimate playing time down the line.
Defense
DE Pernell McPhee: No. 90 (6-3, 277)
A thick, well-put-together defensive end prospect who has the frame that is NFL-ready right now. A former JUCO transfer who saw his first real SEC action last year and was still adjusting to the intricacies of the play at times. Needs to do a better job getting off the football on time and will fail to consistently read his run keys on the outside. Has a tendency to take himself out of plays getting up the field and will allow backs to run up underneath him. Also, gets sloppy when asked to be physical crashing down the line, as he doesn't quite extend/use his arms as well as you would like to fend off blocks.
However, he does have the ability to anchor when run at and for the most part does a nice job using his length and powerful hands to keep himself clean on the edge. Exhibits good suddenness and power on contact when asked to disengage and can quickly shed one-on-one and close on the football.
Lacks an ideal first step off the snap as a pass rusher and isn't a guy who is going to threaten the edge in the NFL. However, sits into his stance well, can keep his butt down off the snap and knows how to gain leverage on contact. Is a strong bull rusher who does a nice job extending his long arms into blocks, getting under opposing tackles' pad level and simply overwhelming them into the backfield. However, it's his suddenness and short-area quickness on contact that allows him to quickly gain a step and use his length/power to fight his way up the field and get into the backfield.
Impression: As solid as he was last season, he's a guy who could really take a step forward this year. Isn't ever going to be an explosive pass rushing threat at the next level. But, the guy has the ability to mature into a very solid three-down player early in his NFL carrier if he can continue to progress.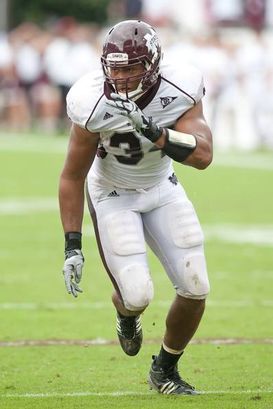 ICONWright is a good athlete for his size who looks like a potential starting strong side backer in the NFL.
OLB K.J. Wright: No. 34 (6-3, 245)
A tall, long, well-put-together linebacker who possesses a good combination of size and athleticism for the position. Lacks great straight-line speed in pursuit, but exhibits a solid first step for his size. Is a naturally strong kid when asked to break down and is a physical wrap-up guy on contact. Exhibits above-average anchor strength when run at inside, but would like to see him generate more of a jolt through his hips into contact. Nevertheless, uses his length well to take on defenders, anchor and pick his way through traffic.
Surprisingly, looks really comfortable and balanced in coverage for a guy his size. Is smooth and patient in his drop, keeps his feet under him and is fluid enough to cleanly get in and out of his breaks. Uses his long arms well to reroute receivers in coverage and can really be tough to disengage from down the field. Cleanly opens up his hips when asked to turn and run, and exhibits some range in coverage. Also, displays good balance and stop/go ability in man-to-man as and can really blanket tight ends in and out of their breaks once he get his hands on them.
Impression: Is a big, long, athletic kid who knows how to use his length/athleticism to fend off blocks. Would like to continue to see him improve his read and react ability and deliver more of a snap at the point of attack, but overall looks like a starting caliber SLB in the NFL.
ILB Chris White: No. 50 (6-3, 241)
A tightly wound linebacker who lacks ideal fluidity when asked to turn and run down the field in coverage. Seems to have a decent feel in zone, but isn't a guy who quickly is able to get out of his breaks, redirect and close on the football. Consistently allows receivers to gain a step on him vertically and always seems to be playing from behind in the pass game.
Exhibits some natural power as a tackler, breaks down with good leverage and is a proper wrap-up guy. However, doesn't generate much of a snap into contact and just doesn't play with much explosion in any area of the game. Lacks ideal instincts when asked to read his run keys inside. Struggles to consistently fill correct run lanes and will run himself out of the play. Doesn't exhibit much range in pursuit and seems to really have only one gear. Isn't a real rangy tackler either; better off in a phone booth and he doesn't have the type of closing ability to consistently make plays in space. Does display some natural power when asked to anchor, but isn't overly stout in this area and lacks the kind of length needed to consistently play off blocks and make a tackle off his frame.
Impression: A very "blah" athlete who doesn't exhibit the kind of explosion in any area of the game to warrant a draft pick or a roster spot at this stage.
NFL draft/college football questions? Get them answered at Wes.Bunting@nationalfootballpost.com
Follow me on Twitter: @WesBunting
Click here to purchase the Total Access Pass/ Fantasy Draft Guide from the NFP and receive a free Deuce Brand watch while supplies last.