August 19, 2010 -
National Football Post
2010 NFP Scouting Series: Mississippi
For the rest of the summer, the National Football Post will be breaking down every team in the Football Bowl Subdivision (formerly known as Division I-A) to identify players who could warrant the most interest from NFL teams in the 2011 draft.
Therefore, today we take a look at the Mississippi Rebels.
Defense
NT Jerrell Powe: No. 57 (6-2, 320)
A shorter, thickly built defensive tackle who has lost a lot of weight over the past two seasons and has become a much more effective player because of it. Showcases a good first step for his size and has the power to really jolt an opposing lineman on contact. Isn't real fluid laterally as a pass rusher, as he is more of a push-pull guy, but consistently is able to generate leverage for himself off the snap and overwhelm blockers one-on-one and/or push the pocket. Also, exhibits a violet slap when asked to disengage and has some suddenness to his game off the line. Keeps his pad level down through the play, pumps his legs and consistently is able to fight his way through contact once he gains a step. However, once a defender can get into his frame, he struggles to use his hands to disengage quickly.
Is a physical run defender inside who is tough to move off the ball. Consistently is able to drive his way into the backfield and overwhelm opposing linemen at the point. Possesses a rare blend of initial burst and power, and because of his ability to play with leverage through contact he's able to eat up space/blockers inside when run at. Now, needs to do a better job keeping his legs clean from cut blocks, as he ends up on the ground too often on plays away from his frame. Also, has a tendency to get overextended with his upper body when trying to push his way into the backfield, limiting his effectiveness when asked to quickly shed and make a play on the ball carrier.
Impression: Has battled through his fair share of adversity and is said to now be down to under 310 pounds. He possesses rare explosion off the snap for a guy his size and can consistently overpower blocks one-on-one and makes his way into the backfield. It will be interesting to see how he plays this year after losing more weight, but reminds me of a B.J. Raji-type prospect.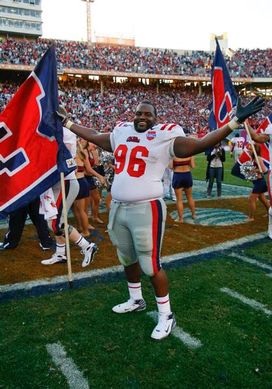 ICONScott possesses the type of girth to anchor inside vs. the run game.
DT Lawon Scott: No. 96 (6-2, 310)
A thick, compact defensive tackle who exhibits some natural bend in his lower half. Possesses an average first step off the football for his size, but exhibits good balance and instincts when asked to play the run game inside. Does a nice job using his length to keep himself clean off the snap and has the athleticism to work down the line in pursuit. Moves pretty well for a big man, but is a bit top heavy and struggles to quickly stop his momentum and redirect back toward the football. However, possesses a really wide base and thick lower half. Can be really tough to move off the football inside when run at, keeps his pad level down, generates a surge through his lower half and can overwhelm one-on-on inside. Just lacks the hand violence and suddenness to shed and make a play off his frame. Needs to do a better job extending his arms into contact and getting his hands inside the chest plate of opposing linemen. Too often gets his hands outside their shoulders and fails to control blocks consistently when run at, can be sealed from the action easily on runs off his frame.
Isn't a real impressive pass rusher, gets his pad level upright on contact, isn't real shifty in space and lacks the short-area quickness to side step blocks and make his way up the field.
Impression: Has some natural anchor strength when asked to eat up space inside and moves pretty well for a big guy. Is a limited two down guy at the next level, but should be able to find his way onto an NFL roster either in a 3-4 or 4-3 defense because of it.
DT Ted Laurent: No. 99 (6-1, 303)
A shorter, thickly built interior lineman who lacks a great first step off the snap. Does a nice job keeping his pad level down initially into contact, extending his arms and getting under the pad level of opposing defenders when run at. But, allows himself to get too high through the play to be a consistent run plugger in the NFL, as he's too often driven from the play inside by single blockers. Lacks ideal balance and athleticism through contact as well, consistently ends up on the ground, doesn't use his hands well to protect his body and isn't a guy who can make plays off his frame.
Doesn't exhibit much of a burst off the football in the pass game. Struggles to keep his pad level down when asked to redirect and lacks the lateral agility to side step a block and accelerate up the field. Simply doesn't exhibit a real explosive element to his game. Struggles to generate much leverage on his bull rusher also. Allows himself to get high at the point and doesn't do a good enough job extending his arms in order to control blocks.
Impression: Possesses a thick frame, but isn't as impressive in the run game as his size would indicate and doesn't offer much as a pass rusher. Isn't much more than a camp body at this stage.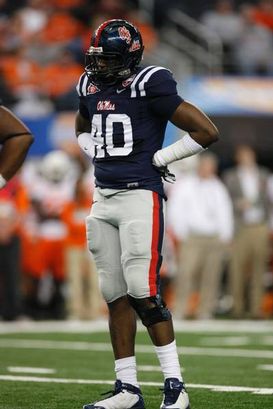 ICONLockett flashes big time pass rush ability, but needs to become more consistent.
DE Kentrell Lockett: No. 40 (6-5, 260)
A long, leaner defensive end prospect who possesses an athletic looking frame and can really coil up into his four-point stance off the edge. Exhibits impressive flexibility off the snap, keeping his base down, exploding off the football and maintaining his balance through contact. Possesses the initial explosion to consistently threaten the corner on the outside. Does a nice job using his long arms to protect his frame and is extremely nimble when asked to keep his legs clean and avoid the cut block. Exhibits impressive balance initially off the snap, does a nice job working his outside jab step in order to set up his inside move and consistently is able to gain a step inside. However, would like to see him do a better job dropping his pad level around the corner and working a counter move off his speed rush. Too often seems to get into a speed rush-only type of mode, and doesn't use his hands well enough to shed blocks once engaged and lacks the power/leverage to simply overwhelm into the backfield on his bull.
Is patient working from the backside and stays at home on runs away from his frame. Exhibits an impressive burst when asked to close the backdoor down the line and is a standout in pursuit. Gets a bit high when trying to find the football in the run game, but does a nice job dropping his pad level into his blocker, extending his arms and can generate some power through his hips on contact. Displays some power in his hands as well with the ability to shed and wrap up on ball carriers on perimeter runs to his side. Has the ability to gain leverage when trying to bull his way into the backfield and overwhelm opposing tackles on contact. But, has a tendency to get overextended and lose balance into contact, taking himself out of the play at times. Nevertheless, the guy has a good motor and works very hard in pursuit vs. the run game.
Impression: Flashes blue-chip pr ospect potential at times and has the skill set to be as good as he wants to be. However, his plays gets too predictable and inconsistent off the edge as a pass rusher at times for a player of his talents.
ILB Jonathan Cornell: No. 51 (6-1, 235)
A high cut linebacker with a broad pair of shoulders, but is a bit thin in the lower half. Exhibits a passion for the game and is a solid wrap up tackler. Takes good angles in pursuit, breaks down well and consistently is able to get his man to the ground. Isn't real rangy or athletic when asked to work sideline-to-sideline, but for the most part gets good jumps on the football. Likes to attack downhill and fill runs lanes inside. Does a nice job dropping his pad level and anchoring in the hole. However, doesn't do a good enough job extending his arms and shedding on contact. Works hard to fight his way off blocks when asked to take opposing linemen at the second level. However, can be jolted initially on contact and makes most of his plays five yards-plus down the field.
Possesses some natural balance and body control in coverage, but looks a bit stiff when asked to get into and out of his breaks. Lacks ideal instincts in zone coverage and doesn't seem to key off the quarterback well, even when his eyes are in the backfield. Lacks much wiggle or lateral athleticism as a blitzer, gets too upright into contact and doesn't have a real niche when asked to rush the passer.
Impression: Does a decent job reading his run keys, taking on lead guys and tackling in all areas of the field. However, he isn't real rangy or fluid in space and isn't physical enough on contact in the run game to overcome his limitations in the NFL.
NFL draft/college football questions? Get them answered at Wes.Bunting@nationalfootballpost.com
Follow me on Twitter: @WesBunting
Click here to purchase the Total Access Pass/ Fantasy Draft Guide from the NFP and receive a free Deuce Brand watch while supplies last.