August 02, 2010 -
National Football Post
2010 NFP Scouting Series: North Carolina
For the rest of the summer, the National Football Post will be breaking down every team in the Football Bowl Subdivision (formerly known as Division I-A) to identify players who could warrant the most interest from NFL teams in the 2011 draft.
Therefore, today we take a look at the North Carolina Tar Heels.
Offense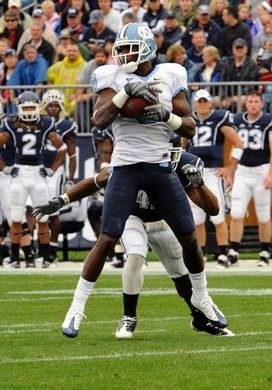 ICONLittle has the type of size to box out corners and create after the catch.
WR Greg Little: No. 8 (6-3, 220)
A strapped together wideout who possesses great size and overall physicality with the ball in his hands. Is a former running back who is at his best after the catch. Is tough to bring down, runs with power and exhibits impressive shiftiness for a guy his size. Possesses good vision and overall feel in tight areas and does display a bit of a burst to his game. Isn't a great straight-line threat, but gets up to speed quickly and once his long legs start churning he can get on top of defenders pretty quickly and press daylight.
Looks somewhat natural plucking the football away from his frame and knows how to go up and make the catch. Locates the football quickly, extends his arms well and acts like a power forward when asked to go up and make a play. Is still learning how to run routes at this stage. Is a better vertical route runner, knows how to sell the post or corner and turn up the field, as he possesses the type of body control/flexibility to sink his hips/shoulder and accelerate down the field. However, has a tendency to begin to show/drift into his routes prematurely and lacks the necessary footwork and preciseness at this stage to cleanly get out of his breaks and accelerate away from defenders in man. Everything is very rounded at this stage and relies more so on his ability to create after the catch on short crossers underneath and go up and pluck the football vertically.
Impression: The skill set and talent is there for this guy to mature into a starting caliber wideout in the NFL. Wasn't asked to beat much press and isn't a real natural route runner at this stage, but his ability to create after the catch should allow him to come in and make an impact early in his NFL career as he learns the intricacies of the position.
Defense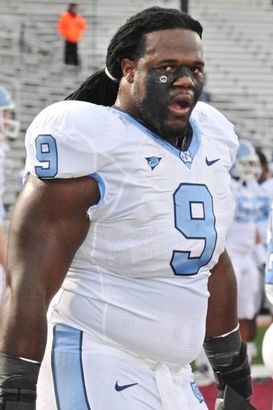 ICONAustin does play with a mean streak when the motor is running.
DT Marvin Austin: No. 9 (6-3, 310)
A thick, well-proportioned defensive lineman who possesses a strong-looking base and good girth through his lower half. Exhibits natural flexibility when asked to fire off the football and possesses an above-average first step for his size. Has the ability to really generate a jolt on contact and has the type of lower body strength to consistently hold the point and anchor inside. However, doesn't do a good job extending his arms into blocks and gaining inside leverage with his hands. Allows his pad level to rise when trying to fend his way off blocks — in both the run and pass game — and find the football, and will expose his chest, allowing opposing linemen to get into his frame and seal him from the play. However, displays impressive range when asked to make plays away from his frame and has the type of God-given power to simply fight his way off blocks and chase. Exhibits a pretty good motor when he is fresh, but isn't real clean using his hands as a stack and shed guy, and he lacks ideal instincts when asked to quickly locate the football.
Possesses an impressive combination of power, coordination and explosion for such a big guy and has the ability to be sudden on contact and violent when asked to slip blocks vs. the pass. Displays a good first step, can suddenly change directions and at times uses his hands well to keep clean before surging up the field. However, isn't the most aware of defenders getting off the football on time and doesn't do a good job getting his hands up initially on contact. Too often waits until he is engaged to start to work himself free and relies more so on his lower body strength and lateral quickness to disengage than actually trying to control blocks with his hands.
Is an immature kid who is at the center of the North Carolina/agent scandal and really drew a lot of negative attention from outsiders/scouts during his time on Twitter.
Impression: There is no denying that the overall talent and skill set is there for him to be as good as he wants to be in the NFL. However, I worry about his passion, willingness to become better and overall maturity level going forward. There is no way I would spend a first-round pick on the guy at this stage and I don't think he will ever become the player many suspect. But, his natural God-given ability will keep him in the league and give him plenty of second chances.
OLB Bruce Carter: No. 54 (6-3, 235)
One of the more gifted athletes you're going to see at the position. Possesses a long, athletic-looking frame and is at his best when asked to click and close and make plays in pursuit. Showcases great explosion once he locates the football and quickly is able to get from point A to point B. Exhibits impressive length and range when asked to break down and wrap up on contact. At times will overrun his man, but for the most part is able to wrap up and get the ball carrier to the ground. Possesses above-average natural anchor strength for a guy his size. However, he isn't real violent into blocks. Doesn't exhibit a real snap/pop from his lower half, isn't a real impressive puncher and looks content to simply anchor instead of using his length — which he extends well — in order to shed and try to make a play off his frame.
Exhibits impressive fluidity and balance in his drop, cleanly getting out of his breaks and generating a burst for himself toward the football. Definitely has the ability to turn and run down the seam with NFL-caliber tight ends, as he's consistently asked to line up over the slot in zone coverage, holding up pretty well vs. college receivers. However, the biggest knock on him is his inability to quickly react to the football. Isn't real instinctive, doesn't consistently trust what he sees and rarely gets an early jump on the pass. Puts himself in position to make plays on the football, but is slow to get his head around in the pass game and adjust to the throw.
However, has a real savvy for blocking kicks, is explosive, can cleanly change directions and does a great job dropping his pad level and accelerating after the football. Could have a real impact as a special teams guy early in the career.
Impression: A gifted athlete who has the makings of a starting weakside backer in the NFL. But I do have some questions about his instincts, which could end up holding him back from ever becoming a real impact player at the next level.
LB Quan Sturdivant: No. 52 (6-2, 230)
Possesses a thicker, well-put-together frame and plays with natural bend and leverage on contact. Looks comfortable sitting into his stance, extending his arms and keeping himself clean in traffic. Exhibits good power as well when asked to take on pulling guards in the hole. However, doesn't play with a consistent passion, at times looks content to be blocked and sealed from the play and too often simply tries to run around defenders, sealing himself away from the ball carrier at times. Displays good range in pursuit and can make plays away from his frame, but isn't the most sound of tacklers into contact. Has a tendency to easily slide off ball carriers and lacks ideal coordination when asked to wrap up in space.
Displays good body control and overall fluidity in the pass game, can open up his hips, redirect cleanly and does display an above-average burst out of his breaks. However, possesses only average instincts. At times struggles to get his head around and find the football, and even when he does locate the ball in the pass game, he plays too tentative and doesn't quickly click and close and make the play.
Impression: Looks much more comfortable playing on the outside where he doesn't have to key off as many blocks. Displays good athleticism and can be powerful when taking on opposing linemen, but questionable instincts and work rate hurt his cause. Has the skill set to start for a team, but I don't think he's the type of potential blue-chip prospect many are making him out to be.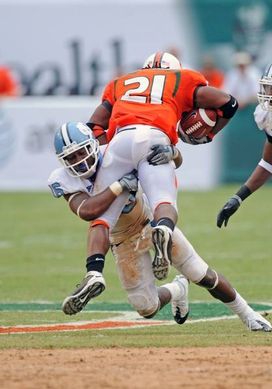 ICONBurney isn't afraid to come up and help out in run support.
CB Kendric Burney: No. 16 (5-9, 190)
A smart, savvy defender who exhibits good overall fluidity and a real feel in zone coverage. Does a nice job of baiting quarterbacks, reading his pass keys and quickly clicking and closing on the football. Exhibits the ability to keep his feet under him, remain balanced and quickly click and close on the play, with the ball skills to come down with the pass. Deciphers information quickly and exhibits good range when asked to track the football. Also, possesses some power and willingness as a tackler. Isn't afraid to throw his body around and come up and hit someone both in run and pass support.
Showcases good fluidity when asked to turn and run down the field with receivers in man coverage, gets up to speed quickly, locates the football and makes it tough for wideouts to cleanly go up and try to make the catch. However, isn't as impressive when asked to quickly change directions and get out of his breaks. Isn't as smooth, balanced or compact in his back-pedal as you would like, and he gets overextended and high in his drop. And the further down the field he goes the more he struggles to quickly regain his balance and redirect. Gives up significant separation initially and tends to drift too much from receivers in his drop. Isn't real comfortable when asked to press off the line either. Will lose balance initially trying to get into his target's frame, allowing receivers to cleanly gain a step behind him.
Impression: He does have some holes in his game, but because of his natural athleticism, ball skills and savvy, he's a very good zone and off player who can find the football on plays in front of him. Looks like a potential starter if given a chance to play in a predominantly zone scheme.
CB Charles Brown: No. 12 (5-10, 205)
Possesses good overall height with a thickly built frame. However, isn't real physical off the line in press coverage. Struggles to maintain his balance in his lower half, lunges into receivers and can be easily stroked on any type of inside release, allowing his man to easily separate and create after the catch.
Looks more comfortable in his drop when asked to play in off-coverage, does a nice job keeping his base down and being patient in his back-pedal. Will get a bit high at times, but it's his narrow lower half and footwork that causes him to really struggle to change directions and transition out of his back-pedal. Exhibits some natural fluidity and straight-line speed when asked to turn and run and can track the football vertically. However, lacks ideal ball skills and simply struggles to maintain his balance going up and making a play on the ball in one-on-one situations. Lacks ideal instincts in zone coverage, has a tendency to get caught playing too far off at times, giving a lot of room to play with underneath and doesn't do an adequate enough job disrupting the timing of receivers with a bump down the field. Easily loses track of wideouts behind him and lacks the body control/footwork to again maintain balance and adjust to the pass.
Impression: Is a gifted, well-put-together athlete that has some natural fluidity and can turn and run. But lacks ideal balance/footwork and something just seems to be off when he's asked to adjust and make a play on the football. Looks more like a reserve corner to me who can't be trusted on the outside in the NFL.
S Deunta Williams: No. 27 (6-2, 215)
A tall, physically built free safety prospect who exhibits natural balance and coordination in his drop. Has a tendency to get a bit lazy at times in his back-pedal — causing his pad level to rise — but for the most part is able to stay compact and cleanly/quickly drive on the football in front of him. Exhibits good fluidity when asked to turn and run and looks natural changing directions in both tight man and space. Possesses a good overall feel for the pass game in man coverage, exhibits above-average instincts, anticipates routes well and consistently is able to get good jumps on the pass and cut off receivers one-on-one. However, doesn't look quite as confident in zone, is a bit slower to react to the play and gets caught not moving his feet, causing him to struggle to get out of his breaks and close.</p>
Possesses above-average instincts when asked to attack the run game and looks natural keeping himself clean from blockers and making his way toward the football. However, isn't a real consistent wrap-up guy in any area of the game. Is more of a striker who looks content to simply launch himself into ball carriers as opposed to bringing his legs and wraping up on contact. Takes good angles in space when asked to break down, but will take himself out of plays at times when asked to make his way into the box. Looks much more effective working in pursuit and tracking ball carriers sideline-to-sideline than trying to key off blocks inside.
Impression: Possesses a gifted skill set, can flip his hips, drive on the football and be physical when he wants. However, lacks a great feel in zone at this point and needs to become a more sound wrap-up guy. Nevertheless, I still like him as a potential starter in the NFL.
Read North Carolina defensive end Robert Quinn's scouting report here.
NFL draft/college football questions? Get them answered at Wes.Bunting@nationalfootballpost.com
Follow me on Twitter: @WesBunting
Ready for fantasy football? Click here to purchase the 2010 Total Access Pass/Draft Guide from the NFP.