July 28, 2010 -
National Football Post
2010 NFP Scouting Series: Ohio State
For the rest of the summer, the National Football Post will be breaking down every team in the Football Bowl Subdivision (formerly known as Division I-A) to identify players who could warrant the most interest from NFL teams in the 2011 draft.
Therefore, today we take a look at the Ohio State Buckeyes.
Offense
RB Brandon Saine: No. 3 (6-0, 215)
Possesses a good combination of size and speed for the position. Runs hard and can quickly get into the second level and press daylight. Likes to finish runs and can be tough to bring down once he builds up a full head of steam. However, isn't real fluid in the hips, runs tight and upright and is consistently forced to gear down in order to change directions. Isn't real sudden laterally and lacks a great feel running between the tackles. However, he will pluck the football out of the backfield and looks natural adjusting to throws and coming down with the catch when asked to run by defenders vertically.
Impression: A nice size/speed guy who can catch the football, but is going to have a tough time making an NFL roster.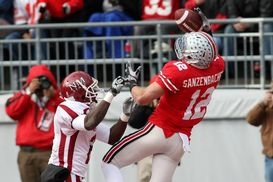 ICONSanzenbacher does a great job when asked to adjust and make a play on the football.
WR Dane Sanzenbacher: No. 12 (5-11, 180)
A limited receiver in what he can offer an NFL offense. A slot guy only who struggles to slip press coverage off the line and quickly get into his routes. However, has a real savvy about his game, knows how to set up corners, find soft spots underneath and possesses the toughness to go up and make a play on the football. Works back well toward the quarterback, consistently finding a way to uncover and can routinely act like a safety blanket over the middle of the field. However, lacks the type of burst to consistently generate much separation out of his breaks. He exhibits sneaky speed down the field, but isn't a guy who will be able to simply outpace defensive backs in the NFL.
Impression: He is what he is. Will always be a fringe roster type guy in the NFL who might be able to endear himself to an NFL coaching staff and fill out a receiving corps, but doesn't offer much in the form of size, speed or overall quickness.
OG Bryant Browning: No. 70 (6-3, 310)
Possesses a thick overall base for the position and does a nice job overall of keeping his pad level down initially off the snap, extending his arms into blocks and displays some natural anchor strength. Possesses strong hands and is tough to disengage from inside once he can lock out. However, is only an average athlete for his size, will allow defenders to gain an initial step on him off the snap and can be slow to quickly get into blocks shooting off his frame. Lacks the type of balance and/or lateral agility to consistently mirror through the play. Has the power to push most college defensive linemen past the play once they gain a step, but he won't be able to do the same in the NFL.
Isn't the type of run blocker you would expect from a guy his size. Gets a bit overextended into blocks, fails to keep his feet under him and doesn't generate much of a pop on contact. Lacks ideal balance through the play and will fall off blocks easily at times. Exhibits average coordination on the move and can break down in space, but isn't overly rangy when asked to get out to the second level.
Impression: Is a big body, but isn't real impressive in the run game and looks more like a free agent type guy to me.
Defense
DL Cameron Heyward: No. 97 (6-5, 280)
A bit of a DE/DT tweener who has the versatility to line up both on the strong side at end and kick inside to the three-technique on passing downs. Possesses an average/good first step off the line and does a nice job keeping his pad level down for such a big guy, playing with natural leverage and maximizing his strength into contact. Possesses good run/pass recognition and does a nice job quickly locating the football. Consistently is able to use his hands/length and overall athleticism to disengage from blocks and make his way toward the play vs. the run. Extends his long arms well into blocks, demonstrating good hand placement inside and can consistently get under opponents on contact.
Now, he needs to do a better job getting off the snap count on time. His concentration seems to falter later in games when he starts to wear down and will end up on the ground too easily. However, when the motor is running he will chase balls down from the backside and works hard in pursuit. Looks much more explosive off the snap when lined up inside, sees the ball better and is consistently the first defensive lineman getting into his man. Lacks the first step to reach the corner as a pass rusher off the edge, but is a really effective bull rusher who routinely is able to create a jolt into contact, gain leverage and drive his man into the backfield. Possesses good balance through contact, extending his arms and slightly changing angles enough to work his way toward the quarterback. Isn't a real sudden guy who can quickly change directions and/or pull the rug out from opposing tackles once engaged, but has the ability to gain a step laterally out of his stance with some kind of shimmy off the ball and drive his way up the field when lined up both inside or out.
Impression: His ability to anchor on the outside and shed blocks in both the run and pass game will serve him well. Doesn't strike me as a potential dominant pass rusher in the NFL, but he has the versatility to create mismatches in a 4-3 front and should also get some looks as a 3-4 DE, as well. I would expect him to mature into a very solid starter in the NFL.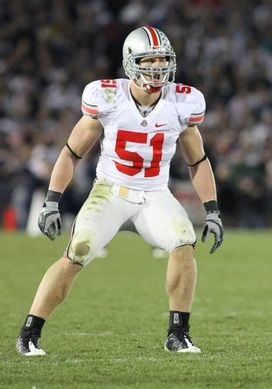 ICONHoman's coordination and natural instincts allow him to play faster than he really is.
LB Ross Homan: No. 51 (6-0, 230)
A shorter, tightly wound linebacker who displays good body control and footwork in his drop. Exhibits the ability to sit into his back-pedal, read the quarterback's eyes, cleanly redirect and make a play on the football in zone. Possesses good instincts and natural ball skills and routinely is flowing toward the play. Now, isn't real explosive when asked to get out of his breaks and lacks great range in coverage, as he can be exposed in space. But he is physical when asked to play in man and knows how to re-route tight ends/backs off the line and cleanly flip his hips and run.
Plays with a good motor, works hard in pursuit and has a real nose for the football. However, isn't the most physical of defenders inside the box. Exhibits an above-average pop at the point when asked to take on linemen in the hole, but struggles to quickly shed and make a play on the ball. Can be washed out of plays inside and knocked off balance easily trying to make his way toward the ball carrier. Is a solid wrap-up guy who can routinely get his man to the ground in tight areas but will overrun the football and struggles to break down when asked to tackle in space.
Impression: A smart, savvy linebacker with above-average body control in the pass game and a nose for the ball. However, he lacks ideal size and isn't a real explosive athlete. Looks more like a solid reserv e type who can be a spot starter when need be.
LB Brian Rolle: No. 36 (5-10, 220)
An undersized backer who plays with a real chip on his shoulder and mean streak inside. Showcases good toughness to his game, loves to attack downhill, generates a burst into contact and tackles with consistent leverage. Lacks ideal power because of his size and will fail to wrap up at times, but does display some violence as a striker. Exhibits above- average range when asked to run sideline-to-sideline, works hard in pursuit and can consistently make plays away from his frame. Does a nice job keeping himself clean, as he isn't a guy who can take on blocks inside. Is easily sealed from the play once an opposing lineman gets his hands on him, but has a good feel inside with the body control to spin off/run around blocks and quickly close on the football.
Exhibits slightly above-average instincts in coverage with the balance and fluidity in his drop to quickly make his way down the field and redirect out of his breaks. Loves to be really physical off the line, consistently delivering a good jolt on contact and disrupting the timing of receivers into their routes. Has the range to run down the seam and can be difficult to separate from down the field in man coverage.
Impression: A nasty little linebacker who is a bit limited because of his size, but is the ideal kind of late round, cover two type pick who can end up making and eventually contributing to an NFL roster.
CB Chimdi Chekwa: No. 5 (5-11, 190)
Possesses good overall size and athletic ability for the position and looks natural when asked to turn and run. Exhibits a good first step with the ability to get up to speed quickly and displays above-average fluidity when asked to transition out of his drop. Does a decent job initially sitting into his stance and keeping his feet under him when asked to sit into his back-pedal. However, isn't real comfortable or balanced in his drop, seems to almost be moving too fast for his own good, doesn't trust himself completely and has a tendency to open up his hips prematurely. Gets too high out of his breaks and allows receivers to generate significant separation as he is slow to regain his footing and close on the football. Looks a lot more natural in the trail technique, where he can use his natural athleticism to simply try to mirror underneath. However, doesn't look real comfortable when asked to press and for the most part just bails off the line.
Needs to do a better job finding the football when asked to turn and run. Isn't the most instinctive or aware of cornerbacks and struggles to locate the football and/or recognize routes, and has a tendency to lose concentration easily when he can make a play on the football. Doesn't tackle as well as his frame would indicate either and isn't overly willing to play the run game.
Impression: Will get overdrafted because of his size/speed numbers, but doesn't seem to have the instincts/awareness or overall balance to ever mature into a solid NFL starter. More of a guy who will stick to a roster because of his God-given ability, but will never play up to it.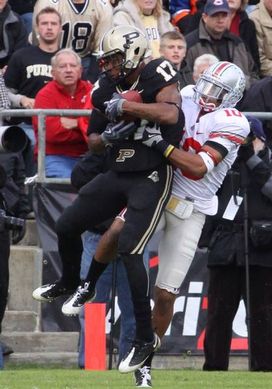 ICONTorrence lacks ideal balance and will struggle to adjust to the football.
CB Devon Torrence: No 10 (6-0, 190)
A tall, gifted athlete who possesses good overall length and a thick, muscular lower half. Showcases good patience in his drop and does a nice job keeping his base down and feet under him, but needs to do a better job using his length to get a bump on receivers when playing close to the line, as he isn't comfortable in press coverage yet. Is stiff when asked to transition out of his back-pedal, though, and fails to quickly get back up to speed and track the football vertically.
Isn't real comfortable in off coverage at this stage and just looks really mechanical with his footwork. Is not a real fluid athlete and just plays tight from the waist down. More of a physical, straight-line guy who would be better served to play in the predominantly zone-scheme where he can play with his back to the sideline, read the quarterback and use his natural size/range to go get the football. However, because of his baseball background and at wide receiver, he has never really given his full attention to football and it really shows in his overall technique/development at this stage.
Impression: More of an athlete than football player at this stage and simply looks too stiff to hold his own in man coverage at the next level. More of a developmental guy with some upside.
SS Jermale Hines: No. 7 (6-2, 210)
An intriguing athlete who was used at safety and as a nickel back last season. Exhibits decent range and overall body control for a guy his size and generates some power into contact as a tackler. Displays above-average instincts as well for someone who doesn't have a ton of starting experience. But, needs to tighten up his footwork in his drop, as he has a tendency to get a bit leggy and will struggle to cleanly get out of his breaks and generate a burst for himself toward the football. A strider who picks up speed as he goes, but doesn't have the kind of quick-twitch ability to consistently close on the football.
Impression: A big athlete who has the skill set to at least intrigue at the strong safety position, but is mostly just an intriguing developmental/free agent type prospect.
Follow me on twitter: @WesBunting
Ready for fantasy football? Click here to purchase the 2010 Total Access Pass/Draft Guide from the NFP.