August 09, 2010 -
National Football Post
2010 NFP Scouting Series: Oregon
For the rest of the summer, the National Football Post will be breaking down every team in the Football Bowl Subdivision (formerly known as Division I-A) to identify players who could warrant the most interest from NFL teams in the 2011 draft.
Therefore, today we take a look at the Oregon Ducks.
Offense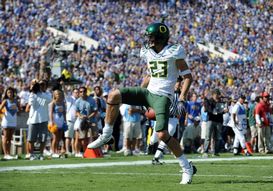 ICONMaehl isn't real physically impressive, but he has some shiftiness to his game and just finds a way to get the job done.
WR Jeff Maehl: No. 23 (6-0, 171)
A lean, thin-legged receiver who simply works hard in all aspects of the game and finds a way to make plays. Exhibits impressive effort as blocker, isn't overly powerful, but sticks to defenders and makes himself really tough to disengage from on the outside. Lacks a great burst off the line and straight-line speed down the field, but exhibits good balance and body control as a route runner. Does a nice job keeping his feet under him, cleanly changing directions and going up to pluck the football. Doesn't generate a great burst for himself out of his breaks, but knows how to uses his body to box out defenders and go make a play.
Is surprisingly shifty off the line for his size, isn't real physical and isn't going to simply outpace defenders vertically. But knows how to set up corners vs. press, gain a step and separate from man coverage. Also has a great feel in zone coverage, knows where to sit down underneath, snaps off routes quickly when he is the "hot" man and seems to always finds a way to uncover vs. space.
Impression: Isn't a dynamic athlete, lacks ideal physicality, burst or speed. However, the guy is just a gamer who knows how to create enough separation for himself and will go up and cleanly pluck the football. Is one of those guys who finds a way to play better than his measurables would indicate and I think he has a real shot to fill out an NFL receiving corps.
OT Bo Thran: No. 69 (6-5, 290)
Possesses solid overall height and length for the position, but is a bit narrow in his upper body and lacks ideal girth through his base. Struggles to really sit into his stance off the line of scrimmage, has a tendency to bend at the waist and his first motion off the snap is routinely upright. Isn't real fluid when asked to quickly change directions and lacks ideal lateral range. Tends to lunge into blocks off his frame instead of sliding his feet and doesn't generate much power on his punch. Possesses average range off the edge for his size, but doesn't play with proper leverage and is routinely susceptible to the bull rush.
Doesn't display much of a burst off the line as a run blocker. Fails to generate a real snap through his hips and really uncoil his punch into defenders. Has the initial body control and footwork to get his feet around and seal, but isn't athletic/physical enough to consistently win as an in-line guy or on slide-down blocks.
Impression: An undersized offensive tackle who lacks the flexibility to consistently gain leverage and win on contact in all areas of the game.
Defense
DL Brandon Bair: No. 88 (6-6, 267)
A unique defensive lineman who plays inside in the Oregon 4-3 defense but lacks the type of girth to consistently anchor when run at. However, displays good natural flexibility in his lower half, can sit into his stance and has an above-average first step for his size when asked to shoot gaps and make his way up the field. Does a nice job uncoiling his long arms quickly off the snap and can keep his pad level down initially through contact. Now, lacks the type of power to be a real effective bull rusher and when his initial push is stalled, he struggles to remain in the play.
Does a nice job for the most part using his hands to generate leverage into contact, extending his arms and shedding blocks inside. Isn't a real gifted athlete, struggles to redirect and side step blocks, and is much more effective using his length to get into opposing blockers and disengage. Is routinely one of the first defensive linemen moving off the snap, consistently getting good jumps inside and dictating to blocks on contact.
Impression: He really does possess good bend and flexibility for a guy his size. Doesn't have the girth or power to hold up inside at the next level. But I think he has enough athleticism, strength and uses his hands well enough to get a long look as a potential roster guy as a 3-4 DE, if he continues to mature and fill his frame out.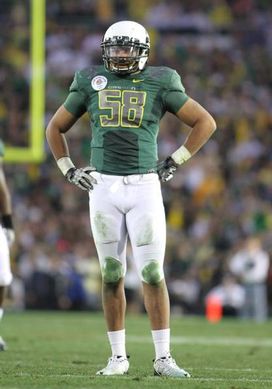 ICONAlthough Rowe is significantly undersized, he has the ability to rush the passer, which will give him a chance.
DE/OLB Kenny Rowe: No. 58 (6-2, 224)
A really undersized pass rusher who plays both from a two and three-point stance off the edge. Exhibits a good first step, coils up well, keeps his pad level down and can get on top of opposing linemen quickly. Has the explosion the threaten the edge and works endlessly in pursuit. Possesses average bend/body control when trying to flatten out around the corner, but lacks ideal girth/strength and can be pushed past the play easily when trying to turn the corner. Doesn't do a proper job using his hands in any area of the game at this stage. Is a bit slow to extend his arms into contact and consistently ends up with his hands outside the frame of blockers, allowing them to dictate to him on contact. However, displays impressive lateral quickness and body control on his counter back inside. Exhibits a clean inside arm over move and loves to take opposing linemen up the field and quickly break off a compact spin move toward the QB. Works hard in pursuit, fights to slip blocks and does a nice job breaking down on ball carriers once he puts himself in position to make plays.
Isn't a factor vs. the run game. Is easily engulfed on contact, struggles to anchor and shed blocks and can routinely be handled by the tight end. Also is stiff and limited in coverage, doesn't have the fluidity to turn and run and has only one gear to his game.
Impression: He's really undersized, but there is some pass rush ability there. Could get some looks as a nickel rusher or 3-4 OLB, but needs to continue to add bulk and more strength to his frame to have a legitimate chance of making a roster.
LB Casey Matthews: No. 55 (6-1, 243)
A thick, tightly wound inside linebacker who displays good natural instincts vs. the interior run game. Quickly is able to locate the football, gets good jumps on the action and always seems to put himself around the ball. Displays a willingness to attack downhill and fill run lanes inside. Will drop his shoulder into opposing linemen in order to take on the block and create congestion inside. However, doesn't do a great job really uncoiling a snap through his hips and arms into contact and isn't a real physical puncher at the point. Doesn't anchor with great results when run at and can be overwhelmed inside and sealed from the play. Isn't a guy who can consistently run around blocks either and needs to play in a phone booth in order to be real effective. Now, is a solid wrap-up guy who breaks down well into contact. However, doesn't have much range and will s ee his angles outpaced when playing in space.
Is a limited athlete in coverage. Displays above-average instincts and can key off the quarterback and get good jumps on the football. However, is stiff through the hips, gets really fidgety with his footwork and lacks a real smoothness in his drop. Doesn't generate a burst out of his breaks and plays at one speed in pursuit. Comes off the field a lot on obvious passing situations.
Impression: Is a limited two-down guy only in the NFL, but doesn't play the run as well as he's given credit for. Looks like a fringe roster guy to me who I wouldn't go to bat for at this time.
LB Spencer Paysinger: No. 35 (6-3, 228)
Possesses average size for the position, but simply isn't real aggressive in any area of the game. Lacks ideal instincts when asked to read his run keys and is slow to diagnose plays. Rarely gets a good jump on the football and isn't the type of guy who wants to consistently stick his head into contact. Exhibits some range in pursuit and has the ability to track the football from the backside. But is more of a drag down guy. Struggles to take on blocks in tight areas, can be washed out on contact and doesn't generate much of a pop as a tackler.
Displays good fluidity through the hips in coverage and can cleanly turn and run when asked to redirect. However, isn't real instinctive reading his pass keys and lacks ideal footwork initially out of his breaks. Has a tendency to chop his feet a bit in order to regain balance and doesn't always break down and play as fast as his measurables would indicate.
Impression: Displays solid range for the position and does have some natural fluidly in coverage. But he isn't physical, lacks ideal instincts and I think there are a lot of better options out there as a potential special teams guys/nickel backer than him.
NFL draft/college football questions? Get them answered at Wes.Bunting@nationalfootballpost.com
Follow me on Twitter: @WesBunting
Ready for fantasy football? Click here to purchase the 2010 Total Access Pass/Draft Guide from the NFP.