August 11, 2010 -
National Football Post
2010 NFP Scouting Series: South Carolina
For the rest of the summer, the National Football Post will be breaking down every team in the Football Bowl Subdivision (formerly known as Division I-A) to identify players who could warrant the most interest from NFL teams in the 2011 draft.
Therefore, today we take a look at the South Carolina Gamecocks.
Offense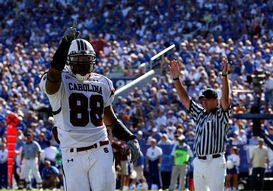 ICONSaunders possesses a rare combination of size and athletic ability for the position.
TE Weslye Saunders: No. 88 (6-5, 270)
A massive target who exhibits solid bend when asked to sit into his stance and is a really gifted athlete for his size. Possesses good lateral quickness off the line in order to side step linebackers and cleanly get into his route. But, needs to do a better job taking a more positive first step off the snap, allows himself to get too upright initially off the ball, which takes away from his initial burst. Nevertheless, showcases good coordination and body control down the field as a vertical route runner. Picks up speed as he goes and has the ability to plant his foot in the ground and generate a real burst out of his breaks. Has the ability to consistently threaten the seam and make plays vertically. Demonstrates good physicality after the catch, uses a nasty stiff arm to shrug off defenders and is a load to bring down in the open field. However, isn't a real natural receiver, lets the ball routinely get into his body, doesn't look comfortable extending his arms and isn't a real natural plucker. But, he possesses a pretty good feel in coverage, can sit down underneath and works well to find throwing lanes/soft spots vs. zone. Will battle in jump ball situations and aggressively go up and make a play at the highest point.
Isn't a real impressive short-area route runner at this stage, tends to start to drift into his routes early and too often uses his speed to simply run away from coverage. But, doesn't exhibit the type of short-area quickness to suddenly/cleanly separate in a tight areas and adjust to the throw. Possesses good size as a blocker, but doesn't generate a real burst off the football, gets high into blocks and doesn't generate much movement off the snap. Displays good balance through the play and consistently is able to extend his arms into contact, but isn't the type of dominant blocker his frame would indicate.
Impression: A gifted size/speed athlete who has a lot of upside in all areas of the game. Now, he isn't a real polished short-area route runner and doesn't block with great leverage, but the skill set is there for him to make plays in the pass game both on the line and split out at the next level.
OT Jarriel King: No. 76 (6-5, 310)
Possesses good flexibility in his lower half, can sit into his stance and keep his base down initially on his initial kick-slide. Looks pretty fluid and rangy when asked to reach the edge and routinely can handle the speed rush. However, is thin in the legs and has a tendency to get overextend with his footwork, limiting his power on his anchor and can get rocked on contact. Displays some natural lateral ability off the snap, but will struggle to change directions off the edge because of his lack of balance/compactness in his footwork. Keeps his hands set in front of him consistently on his kick-slide, but isn't a real powerful puncher. Doesn't play real long, allows defenders to easily get into his frame and struggles to remain balanced and stay on blocks through contact. Now, he possesses good body control and can quickly regain balance after getting jacked at the point, but you would like to see him be a more physical anchor player at this stage.
Exhibits good initial quickness off the snap in the run game, takes a quick bucket step when asked to seal on the outside, understands angles and can eliminate his man on the edge. Displays the ability to chip at the line and get out to the second level, as well, and can create a real jolt when asked to break down in space. However, doesn't seem to understand who to consistently block and at times seems lost when asked to make his way down the field.
Also, has had some medical concerns with his heart that will need to be monitored throughout the process.
Impression: Is a talented NFL-caliber athlete, but needs to tighten up his footwork and learn to use his hands better in order to anchor with more consistency. Has experience at both tackle and guard and may be best suited to play inside in a zone scheme, but either way, he's more of a developmental/upside guy at this stage.
Defense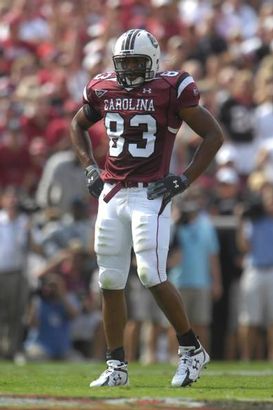 ICONMatthews does have some rough edges to his game, but he knows how to get after the passer.
DE Cliff Matthews: No. 83 (6-4, 265)
A tall, long-armed defensive end who does a nice job using his length to keep his legs clean on runs off his frame and quickly closing on the football. Exhibits good range in pursuit and works hard closing the door from the backside. Lacks ideal instincts and will take himself out of some plays trying to get up the field. Exhibits a decent pad level off the snap initially, but too quickly allows himself to get upright into contact vs. the run game. Can easily be pushed past the play and struggles to consistently use his length to stack and shed. Does a nice job shooting through gaps inside and crashing down the line initially off the football, but isn't a real effective stack and shed guy at this stage.
Exhibits a good, not great, first step as a pass rusher, but really uncoils quickly out of his stance and paired with his length gets into opposing tackles quickly. Isn't a guy who can consistently turn the corner, but does a nice job setting up his outside rush by changing gears, dropping his shoulder and accelerating around the edge. Works hard and has the type of body control to remain balanced when flattening out around the corner once he gains a step. However, it's his suddenness and change of direction skills that really make him tough to block. Possesses a violent set of hands and works a clean arm over back inside, cleanly exploding off his outside foot and gaining a step inside toward the QB. Now, has a tendency to get upright off his counter inside and lacks the kind of strength to quickly fight his way off blocks and can be engulfed at times. Also, isn't a real effective bull rusher at this stage, struggles to generate consistent leverage and drive his way into the backfield.
Nevertheless, he sees a lot of double teams on the edge and, for the most part, has the type of motor to continue to work his way through contact and fight his way toward the QB.
Impression: Possesses a good-looking frame, but I would like to see him play with a little more leverage through contact. Nevertheless, he possesses a good first step for his size, can cleanly change directions and knows how to use his hands to slip blocks inside. Should get looks both as a potential 4-3 DE and even as a potential 3-4-rush guy. Needs some time to mature into a three-down player, but can help you quickly off the edge.
DT Ladi Ajiboye: No. 91 (6-2, 275)
Lacks the kind of size, strength and overall base to anchor consistently vs. the run. Possesses an explosive fi rst step and has the ability to fire off the football, shoot gaps inside and get up the field. However, he isn't real long armed and struggles to consistently keep himself clean inside. Is easily knocked off balanced, washed out on contact and just really struggles to hold up once an opposing lineman get his hands on him.
Displays the first step explosion to threaten gaps off the snap and make his way up the field on his pass rush as well. Does a nice job keeping his pad level down, maintaining leverage and fighting his way through contact. Possesses good body control when working his spin move back inside and displays the lateral agility to side step blocks in space and accelerate toward the quarterback. But again, isn't real long armed and seems to lose his balance easily trying to fight his way off blocks and disengage. Opposing linemen are consistently able to get into his frame, which really disrupts his ability to maintain balance and be disruptive inside.
Impression: An undersized interior lineman who is really limited in what he can offer an NFL team. Is a one-gap guy only who could be used as a penetrating nickel rusher in passing situations, but he will only be on a handful of teams' draft boards and looks more like a free agent type guy to me because of his physical limitations.
DB Chris Culliver: No. 17 (6-0, 195)
A tall, lean safety who displays natural cover skills and range in the deep half. Does a nice job keeping his feet under him, is fluid changing direction and has the type of speed to make plays sideline-to-sideline. Has a tendency to get a bit high in his drop, which at times takes away from his initial burst out of his breaks. But, he's patient in his backpedal and has the type of natural body control to redirect and not lose his balance in his lower half. Displays good man-to-man cover skills as well. Has experience playing in the slot. Does a nice job recognizing routes, driving on passes and using his long arms and body control to get his hands on a lot of footballs. Exhibits good click and close ability and looks impressive when asked to simply drive on throws in front of him.
However, he isn't the most instinctive of defenders in the deep half and is still working on his read and react skills. Rarely gets a great jump on the football and always seems to be the second safety moving on the play. Isn't a real physical tackler either, struggles to consistently break down, drops his head and doesn't always see what he wants to hit. Will take himself out of some plays in both the run and pass game with some false steps and still has a ways to go from a mental standpoint.
Now, he is making the move to corner this year and if he can learn to play with a lower pad level in his drop, he should be able to make a clean transition and hold up well on the outside vs. SEC competition.
Impression: A fluid, rangy defensive back with natural cover skills, but his lack of ideal instincts will pop out on tape at times. He's a gifted athlete who has some versatility, but strikes me more as a jack-of-all-trades, master of none nickel type guy in the NFL.
NFL draft/college football questions? Get them answered at Wes.Bunting@nationalfootballpost.com
Follow me on Twitter: @WesBunting
Click here to purchase the Total Access Pass/ Fantasy Draft Guide from the NFP and receive a free Deuce Brand watch while supplies last.