July 30, 2010 -
National Football Post
2010 NFP Scouting Series: Vanderbilt
For the rest of the summer, the National Football Post will be breaking down every team in the Football Bowl Subdivision (formerly known as Division I-A) to identify players who could warrant the most interest from NFL teams in the 2011 draft.
Therefore, today we take a look at the Vanderbilt Commodores.
Offense
OC Joey Bailey: No. 71 (6-4, 295)
Displays natural bend and flexibility when asked to sit into his stance and has the ability to initially generate leverage for himself at the point of attack and get his hands underneath defenders. However, allows his pad level to rise through the play and doesn't consistently keep his base down. Has a tendency to start to double over at the waist and will lose his balance by lunging a bit into blocks. Falls off opposing linemen easily at times when he's forced to anchor vs. bigger/stronger defenders. But is a good enough athlete to quickly change directions and mirror with some consistency in space.
Lacks ideal base strength in the run game and can be overwhelmed on contact inside. Doesn't do a good enough job using his length and extending his arms into defenders, consistently allows his man to get under his pad level and he can simply be overpowered into the backfield. Displays a decent first step out of his stance, can get his feet around his target initially and seal, and does display some natural range when asked to get out to the second level. However, struggles to maintain his balance through the play vs. physical defenders and again will easily fall off blocks.
Impression: Lacks the type of power to anchor consistently inside and isn't going to move anyone off the football in the run game at the next level. Looks more like a camp body guy to me.
Defense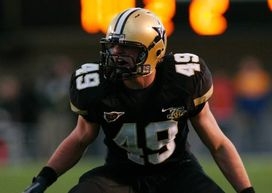 ICONStokes is a big hit, but lacks the athleticism to hold up at the next level.
OLB/LS John Stokes: No. 49 (6-5, 235)
A long, lean, leggy defender who lacks ideal lateral ability or closing range when asked to drop off into zone coverage. Takes a while for him to redirect and get out of his breaks and doesn't generate much burst at all closing on the football; simply plays at one speed.
Exhibits decent instincts when asked to find the football and make his way toward the play, just lacks the range to get there. Struggles to even reach perimeter runs on his side of the field and seems to really lumber in pursuit. Doesn't generate much power on contact when asked to take on blocks, even when attacking downhill. Gets too upright into contact, allows blockers to get under his frame and is easily jolted backward and/or knocked off balance at the point. Also, lacks the body control, power and range to cleanly disengage and make a play on the football.
Impression: His frame says 3-4 OLB, but he isn't explosive or sudden in any area of the game and simply plays too high to be physical on contact. Lacks the skill set to be an NFL player as a linebacker, but does have experience long snapping which could give him a chance.
NFL draft/college football questions? Get them answered at Wes.Bunting@nationalfootballpost.com
Follow me on Twitter: @WesBunting
Ready for fantasy football? Click here to purchase the 2010 Total Access Pass/Draft Guide from the NFP.