August 10, 2010 -
National Football Post
2010 NFP Scouting Series: West Virginia
For the rest of the summer, the National Football Post will be breaking down every team in the Football Bowl Subdivision (formerly known as Division I-A) to identify players who could warrant the most interest from NFL teams in the 2011 draft.
Therefore, today we take a look at the West Virginia Mountaineers.
Offense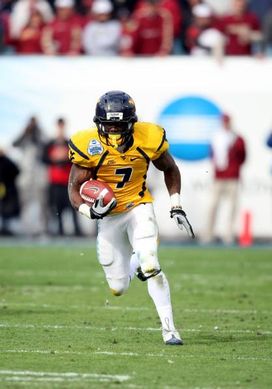 ICONDevine is a home run threat anytime he gets his hands on the football.
RB Noel Devine: No. 7 (5-8, 175)
An explosive, undersized back who lacks ideal overall girth, but does possess a thick set of legs for someone his size. Is never going to be a guy who can carry the load for you in the NFL, has a tendency to get swallowed up at times by defenders inside and isn't a guy who can dish you much wear and tear on a defensive front seven. However, the guy possesses a rare combination of initial burst, lateral agility and patience when asked to press the line of scrimmage. He runs from the gun consistently, but displays a real feel for tight areas, quickly picking his way through traffic, setting up blocks and then absolutely hitting another gear toward daylight. Demonstrates the ability to routinely outpace angles in the secondary vs. even the most athletic of competition and is a big-play threat every time he gets his hands on the football. Displays impressive footwork and fluidity through his hips when asked to make a defender miss at full speed. Runs with a low pad level inside, does a nice job protecting his smaller frame and can bounce off contact at the line of scrimmage and remain on his feet. However, it's his ability to sink his hips and quickly accelerate around the bend when reaching the corner that really makes him dynamic on perimeter runs. Demonstrates impressive balance and body control in all areas of his game, which allows him to play so fast. Now, does have a tendency to dance behind the line at times and will run himself out of yards in search for the big play.
Exhibits the capability to catch the football out of the backfield and showcases a willingness to block in blitz pickup. Obviously isn't overly stout on contact, but can cleanly cut down defenders and reach targets on the edge.
Impression: A luxury guy for an NFL offense, but he can be dynamic with the ball in his hands and will find a way to generate big plays at the next level. You just need to find ways to get him the football.
WR Jock Sanders: No. 9 (5-6, 179)
An undersized "do it all" type option who has experience lining up both in the backfield and outside as a wide receiver. Lacks ideal size, but can be productive with the football in his hands. Does most of his work in the pass game underneath where he has the ability to quickly square his shoulders and create after the catch. Is really shifty and instinctive with the ball in his hands. Can cleanly change directions, make a man miss and accelerate into daylight. Has a real feel about his game once he breaks into the open field and knows how to set up blocks, cleanly change directions and is tough to bring down in space. Now, isn't a real polished route runner but has the footwork to cleanly get out of his breaks. He will gear down consistently when trying to locate the football and simply isn't a guy you want to trust on the outside in the NFL. Needs to play in space and looks like a slot guy only. But is a pretty sure-handed wideout that doesn't consistently extend his arms, but looks comfortable plucking the football underneath.
Has experience running the football from the gun as well. Runs with a low pad level, protects his frame inside and can press the hole quickly. Has some natural running skills in tight areas and knows how to make a man miss and explode out of his break. However, is a bit undisciplined and will take his fair share of negative plays trying to create the home run too often. But, he does play with a chip on his shoulder, runs tough and isn't afraid of contact in any area of the game.
Does have some character concerns, as he was arrested last season for drunken driving.
Impression: Isn't a prototype at any position, but the guy is simply a tough kid who can be dynamic with the ball in his hands. Looks like a potential third-down back/slot guy who can help out of special teams and will find a way to create with the ball in his hands. A nice later round gimmick-type option.
Defense
DT Chris Neild: No. 90 (6-2, 308)
A squatty, thickly built interior lineman who plays the nose on West Virginia's three-man defensive line. Lacks ideal girth and power to consistently anchor inside vs. the double team and too often ends up on the ground. Can easily be knocked off balance and driven away from the play vs. any additional attention. Consistently drops to one knee in order to simply try to clog up run lanes, but isn't a pure anchor inside and often takes himself out of the play in the process. However, plays with a good motor, works hard to fight his way off blocks and displays impressive range and closing speed for a guy his size. Does a nice job extending his arms into opposing linemen, though, sitting into his stance and playing off blocks 1v1.
Isn't a real explosive pass rusher off the snap. Has a tendency to stand too upright off the ball and doesn't get into opposing linemen quickly inside. Isn't a guy who can threaten gaps off the line, struggles to disengage laterally and will come off the field in obvious passing situations.
Impression: Can anchor with some effectiveness one-on-one and looks better suited to play as a nose in a 4-3 defense. But, isn't overly impressive as a run defender and doesn't offer much as a pass rusher. More of a camp body who can only play two downs as an interior plugger.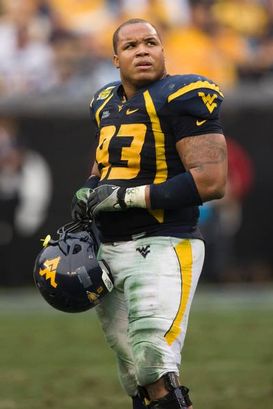 ICONBerry is going to have a tough time finding a position in the NFL.
DL Scooter Berry: No. 93 (6-0, 290)
Possesses a good initial pop into contact off the snap. Can coil up well, sit into his stance and really generate some force from his lower half into blocks. Extends his arms well and has the ability and power to knock an opposing lineman off balance and shed vs. the pass game. However, isn't a real fluid athlete, is a bit stiff and heavy footed when trying to change directions and isn't a guy who can quickly slip a block and accelerate up the field. More of power/linear rusher.
Is a bit short by NFL standards, but does a nice job playing with natural leverage in the run game and can be physical into contact. However, consistently ends up with his hands outside the pad level of opposing blockers and although he does anchor initially at the point, he consistently loses on his second step and can be pushed away from the play because of his inability to gain leverage with his hands. Now, he has the coordination and power to then fight his way off blocks and shed. Nevertheless, is a solid, but not dominant, run defender even when lined up at defensive end as a five-technique.
Impression: He's undersized and does exhibit some pop out of his stance into contact. But doesn't have the anchor to hold up inside vs. the run, lacks the length to play the five-technique and doesn't seem sudden enough lateral ly to be a productive pass rusher inside. More of a free agent/camp body type.
LB J.T. Thomas: No. 30 (6-2, 229)
An above-average athlete who likes to fly around the football field and can close quickly on ball carriers. Exhibits good straight-line speed and range in pursuit and does a nice job breaking down into contact and can wrap up on the play. Looks comfortable when asked to extend his arms and keep himself clean inside, has the lateral agility to side step blockers and quickly make his way toward the football once he reads his run keys. However, his instincts are a bit inconsistent as he can be slow to decipher information and locate the football. Will run himself out of plays trying to make his way up the field and can be sealed from the play inside trying to run around blocks. Nevertheless, he fights like a dog to spin off linemen and disengage back toward the football, and has a motor that never stops.
Possesses natural fluidity in his hips and good range when asked to turn and run. Gets a deep drop into coverage and has the ability to be physical off the line vs. the tight and cleanly reroute in man. Can keep his eyes in the backfield and jump routes in zone, but again isn't the most instinctive locating the football and will make some bad reads and lose track of his man trying to jump a route he thinks he sees.
Impression: He has a passion for the game, is a pretty good athlete and loves to fly around the field. Isn't the most instinctive of guys and lacks ideal power at the point, but works hard and has a shot to play some special teams and make a roster as a reserve outside backer.
CB Brandon Hogan: No. 22 (5-10, 192)
A physical, compactly put together corner who showcases good strength and plays with a real tough attitude both in coverage and when asked to tackle vs. the run. Does a nice job being patient into press coverage, sliding his feet and then hitting the inside release with his outside hand and rerouting the receiver off the line. Is tough to disengage from and loves to get his hands on his target. Demonstrates good straight-line speed down the field and a good closing burst on the football once he gets his head around. Exhibits impressive body control and physicality when asked to fight receivers vertically and knows how to go up and high point the play.
Displays the ability to sit into his stance and keep his feet under him in coverage, but has a tendency to lose focus and will get sloppy with his technique at times. Allows his pad level to rise down the field, which causes him to struggle to redirect and get overextended with his footwork. Possesses good fluidity when asked to turn and run and gets up to speed quickly. But, again, lacks great balance and pad level and will struggle to quickly stop on a dime and drive back toward the football once he opens up his hips.
However, exhibits impressive physicality as a striker in both the run and pass game and can disengage the ball from man on contact. Displays above-average instincts in coverage, but will take some calculated risks, leaving his man trying to jump a route and miss on his read. But for the most part he does a nice job keeping his eyes in the backfield and getting good jumps on the play as he looks natural attacking throws and keying plays, even when asked to play safety as well.
Impression: A former high school quarterback who likes contact, plays with a chip on his shoulder and simply wants the opposing teams best wideout one-on-one on an island. Needs to polish up his footwork a bit and learn to keep his pad level down more consistently. However, he can press off the line, has the versatility to play some safety and will tackle in the run game. He'll find a place to play and start in an NFL secondary.
NFL draft/college football questions? Get them answered at Wes.Bunting@nationalfootballpost.com
Follow me on Twitter: @WesBunting
Click here to purchase the Total Access Pass/ Fantasy Draft Guide from the NFP and receive a free Deuce Brand watch while supplies last.